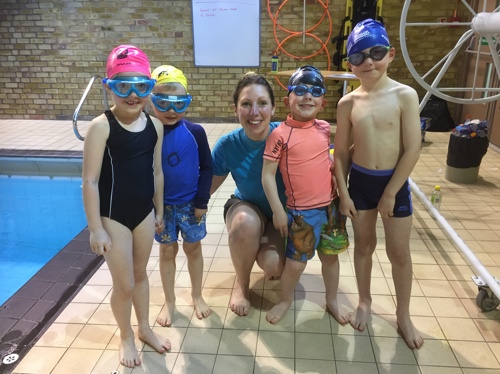 Swimathon is the world's largest fundraising swim and takes place annually throughout the UK, having raised £46 million for charities over the 30 years since its inception. This year, Puddle Ducks swimmers from Gloucestershire and Oxfordshire took part in the event between 7th - 9th April, raising more than £1,000 for Marie Curie.

Felicity Goldsmith is Technical Manager and Senior Teacher at Puddle Ducks Oxfordshire, and she told us her story of the event:

"This is the second year I have taken a team of Puddle Ducks swimmers to the Swimathon, and it has proven to be a lot of fun and a great achievement for everyone! We have struck up a great relationship with Kidlington Leisure Centre, who are conveniently located in the middle of our franchise area. We can't teach there, but as a Swimathon venue they were happy to support us, and this year they gave us an hour of exclusive use of the pool to run our team event.

All Swim Academy teachers across our franchise are encouraged to ask any of their Dabblers, very confident Beginners or Intermediate/Development/Advanced swimmers if they would like to take part, and if so how many lengths they think they might like to attempt. Once we have all the entries, I put them into teams, mixing strong swimmers with weaker ones, and led by a teacher - you can have up to five swimmers in a team. The idea is that the children will attempt to swim 60 lengths between them (1.5km) but if they can't quite manage it the teacher will finish off however many lengths are left so that every team achieves 1.5km and gets their medals. This year we had sixteen children take part, so four teams of four plus a teacher in each.

And so we take to the pool! Some swimmers need a teacher in the water with them, others are ok to swim the lengths without support but with a teacher poolside keeping an eye. For some it is the first time they have swum in a 25m pool and it can be quite daunting to start with, but we tend to find that every swimmer achieves more than their predicted number of lengths as the adrenalin kicks in and the support team on poolside encourage them to keep going. Swimmers can choose what stroke to use, often using a length or two of backstroke to get their breath back - it doesn't matter what stroke they swim as long as they complete each length. We also keep an eye for individual distance achievements, and this year two of our Dabblers achieved their 25m distance swim during the Swimathon which they were really pleased about. The swimmers achieved a range of distances from a couple of lengths for our littlest swimmers up to 32 lengths for some of our stronger Elite Swim Academy swimmers, but every one of them was so proud of what they had done!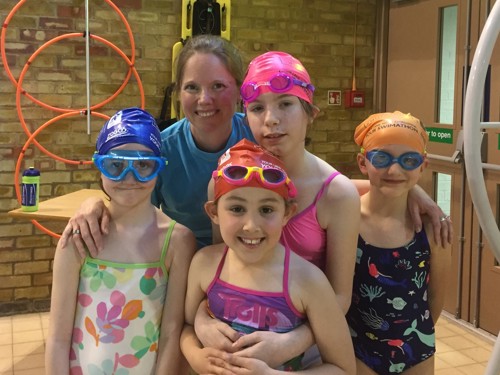 It's a great venue for families as the viewing area runs the length of the pool very close to the pool edge, and so we always have a good crowd of parents, siblings and grandparents waving Puddle Ducks flags and cheering the swimmers on! Once each team has finished we present them with a Swimathon medal, and we provide a Puddle Ducks certificate which states how many lengths they swam for their team. We also put together goody bags to take away with them so each swimmer feels like they have really done something special.

This year the fundraising was for Marie Curie, and was organised through Just Giving. Having just checked the team pages I can confirm that we have raised £1,241 which I think is superb!!

I'm sure we'll do it again next year, the kids love it, the teachers enjoy seeing their swimmers do so well, and we manage to raise lots of money for great causes. It gives the children a taste of competitive swimming in a very fun, low pressure environment - I'm a big fan of the event"
Swimathon

All levels of fitness, all abilities and all ages are accounted for with the range of Swimathon challenges. You can choose to take on an Individual 1.5k, 2.5k or 5k challenges or you can join forces with colleagues, friends or family members for a Team 1.5k and 5k.

Learn more

Swim Academy

The Puddle Ducks Swim Academy is suitable for children aged 4 to 10 years old, and is the natural progression from our Baby & Pre-school classes. Each level is designed to teach your child the basics of swimming, develop confidence and improve their technique.

Learn more