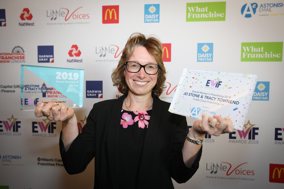 We are incredibly proud that Puddle Ducks picked up two awards at the 2019 NatWest EWIF Awards.
First up was the Woman Franchisor of the Year which was very deservingly picked up by our co-founders Jo Stone and Tracy Townend. This is the 2nd time in 3 years that they have won this award, having been nominated for it 6 of the last 7 years.
At the end of the ceremony, all of the winners are entered into another award called Overall Woman in Franchising, and the winners this year were Jo & Tracy!
Jo & Tracy founded Puddle Ducks in 2002 after they met at antenatal classes. They now teach more than 20,000 children to swim beautifully every week at more than 300 locations around the country.
Jo was also nominated for the Inspirational Woman in Franchising Award, which was a surprise to her! Her entry had been submitted by Tracy in secret, as a thank you for all of her hard work. Puddle Ducks has a fantastic history with EWIF, and only last year our Technical Director Ali Beckman was the winner of the Overall Woman in Franchising Award, along with the Franchise Employee of the Year Award.
We're very proud of Jo and Tracy for their wonderful achievements, and we look forward to next year's awards.
Encouraging Women Into Franchising (EWIF) offer support to women who are looking to get into franchising and Puddle Ducks are very proud to be members.

Learn more