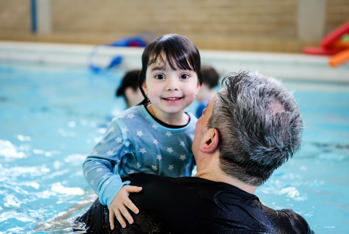 At Puddle Ducks we are completely mad about swimming and to prove it we like to encourage all of our swimmers, from the youngest to the oldest to participate three times a year in our very popular Pyjama Week.
So what does this have to do with learning to swim and what benefit do our babies/children get from this somewhat odd activity? Those with previous experience of life-saving or personal survival classes in their youth may think that they already have the answer and no, it doesn't include tying knots in the trouser legs of your jammies, blowing them up, and using them as a life preserver (never done that? We must be showing our age! Though I know many of you know to what we are referring and are smiling with fond memories!).
Seriously though, any good swimming school will focus on and invest a substantial amount of class time to not just helping you and your child to increase your levels of water confidence and to introduce and develop basic swimming skills in your little one but also to teaching you and your little one great water safety skills, leading to personal survival skills (individuals learning to help themselves in the water) and ultimately life-saving skills (learning how to help others in difficulty in the water). All of our classes have a water safety element to them every week. Our Pyjama Week gives all our swimmers a regular session where the babies/children are exposed to what it might feel like to be in the water with their clothes on. We do not positively encourage our swimmers to jump into the water whenever they can fully clothed – quite the opposite – but we can provide them with the opportunity to see how it would feel to be in the water, following an accidental submersion/fall into water, showing them that they can still swim, practice turning etc.
In our Summer Pyjama Week, we tie into the STA's Water Safety Week and we encourage all our swimmers and their adults to browse the materials that STA produce – including some very emotional stories about families who have experienced personal loss through drowning.
Every autumn sees our annual Charity Pyjama Week where our local Puddle Ducks teams raise money for a cause local to them. We ask for a voluntary donation for those attending the lessons but many of our little swimmers choose to raise sponsorship money for completing a personal survival lesson plan in their pyjamas. Over the last 7 years we have raised over £300,000!