The pool at theclubandspa at Cadbury House Hotel, located near Congresbury and Yatton, is part of a modern health club with fabulous changing facilities.
On-site coffee shop and restaurant
Member discount on Puddle Ducks lessons – call the office to enquire
Free onsite parking*
*Please note regular swim customers must provide their car registration details to the Puddle Ducks office upon booking to swim at Cadbury pool. (Two cars can be registered per child, if an additional car is used one week, please input your car registration details into the tablet at reception upon arrival).
Customers visiting Cadbury pool for a courtesy class must input their car registration details on the tablet in reception, upon arrival at the pool, to ensure they receive free parking.
Puddle Ducks will not be held responsible for any car parking fines received due to incorrect use of the parking facilities.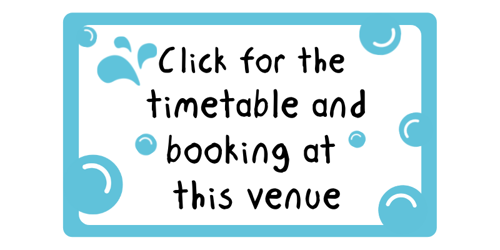 DETAILED INFORMATION
Address: Congresbury, North Somerset BS49 5AD
Parking: There is ample free parking immediately outside of the venue. Please follow the above parking guidelines to receive free parking. Puddle Ducks will not be held responsible for any car parking fines received due to incorrect use of the parking facilities.
Essential information:
There is limited space for pushchairs and car seats so please don't bring them inside the pool building.  Thank you.
There are no nappy bins at this venue so please take your nappy home with you.
No food is permitted on the poolside or in the changing rooms, please save your child's snack until after you have left the pool.
Changing
Please arrive no more than 10 minutes before the start of your lesson
Please enter theclubandspa via the main Reception, tick the register and make your way to the changing rooms. The fire door must no longer be used to access or exit the pool hall.
Although changing rooms will be available, adults and Swim Academy children are encouraged to arrive swim-ready, to minimise time spent in an enclosed space. 
Please leave your belongings in a locker. Please bring a padlock from home, or purchase one from Reception.
All children who are out of nappies must visit the toilet before lessons please, to avoid disruption during class.
Everyone getting in the water should shower on poolside before the lesson.
After lessons, changing rooms and showers will be available for you to use. Please change swiftly.
Please take your child's towel poolside and hang on the pegs provided to stay warm after class and in case of a fire.
Please ensure your child visits the WC before their class.
Spectators
Swim Academy all levels - One spectator per child is allowed poolside.
Baby & Pre-School classes - No poolside spectators allowed for baby & pre-school classes.
If you require assistance due to a disability (either your own disability or your child's), then you are able to bring a spectator poolside to any class, to help as necessary.
Attire:
Baby and Pre-School: a well-fitting neoprene swim nappy must be worn with a disposable swim nappy or an environmentally friendly Nappy Wrap & Liner underneath, if your child is not yet fully potty/toilet trained. We recommend one of our great value Baby Swimming Kits, which contain the swim lesson essentials at a fantastic price.
All Swim Academy children must wear swim hats in the pool. We provide a complimentary swim hat when you join us. You can find our range of goggles and other Swim Accessories in our online shop.
Our online shop stocks a fantastic kids swimwear collection plus super useful bags, towels, changing mats and much, much more!
Exclusivity: Puddle Ducks has a roped-off section of the pool.  Club members may continue to use the pool during our classes.
Technical information:
Pool temperature: 30°C.
Poolside assistant: There is a Puddle Ducks Poolside Assistant at this venue.
Depth:  1.2m
Any other queries?
You can find lots of additional useful information about attending our swim classes on our FAQs page.
Helping you to make your special time last even longer…that's the Puddle Ducks' difference
Look no further than the club's own Marco Pierre White pizzeria, Bardelino's. Open until 5pm the "ultra casual" restaurant is great for a pizza or pasta lunch, or just a coffee.  It's a great place for affordable, friendly, casual dining so definitely pop upstairs to take a look and sample the menu - Puddle Ducks customers receive a 10% discount!