A business that grows at your own pace…that's the Puddle Ducks difference.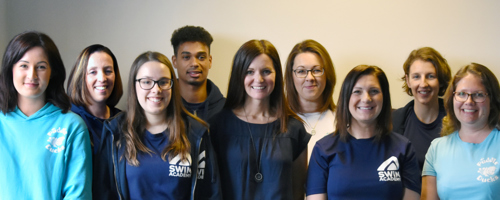 Just like the children we teach, a Puddle Ducks franchise is completely unique. It's an investment that allows you to do something you love and turn it into a profitable business.
All of our franchisees start off teaching in the water, so they can fully immerse themselves in the product and truly understand their customers.  But ultimately, the aim is for you to manage a team of teachers, taking ownership of your own territory.
We'll be there to help every step of the way. It's up to you how quickly you go from dipping your toes in to diving in at the deep end.
Unique product
Puddle Ducks is the only national swim school that offers classes from bump through to 10 years of age and all of our teachers are STA qualified. One of the UK's top experts in teaching swimming continually develops our classes with her team, ensuring the structure and content is ahead of the game.
Comprehensive training
Our bespoke training programme is rigorous – it takes 6 months to become fully qualified – and we teach our franchisees to the standards expected by the Swimming Teacher's Association (STA). So you can be confident in your own abilities and in the product you are delivering to your customers.
Successful business model
We provide market leading products through a robust and tested business model, and a fair and open relationship between franchisor and franchisee. And because this is reinforced with extensive professional training, support and branding, an investment in one of our franchises is much less risky than starting up independently.
Supportive network
Our fantastic Duck HQ team and network of franchisees are so tight-knit – in fact, we're more like a family. We pride ourselves in having regular open dialogue across the network and the enthusiasm is infectious! Your success is our success and we take pride in each other's achievements.
Flexible working
You can truly grow your business as quickly as you want. You can choose how many hours you want to put in at first and when you're ready to hire somebody or expand your team, you grow at your own pace. It's about having your own business, on your terms, but with the support of a larger network.
Continual growth
We know you won't want to stop growing and neither do we. As well as our growing network of franchisees and Duck HQ team, we are constantly evolving our product offering. We always have a fabulous aquanatal programme, which provides an organic intake of new customers for our pre-school programme once baby arrives. We're always looking for more options to expand your business.
Want to know how different a franchise can be? Call Duck HQ on 01477 410083 or fill out our contact form.