We're an enthusiastic bunch of business-minded people who all have a determination to succeed. Our lovely franchisees come from a wide variety of backgrounds, from midwifery and law to marketing and retail. And while we all have different experiences and expertise, we have a few things in common too. We have all chosen to do something that is fulfilling, rewarding,
flexible and embraces our love of swimming.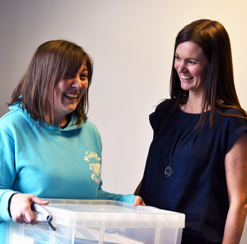 We are looking for like-minded individuals who can agree with the following statements. The rest, we can teach!
I have a positive, can-do attitude
Positivity is so important in every aspect of being a Puddle Ducks franchisee, from the way you interact with parents and children, to the way you deal with inevitable challenges, and the way you manage your staff.

I'm determined to succeed
To run your own business and achieve work-life balance, you must be focused and hard-working, as well as be able to make sound decisions, delegate and lead a team.

I'm good with people
Core to our franchise is people skills, whether dealing with customers, teachers or Head Office. We provide extensive training but our best franchisees are those who love to engage and interact with children and adults alike, both in and out of the pool.

I have a passion for swimming
Whether it's swimming yourself or taking your children, you should love swimming and the enormous benefits it brings.