A lovely, inviting pool situated in Everlast Fitness health club in South Bristol. With fantastic changing facilities and conveniently located at Imperial Park with its array of shops and cafés. We offer both baby & pre-school and Swim Academy lessons here.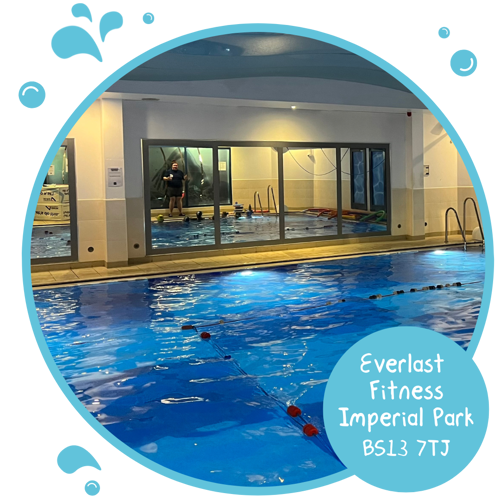 Pool temperature: 30°C
Depth: 1.2m

DETAILED INFORMATION
Address: Imperial Park, Hartcliffe Way, Bristol BS13 7TJ 
Everlast Fitness Membership: We offer a member discount on our lessons - find out more.
Exclusivity: Puddle Ducks has a roped-off section of the pool.  Everlast Fitness members may use the other section of the pool during our class times.
Parking: There is ample free parking directly outside.
Public transport: The venue is easily reachable by bus.
Essential information
Please arrive no more than 10 minutes before the start of your lesson, and be poolside ready for the start of your lesson.
You are welcome to bring pushchairs and car seats into the club but please ensure you leave them in the designated area of the café and do not bring them into the changing rooms. Thank you.
There is no poolside assistant at this venue, for any problems please visit the Everlast Fitness reception desk.
There are no nappy bins at this venue so please take your nappy home with you.
No food is permitted on the poolside or in the changing rooms, please save your child's snack until after you have left the pool.
Parking & access
Please be aware that there is a four hour parking limit at Imperial Park. Puddle Ducks will not be held responsible for any parking fines.
Spectators/Swim Academy Parent Spotters
Baby & Pre-School classes: Due to limited space poolside, no spectators are permitted poolside.
Swim Academy all levels: Two parent spotters are required for each class, who will sit poolside during the lessons. The parents will be different each week and arranged by the teacher. Please check if your name is highlighted on the register when you arrive at Reception. 
All parents will be given the chance to be poolside, however if you'd prefer not to be a parent spotter, please let your teacher know.
If you are not a parent spotter, you must leave the pool hall once your child's lesson starts but remain on the premises, either in the café area or the changing rooms, so that the parent spotter can quickly get you if your child needs the toilet or has a 'wobble' in the pool.
Please ensure your child visits the WC before their class.
Strictly no parents or children allowed on the decking area (where the jacuzzi used to be).
If you require assistance due to a disability (either your own disability or your child's), then you are able to bring a spectator poolside to any class, to help as necessary.
Changing 
There are two large changing rooms (one for men and another for women) with showers and lockers (please bring a padlock to use with locker).  There is a family changing room accessible from both the male and female changing rooms with a travel cot. 
If you have a school-aged child we recommend they change in the family changing room. At eight years old children must change in the same-sex changing room. 
Showers will be available and are encouraged before and after your lesson.
Attire
Baby and Pre-School: a well-fitting neoprene swim nappy must be worn with a disposable swim nappy or an environmentally friendly Nappy Wrap & Liner underneath, if your child is not yet fully potty/toilet trained. We recommend one of our great value Baby Swimming Kits, which contain the swim lesson essentials at a fantastic price.
All Swim Academy children must wear swim hats in the pool. We provide a complimentary swim hat when you join us. You can find our range of goggles and other Swim Accessories in our online shop.
Our online shop stocks a fantastic kids swimwear collection plus super useful bags, towels, changing mats and much, much more!
Any other queries?
You can find lots of additional useful information about attending our swim classes on our FAQs page.
Helping you to make your special time last even longer…that's the Puddle Ducks' difference
Hengrove Play Park has got to be one of the best parks in Bristol.  There is climbing, water and sand, as well as the usual slides and swings.  Location: BS14 0HR.
Closest café
There is a Costa, Subway and M&S Cafe on the Imperial Park site for food or drink.