St Mary Redcliffe School pool is conveniently situated in the heart of Bristol. Here we offer pre-school classes for ages 15 months to 4 years and Swim Academy lessons for primary aged children.
Ample free parking outside the venue
Convenient central Bristol location
Pre-school & Swim Academy lessons are taught parallel to each other, allowing siblings to swim at the same time.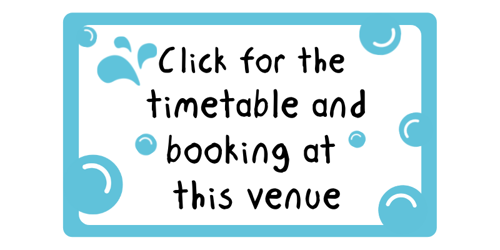 DETAILED INFORMATION
Address: Somerset Square, Bristol BS1 6RT
Parking: There is ample free parking immediately outside of the venue.
Essential information:
After entering the school building, please follow the signs to the swimming pool.
There are no nappy bins at this venue so please take your nappy home with you.
No food is permitted in the venue, please save your child's snack until after you have left the pool.
Changing rooms
There are two changing areas, one male and one female, both with a shower and toilet.  Please bring your child's towel poolside so you can wrap them up after class. Please be aware that private changing cubicles are not available at this pool and that children will change with their parent, and other parents of the same sex.
All adults and Swim Academy children are requested to arrive swim-ready (i.e., wearing their swimwear under their clothes).
All pre-school children are able to use the changing rooms to get ready prior to class.
There is a single shower in each changing room. Showering is encouraged before and after your lesson.
Please ensure all children out of nappies visit the WC before their class.
Spectators/Swim Academy Parent Spotters.
Swim Academy Levels 1 to 4 - There is a rota in place at the pool for parents to take turns to watch their children swim - with a maximum of four spectators per class each week. The Poolside Assistant will let you know when it's your turn.
Any Swim Academy parents not on the spectator rota must leave the pool hall once they have dropped off their child, but you must remain on the premises, in the atrium, in case your child needs to go to the toilet, or has a wobble in class.
Baby & Pre-School classes - No spectators allowed for baby & pre-school classes.
If you require assistance due to a disability (either your own disability or your child's), then you are able to bring a spectator poolside to any class, to help as necessary.
Attire
Baby and Pre-School: a well-fitting neoprene swim nappy must be worn with a disposable swim nappy or an environmentally friendly Nappy Wrap & Liner underneath, if your child is not yet fully potty/toilet trained. We recommend one of our great value Baby Swimming Kits, which contain the swim lesson essentials at a fantastic price.
All Swim Academy children must wear swim hats in the pool. We provide a complimentary swim hat when you join us. You can find our range of goggles and other Swim Accessories in our online shop.
Our online shop stocks a fantastic kids swimwear collection plus super useful bags, towels and much more!
Exclusivity: Puddle Ducks has exclusive use of the pool.
Technical information:
Pool temperature: 30°C.
Poolside assistant: There is a Puddle Ducks Poolside Assistant at this venue.
Depth:  0.98m to 2.92m
Maximum class ratios:


8 children: 2 teachers (Swim Academy Level 1 and 2)
8 children: 2 teachers (Swim Academy Level 3)
10 children: 1 teacher (Baby & Pre-school)
Any other queries?
You can find lots of additional useful information about attending our swim classes on our FAQs page.
Helping you to make your special time last even longer…that's the Puddle Ducks difference
St Mary Redcliffe School is close to lots of restaurants and cafés, many that overlook the water.   It's just a short stroll from Wapping Wharf!