This brand new, purpose-built swimming pool in Evercreech, is nestled in the countryside surrounding Shepton Mallet and with stunning views across the adjacent lake.
Our unique child-led classes are available from newborn through to primary-age. With our Baby & Pre-school and Swim Academy (4-10y) programmes offered at this pool throughout the week and at weekends.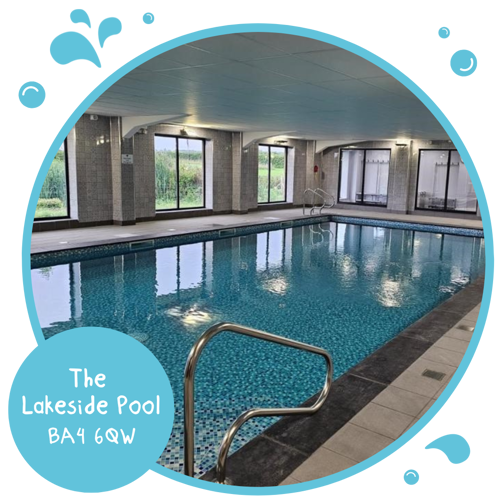 Pool temperature: 32°C
Depth:  1.2m

Unsure which class to book at The Lakeside Pool? Complete an enquiry form and one of our friendly office team will be in touch shortly.
DETAILED INFORMATION
Address: The Lakeside Pool, Evercreech, Shepton Mallet, BA4 6QW (Sat Navs use postcode).
Exclusivity: Puddle Ducks has exclusive use of the pool.
Poolside assistant: There is a Puddle Ducks Poolside Assistant at all Baby & Preschool classes and two teachers at Swim Academy classes.
Parking and access: There is ample free parking, follow The Lakeside Pool sign from the A371, turn down the drive and parking is available on the right.
Pool private hire availability: The Lakeside Pool is also available for private swimming - Find out more
ESSENTIAL INFORMATION
Please arrive no more than 10 minutes before the start of your lesson.
Please remove all outdoor shoes in the foyer and leave under benches, before entering changing room.
There are no nappy bins at this venue so please take your nappy home with you.
No food is permitted on the poolside or in the changing rooms, please save your child's snack until after you have left the pool.
Access & Parking
Parking is available in the provided carpark only, please do not park anywhere else in the grounds!
Please be aware the fence along the back of the pool is live so please ensure your party does not venture towards the wire fencing around the lake.
The walkway to the pool is gravel so we suggest you do not take buggies to the pool building.
Changing
Please remove shoes in the lobby area/ entrance hall.
There are individual changing rooms available.
Please place all clothing in the baskets provided and place under the bench in the cubicle allowing access for the next class to use the space.
Although changing rooms will be available, adults and Swim Academy children are encouraged to arrive swim-ready, to minimise time spent in an enclosed space. 
All children who are out of nappies must visit the toilet before lessons please, to avoid disruption during class.
Showers are encouraged before lesson.
Please take your child's towel poolside and place on the benches poolside to stay warm after class and in case of a fire.
After lessons, changing rooms and showers will be available for you to use. Please change swiftly.
Spectators
Spectators are welcome to watch through the viewing area windows, which has a great view of the pool and out over the lake.
If you require assistance due to a disability (either your own disability or your child's), then you are able to bring a spectator poolside to any class, to help as necessary.
Swim Academy classes – 2 parents per class will able to spectate from the poolside on a rotating basis.
Attire
Baby and Pre-School: a well-fitting neoprene swim nappy must be worn with a disposable swim nappy or an environmentally friendly Nappy Wrap & Liner underneath, if your child is not yet fully potty/toilet trained or in our Floaties, Splashers or Kickers classes. We recommend one of our great value Baby Swimming Kits, which contain the swim lesson essentials at a fantastic price.
All Swim Academy children must wear swim hats in the pool. We provide a complimentary swim hat when you join us. You can find our range of goggles and other Swim Accessories in our online shop.
Our online shop stocks a fantastic kids swimwear collection plus super useful bags, towels, changing mats and much, much more!
Any other queries?
You can find lots of additional useful information about attending our swim classes on our FAQs page.
The Lakeside Pool is located opposite The Bath & West Showground and could be affected by traffic on event days. It is always a good idea to check what events if any are being run at the Bath and West Showground so you can give yourself extra travel time for lessons? Here is a link to their events page: http://www.bathandwestshowground.com/events
There are a handful of cafes close by including Greenfield Community Cafe or The Den at Thorner's Farm. Shepton Mallet's town centre is nearby, where there is a large Tesco supermarket and a children's play area at Collett Park, which also has a coffee hut.
Helping you to make your special time last even longer…that's the Puddle Ducks' difference