Puddle Ducks in Chester, Ellesmere Port, Wirral & North Wales provides:
Baby and pre-school group swimming classes with 5 different levels progressing from birth to 5yrs old (parent/carer and child in the water together with teacher)
Swim Academy small group lessons for school-aged children between 4yrs - 10yrs old (grown ups on poolside - child in water with teacher)
At Puddle Ducks Chester, Wirral and North Wales we are very passionate about delivering the highest quality lessons to all of our Puddle Ducks swimmers across our region. Every baby, child, parent and carer is valued as an individual and our fantastic team of experienced, fully qualified, enthusiastic and friendly teachers, poolside assistants and customer services team are here to support you through every step of your Puddle Ducks journey! Jay Louise Nash, Owner of Puddle Ducks Chester, Wirral and North Wales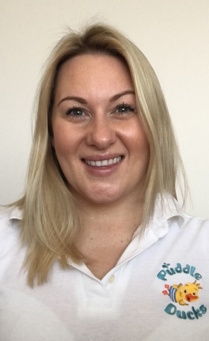 With over 160 lessons across 9 locations, running 7 days a week
We are sure to find a perfect time and location to suit you and your family
Office opening hours: Monday to Friday between 9.30am and 2.00pm
Telephone: 01829 740825  Email: chester@puddleducks.com
                                                                  
Puddle Ducks Baby & Pre-school
Parent & Child Swimming Lessons (new born - 5 years old)
Our Baby & Pre-school programme is a wonderful bonding experience. Structured and progressive lesson instill water confidence and a love of swimming whilst our nurturing teachers tailor activities to your child's abilities and needs.  Our lessons are purely child led and focus on the pace of each individual child at every stage of their development. All our instructors are fully qualified Level 2 or 3 STA and/or Swim England (ASA) instructors following these nationally recognized qualifications, then intensively trained to meet Puddle Ducks high standards.  Every year our teachers are regularly assessed by our Senior Teachers to make sure they are always on the top of their game with our constantly evolving teaching programmes.  Also our instructors hold up to date lifesaving qualifications, are safeguarding certified, DBS checked and undertake regular continual professional development courses every six months to make sure we deliver only the best experience at our Puddle Ducks lessons.
Taught in lovely warm pools within small groups our classes incorporate rhyme, water confidence, personal survival skills and unique swimming activities using the latest researched baby swimming techniques. Our lessons are so well received that the children we teach can often swim over 10 metres independently before they start school with no buoyancy aids such as arm bands or woggles. With a team of 16 experienced, passionate and knowledgeable teachers we have lots of different personalities to personalise your journey every step of the way.
Click here to find out more about our Baby & Pre-School classes                                               

Puddle Ducks Swim Academy Programme
Designed for children between 4 - 10 years old

We also run classes for older children in our Swim Academy classes, so we are able to nurture your child throughout their entire journey from baby to a fully independent swimmer and who knows, maybe a future Olympic champion! We have links with swimming clubs all around the region.  So, when or if your child wishes to start competitive swimming, we will make sure they are ready for that big step with our Elite Swim Academy instructors to go all the way! Butterfly, starts, turns and all!
Whether your child is coming from a pre-school class, or has never been in the water before, you can be sure that they will get the attention that they need as our activities are individually tailored to suit each child.
Click here to find out more about our Swim Academy.

We look forward to welcoming you into the Puddle Ducks family who are here to make you and your child's aquatic journey as special and amazing as they are!
Local News
Our Partners