Hobbies are skill-building activities that relax and inspire you from childhood into adult life, in fact, a good one is downright therapeutic for children and adults alike.  Of course, you can't pick a hobby for another human, since the ones that really stick are those that speak to a person's individual interests, but chances are you know your child well, and if you're lucky, your passions may just become theirs.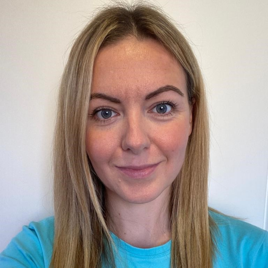 Kayleigh, one of our senior teachers at Puddle Ducks Derbyshire and NW Leicestershire, is delighted that her passion for swimming is something that she's been able to pass down to her two young children.  Ever since she was a little girl, swimming was always something that was part of her week, and then eventually, almost daily routine. Kayleigh has fond memories of her dad taking her along to classes at Heanor Leisure centre. Kayleigh loves to reflect on her childhood swimming journey, there are some memories you just treasure, she even has her first swimming certificate from 1992!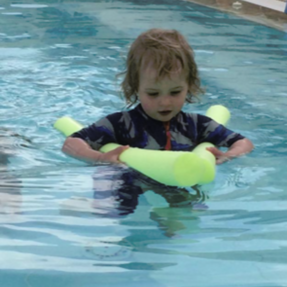 Kayleigh said…
"When I was lucky enough to become parent, I hoped that my daughters would have the same love of water and passion for swimming that I grew up with. Harriet started swimming at 7 weeks of age with Puddle Ducks at our old Butterly Grange pool, before moving to Everlast with the most amazing teacher Jane. She has moved through the levels, growing confidence along the way and to say I was proud when she achieved her 5 Metre award at 4 years old doesn't even cover it.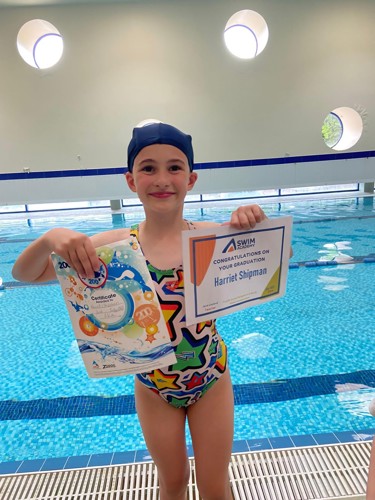 After years of swimming, and hard work Harriet is now graduating at the end of Level 6 aged 9 and a half. She loves swimming and it has given her a great life skill and allows us to have so much fun on holiday, like jumping into open water to snorkel, racing Mama (she can't beat me….yet) and still having cowboy rides.  I'm so grateful that we can share this passion together.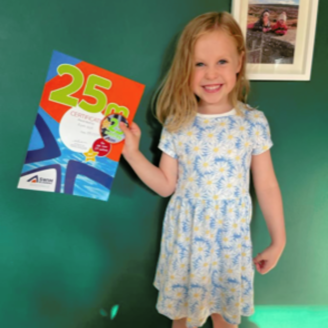 When Piper came along, we rushed to sign her up, and she joined floaties at 5 weeks old with Jane. Following in her big sister's footsteps Piper went one better and achieved her 5 metre badge aged 3. She moved over to be taught by myself for Swim Academy, and proceeded to work hard each week, getting her 10 metre award at just 4 years of age! Piper is now almost 5 and a half.  A real powerhouse in the pool she achieved her 25 metre award on her first try despite having only been in level 3 for 4 weeks and being the youngest in her class by over a year. She is truly tiny but mighty. Puddle Ducks has given her the most amazing water confidence and she put these skills into use on a recent holiday by jumping off a boat over a mile out at sea to swim with wild dolphins, she was much braver than me! I'm so proud of Piper and Harriett and can't wait to see what exciting adventures they'll have with the skills, confidence and love of water they've developed with the help of Puddle Ducks."