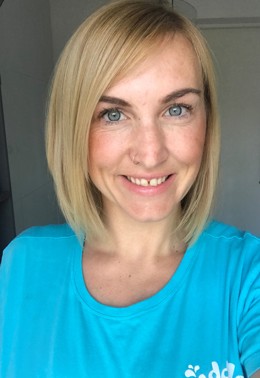 Well it's 3rd time lucky for Rebecca who has won this superb accolade twice before. 1 of which saw her win the overall National title too. Rebecca is loved by all her swimmers along with their Mummies, Daddies & Grandparents. She receives wonderful feedback every term for enthusiasm and on-going encouragement she gives to her swimmers and their families. 
The winning nomination was sent in by Tess and her son Ted who swim at Juvenate Hinckley Island in one of Rebecca's Kickers classes. Here's what she said:
"Ted and I have been attending puddle ducks since he was four months old, he is now fifteen months and swimming at puddle ducks is still a permanent fixture in our weekly routine. I am a firm believer that his confidence and progress in the water is all thanks to Rebecca. She always makes the sessions fun and treats each child as an individual. She nurtures the children and always talks to them, full of smiles and fun. Ted is always excited when we get poolside and insists on chatting (babbling!) to Rebecca every time he sees her. I feel very lucky to have found a swimming teacher that he feels so comfortable with and that has helped him progress and build his confidence".
Our independent judge this term was Lucy who is the Leisure Club Managers at the Juvenate at Hinckley. She said "It's lovely to see how much of a connection the teacher has had with the baby and the parent. They've been able to build a trusting and positive relationship, which has also helped the mothers confidence in the sessions since they've been returning week on week for a good amount of time. This is what Puddle Ducks lessons are all about!"
Thank you yet again to all those parents who took the time to vote for their teacher, it means so much to them all and they will enjoy having a read through their own nominations. 
Cate (Franchisee) added " Wow so happy for Rebecca to win this title once again. I know how much of her heart and soul she puts into her teaching and how she really loves to nurture and share her extensive knowledge with all of her little swimmers. A credit to our team in every way"
Rebecca will now be entered into the National Star Teacher competition along with the other Puddle Ducks franchises. Good luck Rebecca!