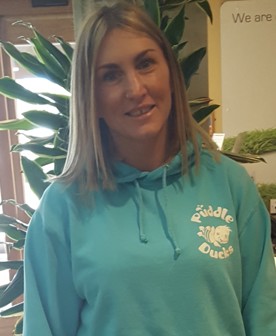 Our winning nominations was chose by Fleur, The Manager of Wirksworth Swimming Pool. Fleur thoroughly enjoyed reading all the wonderful nominations but felt the chosen nomination showed the passion delivered in the lessons and this stood out to her.
The winning nomination below was written by Rachel who has 2 children that swim with Rebecca; Harrison & Esther. They both swim at Juvenate Hinckley at The Jurys Inn Hinckely Island Hotel.
"Rebecca is an absolutely fantastic teacher & the reason we have stayed with Puddle Ducks for so long! She has taught both of my children to swim since they were eight weeks old, the eldest now being two & a half years old. During this time my son has gone from being very keen, to having a few 'wobbles' in confidence...to now being the most confident & enthusiastic child in the building! Everything he does is with a smile on his face & this is due to Rebecca's patience, encouragement & positivity. She is extremely personable, approachable & passionate. In every session she has the ability to engage all the children (& parents!), whilst continually differentiating to ensure every child makes progress in every lesson. Rebecca is a phenomenal teacher & we are so grateful to her, not only for teaching our children confidence in the water & life saving skills, but for how she has taught them"
We are so proud of Rebecca's nominations, they really show what a super teacher she is. Rebecca became part of our team when Derbyshire acquired 3 of the Leicestershire pools and I can honestly say that Rebecca adapted very well to being part of not one but two franchises, in what I suspect would have been quite a worrying time for her. We absolutely love having this fabulous teacher and all round lovely human being on our team and could not be happier for her to have won (Cate)