A BIG welcome from Puddle Ducks Doncaster & South Humberside
Click 'Find a class!' above and use your postcode or location to see all the swimming lessons suitable for both you and your child in this area.
Nicola Codd runs Puddle Ducks in Doncaster, North Lincs, Rotherham, Gainsborough, Grimsby, Cleethorpes & Selby, providing:
Baby and pre-school swimming classes for children 
Lessons for toddlers/pre-school children
Swim Academy classes for school-aged children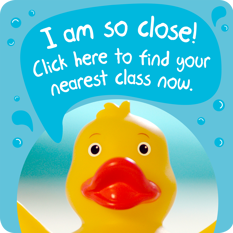 Please get in touch with Nicola if you would like to find out more. 
Telephone: 07884 933789
Email: doncaster@puddleducks.com 
 "I began taking my eldest son Chester to swimming classes when he was five months old and I saw the benefits to both myself and him. His confidence grew and I adored being in the water with him, watching his skills develop. It made sense then, that my other two children started swimming from a very young age too. My youngest child, Sylvie, had her first swim at just 12 days old. Besides myself, all of our teachers are mothers with little Puddle Ducks of their own and we firmly believe that there is no greater skill you can teach babies and toddlers.  Being able to swim is a life skill that children will be able to benefit from for their whole lives. We are so passionate about parents and their babies or toddlers being able to learn water safety skills together and also make some new friends in the process. Coming swimming with your little one offers such valuable bonding time too, with no other distractions focus is 100% with the lesson. Swimming with your baby is extremely rewarding and when you do it with games, songs and activities it's great fun too!" - Nicola Codd 
Puddle Ducks Baby & Pre-School 
Our Baby & Pre-school programme is a wonderful bonding experience. Progressive lesson plans instil a water confidence and a love of swimming whilst our nurturing teachers tailor activities to your child's abilities and needs. 
Taught in lovely warm pools with a maximum of ten children, our classes incorporate rhyme, music and movement based on extensive child development research. Our lessons are so well received that the children we teach can often swim over 10 metres before they start school. 
Whether you have tried swimming with your baby already or not, please get in touch. We're sure you'll love our gentle, fun and nurturing classes, all designed to maximise your bonding experience.  For toddlers, who may or may not have had experience in the water before, the individually tailored activities within our classes mean that your child gets the attention he or she needs in a class to suit their age and ability.  
Find out more about our Baby & Pre-School classes 
Puddle Ducks Swim Academy
We also run classes for older children in our Swim Academy classes, so we will be with you throughout your whole journey from baby to independent swimmer and who knows, maybe a future Olympic champion.
Whether your child is coming from a pre-school class, or has never been in the water before, you can be sure that they will get the attention that they need as our activities are individually tailored to suit each child.
Find out more about our Swim Academy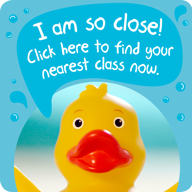 We look forward to welcoming you into the Puddle Ducks family very soon! 
Local News
Our Partners