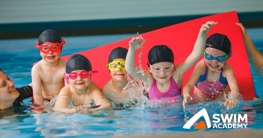 Are you looking for some high quality progressive swimming lessons for your primary school-aged child?
Puddle Ducks Swim Academy classes provide you child with just the right amount of support, teaching a natural and smooth swimming style, starting with simple skills that we build on in line with your child's physical ability and confidence. Our close-knit class sizes allow each child to progress and have fun whilst learning a life-skill. These are balanced with fun activities to develop skills including life-saving, floating and surface-diving.  Whether your child is a complete beginner, has had some pre-school lessons or just dabbled as a family, we can help progress their water skills.
Have you seen our Swim Academy videos?....click here to learn all about swim academy and take a sneak peek at what happens in our lessons to see what we do and how we do it in 
We have two fully qualified Puddle Ducks teachers in the water with a maximum of 8 children and use swimming platforms so all children can stand up.  Our teachers work with each child individually to help them progress at their own pace.
WE ARE OFFERING A FREE TRIAL IN ONE OF OUR SWIM ACADEMY CLASSES AT WILLOW LODGE, BUBWITH.
Please get in touch to find out more. Email us doncaster@puddleducks.com or call 07884 933789.
We look forward to welcoming your child to a class soon.