HOORAY! Our Star Teacher Award goes to... Anna!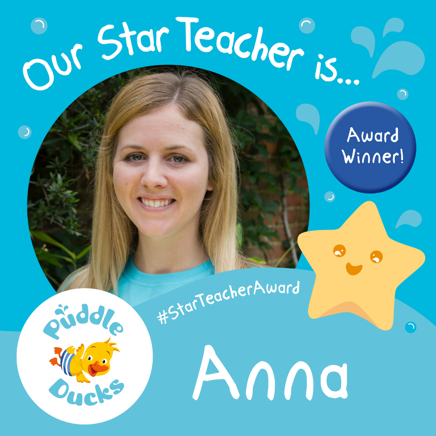 It means so much to hear from you all, and we have loved reading through your nominations. The teachers have all been blown away by your thoughtful words and stories, it really makes me so proud to have such an amazing team of teachers at Puddle Ducks Dorset. 


We asked our independent Judge Lucy from NEST to read through our nominations and choose her favourite to be our winner this term! 
"Firstly, I found it really hard to make the selection - there were so many incredibly written reviews but for me, I kept coming back to the same review which I had to draw out the be the winner"
"Anna has been amazing, and Alfie absolutely loves her (as do all the babies)! She always makes class fun and offers lots of support. She also always makes sure to accommodate my needs- I've unfortunately got issues with my joints and Anna always makes sure I have help getting in/out of the pool if I need it without making a big deal, which I appreciate as it's not something I like sharing with the others if I can help it. All the teachers we've experienced have been great, but Anna is just extra special and definitely deserves the star award!!" Emma S – Alfie's Mum 
---------------------------------------
About Nest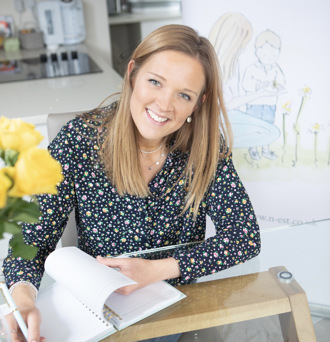 Lucy from NEST
NEST is a private Early Years Consultancy Service offering bespoke support to families with children aged 0-5 years. NEST works closely with you and your family in a nurturing and non-judgmental way, to support you in your child's early years. NEST is proud to have a strong ethos ensuring that every family receives a service which is confidential, informative, and exclusively tailored to each individual family and their needs. 
NEST was founded in 2018 by Lucy, a qualified Norland Nanny and Maternity Practitioner who has ten years of experience, and has worked with families and their children, both privately and in the Community through the NHS.
This enabled Lucy to gain a wealth of knowledge and experiences and she passionately believes that no two journeys are the same which is why she felt a bespoke service should be made available.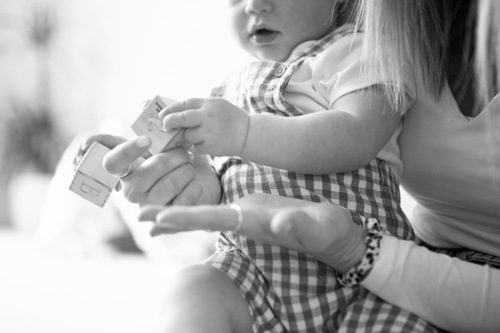 NEST is based in Dorset but has no limit to the locations we cover- we have completed virtual consultations to clients in Germany, France and Spain!
NEST offers 1:1 consultations, workshops, pregnancy retreats and virtual baby first aid courses.
NEST can support of any of the follow areas:
Transition from milk to solid food (Weaning)
Toilet Training
Behaviour 
Family Life Adjustments (new sibling/ moving house etc)
Infant Feeding (bottle-feeding and breastfeeding)
Sleep
Separation Anxiety
School Readiness
Preparing hospital bag
Setting up Nursery and equipment
Here are some of our favourite nominations for the rest of our team...
Ashly in 5 words
Awesome
Supportive
Helpful
Liveable
Youthful

Thank you for being the best!

Emma – Ruth E

Lisa has always been a great teacher to Maisie. She genuinely cares for each & every child & has so much patience. Maisie isn't always an easy toddler, but Lisa is always there for extra help if needed. I've never felt worried about any toddler melt downs in Lisa's lessons 🙂!

Chloe C – Maisie

We cannot thank Jane enough for bringing Ember on with her swimming. As a lockdown baby she missed so much vital learning in her younger months, but we are lucky that Ember loves the water and cannot wait for her lesson each week. The fact that she's now a Little Dipper at just turning two I think shows how far she's come on with Jane's support and great teaching. Jane is nothing but encouraging and it shows just how much each child means to her in her lessons. Whether it's a first lesson or 50th each pupil is made to feel special. Even if it's an off day for them they are always given praise and patience. Thank you, Jane, for giving our little nemo the encouragement and support she needs to enjoy the water.

Natalie F – Ember 

Michaela is like the Mary Poppins of swimming instructors. She is firm when she needs to be and super kind and respectful all the time. She always checks thoroughly that everyone in the group has understood what she has said, and she is brilliant at tailoring the content to the needs of the class.

Elizabeth - Noah

Evie really enjoys her swim lessons with Lydia. Lydia makes learning fun with her enthusiasm and charismatic way of teaching. Evie has come on leaps and bounds through the patience and time given to get her used to the water. Along with the consistent approach Lydia gives Evie and the rest of the group I think Lydia deserves the Star teacher award, for just being all round awesome!

Lisa – Evie W

Michaela and Carey have made Lewis's transition from little dippers to Swim Academy easy and fun for Lewis. He really enjoys his swimming lessons, and his confidence has grown.
Thank you

Laura – Lewis T

Anna is friendly, supportive, inspiring teacher. Develop very good contacts not only with her little students but parents too. Anna and Jane work together very effectively. They are both very kind and helpful. They make the whole swimming lesson a fun and memorable experience. :)

Maria – Bernard T

Ashly always has a smile on her face and is FULL of energy which radiates into her classes. Wilbur really enjoys his swimming and has made huge progress during his lessons. He is very fond of Ashly, and we are so grateful for her teaching. She is a star!

Serena – Wilbur F

Lisa is probably the most welcoming, cheerful and engaging person I have ever met! My little one is stubborn (but lovely!) and won't perform on demand but since her first lesson Lisa has always managed to get the best out of her and it is the highlight of Orla's week. She talks about Lisa a lot, which considering she only sees her for 30 mins a week shows how much of an impact she has on Orla! She was made for this job!

Kate – Orla C

I have been so impressed at the way Jane has engaged with Mia on a very individual level and very grateful for the specially created bridging classes she has benefitted from along with another child to help them transition between Dippers and Academy L2. Jane manages to maintain Mia's attention throughout the class and therefore elicits good understanding of what is required, and she always seems so genuinely delighted when she sees Mia progress and I think this shared joy in all of her small achievements is enormously encouraging to Mia, giving her confidence and making the lessons such an enjoyable experience for us all.

Claire M – Mia

Michaela has helped Jessica's confidence grow each week since she moved up to the swim academy from puddle ducks' classes. She talks direct to the children and makes sure they're happy and understand what they're doing. She's very enthusiastic which makes Jessica excited to swim.

Hayley – Jessica N

Thea has been stretched and challenged just enough to step outside her comfort zone but remain feeling safe and secure with Lydia and has completed her 5 and (nearly got there), 10. Lydia has rebuilt Thea's confidence after a period of Thea feeling like she wanted to have a break from swimming. She looks forward to it every week now and doesn't stop talking about how much she likes Lydia.

Steph – Thea

Carey and Michaela are both super engaging and enthusiastic!
They make every child feel special and happy to learn. Hudson made amazing progress with Michaela and Carey, and I couldn't be happier myself :) Xxx

Jolanta – Hudson P