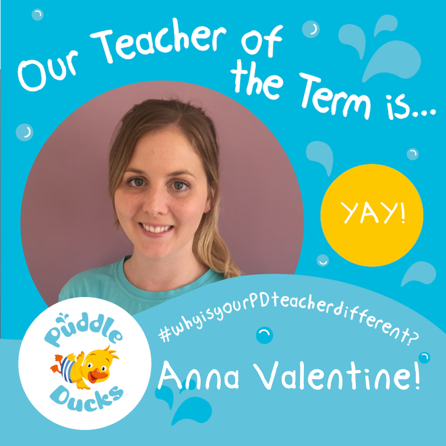 Anna has again been crowned our Teacher of the Term for Spring 2017! Yay! 
Fiona from DorsetMums chose the winning nomination, sent in by Dory, Mum of twins Poppy & Isla (who we featured here too!)
"When your girls start re-enacting their swimming lesson in the bath and start arguing about who is going to be Anna, you know you have an amazing teacher. Anna has truly worked her magic with my girls. Her endless energy and enthusiasm has enabled her to deliver well paced and fun lessons. The girls have had their ups and downs but she continues to support and nurture them within a class and personalises her teaching to meet their needs. My girls always feel safe and confident in the water and that's thanks to Anna's hard work, perseverance and determination to turn them into swimmers. To others, Anna may just be another swimming teacher but to Poppy and Isla she is their hero."
Fiona said ;
"Wow, Puddle Ducks definitely has lots of amazing teachers!  Having read through the many nominations I have learnt that the teachers are very dedicated to their job, they take time to learn the little things about a child like them growing their first tooth or the fears they may have in the beginning.  Each baby and child is nurtured and given confidence in a fun and encouraging way.
It's clear to see that the children enjoy their lessons and always look forward to their next class.
Having read all of the nominations (some twice) I decided the winner should be Dory Morris.  I loved that her daughters re-enacted their lessons in the bath and that they have a special bond with their teacher.  Through determination and perseverance these 2 girls now feel safe and confident in the water."
About DorsetMums
We are sure you have mostly all heard about the amazing Dorsetmums, but if not here's a little info about what Fiona does. DorsetMums was started by a local Mum who enjoyed discovering new places with her children and wanted to share what she had found with other local families.
Now, the Dorsetmums website lists toddler groups, pre school clubs and classes, places to go, upcoming children's nearly new sales, first aid for babies/children, meetups, competitions and our blog which features our recommended family friendly places to go.
To keep up to date with local news and events please visit our Facebook or Twitter pages.
-
We all wanted to say a HUGE great big Thank You to everyone who took the time to send in your lovely nominations for your Puddle Ducks Teachers, it means so much to us as a team to hear that you are all enjoying your sessions and to hear that swimming is an important part of your children's lives too!
We couldn't just choose ONE nomination, so we wanted to share some of our favourites with you all, for each of our lovely teachers!

In Ella's words:

"Lisa is the best swimming teacher that I have ever had  

She is always at my lesson in a good mood, smiling, and making me feel welcome (I would give her 1000 stones, and I really like stones).

She is so patient and helpful with my learning (as I was not always a happy underwater swimmer and now I am sooo excited I splash throughout the lesson).

Lisa is very good at finding ways to adapt what we do to where I am at (well we all develop at different rates), I like that there are always different levels of challenge to work towards.

Lisa helps me to reach, reach, reach my potential always (even when my mum is nervous for me to try some of the bigger skills).

I love coming to swim class every week and love my teacher the 'bestest'."
Stacy & Ella - Hoburne Bashley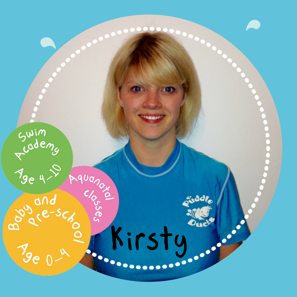 "We love swimming with Kirsty every week. She always takes the time to chat and interact with Seb so he knows her and this has helped to make him so calm and relaxed in the water.
My Dad has taken Seb swimming a few times, he loves it and Kirsty ensures that he is made to feel welcome and adapts the songs to make him feel included.

Kirsty is always caring, approachable and fun, we look forward to sharing our Puddle Ducks journey with her! Thank you Kirsty."
Hannah & Sebastian - DW Fitness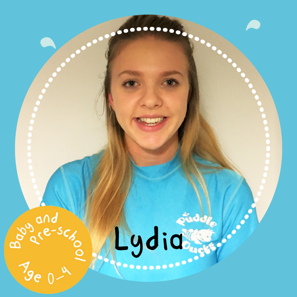 "Lydia should win teacher of the term as she is always so warm and welcoming when we go to our Splashers class. Her bubbly personality and positivity gives me the confidence to participate with George in all aspects of the class including the submersions! George has really taken to Lydia and it is so lovely that she has taken the time to get to know his personality too! Every week she remembers to see if he has any teeth as he has spent most of the lessons chewing his fists and yet there are still no signs of any teeth!!"
Louise & George - Avon House