Incoming!! SUPER CUTE email from Bethany and Mummy Mary who raised £135.50 this PJ Week!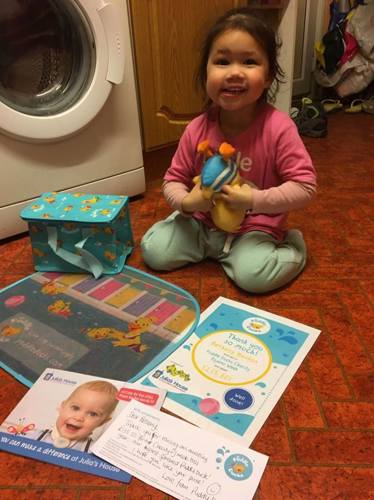 "Hello Puddle Ducks,

Thank you for Bethany's prizes from PJ charity week. Bethany is so happy being a Puddle Duck and I am so proud of her that it was a pleasure fundraising for these two amazing charities. She absolutely loves her own personal Puddle Duck. She has named her Kirsty after her swimming teacher, who Bethany adores and who is amazing with her!

I will use this opportunity to thank and give praise to Kirsty who is fantastic with Bethany and all the other children. She always makes the sessions fun and happy and delivers it with a beaming smile which is infectious! Bethany has developed her swimming skills quickly and although she messes around still, she is learning to listen and always improving. Thank you Kirsty! 

Keep up the good work and I'm so glad I chose Puddle Ducks! 

Have a wonderful Christmas and New Year! (and a well deserved break!)"

Love Mary & Bethany
(Little Dippers - DW Fitness)

Thank you so much for your lovely message for us and Kirsty! We are so glad you love your goodies, and thank you again for raising so much money for our lovely Charities, Julia's house and Mosaic this year!