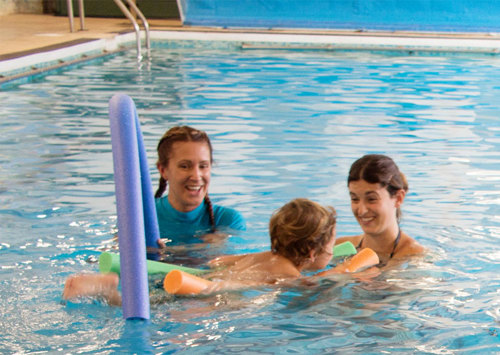 Huxley has always loved the water. He's always been more than happy to take a bath, never been scared of swimming and will take every opportunity possible to splash in puddles or run head-first into the sea. I think this was helped a lot by the fact that he spent the first 18 months of his life living with the beach down the end of the road and we would take him into the sea and let him splash around quite often. We'd also take him swimming in a pool whenever we had time and he'd love jumping off the side into our arms.
Unfortunately, with renovating the house over the last year and no fixed weekly timetable for activities, swimming fell by the wayside and we ended up going less and less. We knew Huxley still loved the water because we'd been away to America and Spain and had no trouble getting him in the pool but we could see that he was getting more scared to jump in and would only listen to our swimming instructions for so long before he got bored and just wanted to splash around (as most 2 year olds do!)
So, when I got an email from Puddle Ducks Dorset asking if I'd like to come along to swimming lessons for half a term I jumped at the chance. Knowing that it's a big weekly activity at a set time, on a set day, has made swimming a super easy commitment to keep as we now have to plan our time around not missing Puddle Ducks.
We started our half term at the swimming pool at St Michaels Middle School in Colehill, Wimborne. The first class was the only one I've been able to get in the water with Huxley for as I've just been way too pregnant and tired to join in with the rest so Nick has been taking him. (Nick was running a marathon on that first day so a huge thanks to the team at Puddle Ducks for taking some photos of me & Hux in the water for me to use!).
Huxley LOVED the class right from the word go. If you're a parent, you'll know that the easiest way to get your child to do something is to do it with other children. Huxley also responded really, really well to having a teacher and definitely listened to the instructions from Jane much more than he ever would from Nick & I.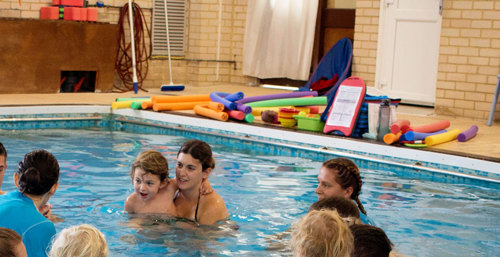 The best thing about Puddle Ducks is that they ease your child into doing things in such a fun way that the children don't even realise that what they're doing might be considered 'scary'. For instance, to encourage your child to put their face in the water (something Hux isn't keen on), they get the kids to blow bubbles in the water, which is obviously really fun! Then they handed out two woggles/noodles to each child to pop under their arms and I was amazed at how quickly Hux took to kicking his legs and swimming without me even holding on using this method. It seems so simple now that I think about it that I can't believe I hadn't thought about it before! The classes are filled with toys, singing and games so nothing ever feels like a test or a challenge and Huxley balled his eyes out when we eventually had to get out of the pool.
Puddle Ducks offer two different swimming programmes, Baby & Pre-school (for 0-4 years) and Swim Academy (for 4-10 years). The Baby & Pre-school category contains 6 different ability levels so your child will always be progressing. Hux is currently in the Little Dippers class for 2-4 year olds, which is the 4th level, and the two classes above this are less age-specific and are more to do with your child's confidence and ability.
We've recently moved over to the Saturday classes at Portfield School in Christchurch (near Bournemouth airport) and these suit us a little better as they have mixed changing rooms so I'm able to help Nick get Huxley changed.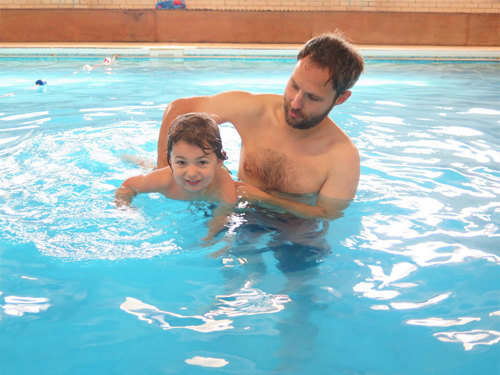 Since starting our classes, Puddle Ducks have launched a new online portal which makes managing your swimming lessons super easy. You can login and see the details of your current class, what date you've paid up until and when your next payment is due. They've also recently changed their payment structure, so instead of paying for set term-time dates, lessons are now paid for in blocks of 8 and can start mid-term. You get email reminders when your payments are due or you can sign up for recurring payments.
Another great feature of the online portal is the 'My Children' tab where you can see the criteria that your child needs to meet in order to move up to the next class. This is a really great way of knowing what you need to focus and work on if you take your child swimming on your own. You can also use this section to message the class teacher and book holiday or catch-up sessions for any cancelled lessons.
Okay, so, down to the cost. Each lesson costs between £14.50-15, these are booked in advance. For this, you get the use of a private pool (usually a school, fitness centre or hotel) meaning that the facilities are generally nicer and much quieter than a public swim session at a regular pool, the expertise of a specially trained, dedicated teacher and the confidence that your child is learning to respect the water, as well as learning to swim.
We've been to 4 lessons so far and the progression we've seen in Huxley has been amazing. He's now happy to jump into the water without holding Nick's hand, is much more confident about sticking his face in the water to blow bubbles and can kick to swim when using the woggles/noodles. Puddle Ducks is definitely something I would recommend for any parent as learning how to swim and be safe around water is such a major life skill.