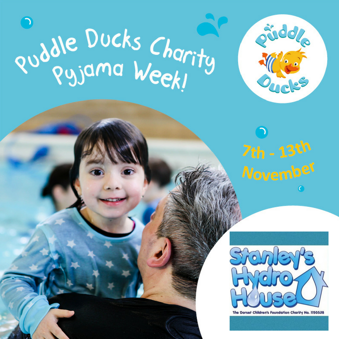 Our Puddle Ducks Charity Pyjama Parties are coming this November so pop on your PJ's and come swimming 💦
Last year we raised over £1,400 for the NICU at Poole Hospital.
This year we have chosen to support Stanley's Hydro House together with The Dorset Children's Foundation, a charity founded by a local boy's mum who is fundraising to create a hydrotherapy room and pool to help Stanley and other local disabled children in mainstream education get the therapy that they need and deserve.
Stanley was diagnosed with cerebral palsy at 8 months old; since then the number one thing that has made a difference to Stanley is hydrotherapy. For the rest of the day he is like a different child both physically and emotionally. In the water he feels free, relaxed and empowered much like our little Puddle Ducks. He is able to perform physical actions he never has on land. The thought is that repeating these movements may in fact help him replicate them out of the water (Stanley has never even taken a step).
We will have lots of fun in the water in our PJ's while learning some invaluable water safety skills, win some great raffle prizes from some amazing local businesses including; Limewood Hotel & Spa, Farmer Palmers, Boden and ourselves at Puddle Ducks Dorset! We hope to smash last years total in aid of a cause close to our hearts.