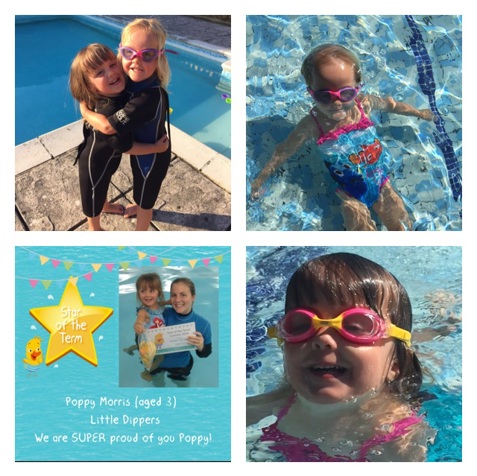 We thought we would share this lovely story from Dory and her twins Isla and Poppy, who have been with us since they were just under 2 months old in our Floaties Class and are now 3 and a half and in our Dabblers class! They have been through a whirlwind journey so far but now everything has clicked into place and both Isla and Poppy are fabulous little swimmers, full of confidence and grace and we are so proud of them both!
"Swimming with twins, is it possible? Well thanks to the Puddle Ducks team, the office that organised me, the truly wonderful Anna, my dedicated friend Auntie Gorge and fabulous poolside assistant Kelly, it is!
Our Puddle Ducks story started when my twin girls were in Floaties (0-6 months). It's certainly been a roller coaster. We've all watched them splash, laugh, cry, be submerged with varying degrees of success, jump and cry some more!
Well what do you do when one twin loves swimming and the other doesn't? Listen to the team, follow their lead and persevere. Isla has always loved the water, her sister Poppy though, well I can still hear her crying.
Lessons went by and the girls continued to progress, mummy was happy, Poppy became happier as long as the big float didn't come out and she didn't have to put her face in the water. Our lessons pretty much went like this. "Please Poppy just blow one bubble- no? Ok. I promise you don't have to do 'jelly on the plate'. I won't let go of the woggle, oh silly me you don't want a woggle. Yes Poppy (I'm exasperated by this point) you can hold a duck". Despite our ups and downs, with thanks to Anna, within a whole class she managed to make you and your child feel safe and special and encouraged them to swim and splash the best they can.
Then Isla moves up a class to Dippers and Poppy stays in Little Dippers. Well how can I manage this safely? In comes Kelly the poolside assistant to the rescue! We continue in this way, swimming on holiday (Isla mainly), introducing goggles, singing the songs and then suddenly it happens. Yes at 3 years old Poppy actually put her face in the water on holiday. She blew a bubble, dived for Dory and was having fun swimming in the baby pool. Oh my days, how my heart filled with joy. We couldn't wait to show Anna and Kelly. Then Poppy was awarded 'Star of the Term' and it was mummy's turn to cry!
The girls continued to thrive (now in Dabblers class) and now it's mummy's turn to sit poolside with Kelly. I watch my twinklies proudly overcoming new challenges and I listen to them answer questions. I may now be poolside but I still have fun laughing at them attempting pencil glides, mermaid swimming and swimming in all sorts of directions on their back. I'm safe in the knowledge that the Puddle Ducks team are raising their ducklings into swimmers.
But please girls, and especially you Poppy, when you are waiting for your turn 'Keep Your Head Above Water!' "
If you would like to share your Puddle Ducks journey with us please get in touch... We would love to feature you!