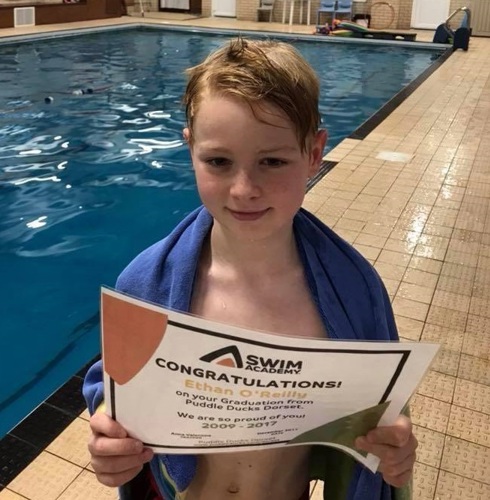 We have another Graduate of our Swim Academy Program! Ethan was in one of the first groups of 'Floaties' Jane taught, after joining when Puddle Ducks Dorset was less than a year old at the old Lodge Hill Pool. Right from the first lesson it was obvious that Ethan was going to be a superstar in the water, and he proved us right as he moved through all of the levels at the earliest possible stage. Coming from a family of very confident swimmers, he took everything in his stride and has always demonstrated natural talent. He has even completed a Triathlon at St Michael's Middle School!

Jane said "I will never forget the first day he started in what was our Development class with me out of the water - he was the youngest by about 2 years and significantly smaller but he was totally unfazed. He's come far since that day and it's now a joy to watch his beautiful stroke and technique."

Anna said "Ethan is a natural in the water but he also works extremely hard. He listens to instructions and is always trying to improve. Not only does he have a beautiful stroke but I think he could out-swim most adults. His stamina and endurance is outstanding and I am always impressed with his distance swims. I am sad to see Ethan go and he will be missed in class but I wish him all the best for the future and hope he continues with his swimming."

Congratulations to Ethan, we are all so proud of you and we will miss you!