Everyone... Meet Teddy!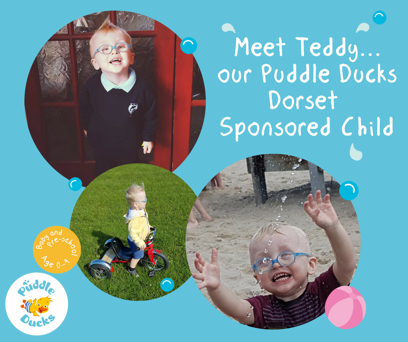 Teddy is our Sponsored Child for a whole year! We are so excited to see Teddy's progress and watch his confidence in the water and swimming blossom! He is having his first session tomorrow and we will keep you all updated on his journey with us in the future, but for now here's a little more about this super cute 2 year old, from Mummy, Victoria!
Tell us about yourselves...
"Where to start to tell you about us?? We are a crazy foursome! There is myself and my husband Matt, I am originally from Manchester and Matt is from South Africa. I work in the food industry and he was a master carpenter before giving it a up to be a full time dad and carer for my mum following the death of my dad 2 years ago (just 4 days after Teddy was born). Our eldest child is Lilly-Anne, she is 5½ years old, she is very inquisitive, spirited and a self confessed clever clogs. She loves her little brother and is so caring. Teddy (or bear as we call him) is 2 yrs old and such a character! Everyone who meets him loves him. A little charmer. He loves the water, both the children do, bath times are always a good source of fun in our house.
Why did you want Teddy to be our Puddle Ducks Sponsored Child? 
I'm so passionate that both my children learn to swim. It is such a fantastic skill to have and one that could potentially save their life. I believe that all children who are able, should be taught to swim very early in life. Living near the coast in an area with swimming pools and water courses I think we as parents have a duty to take our children swimming and teach them survival techniques at the very least. All to often we hear terrible news that a child or Adult has drowned after falling in a swimming pool open water. Some of my best memories as a child are from swimming and being on the beach. I think it's great family fun to swim or play in the water together. No mobile phones, no distractions, just lots of good clean fun!!
We haven't been able to teach Teddy to swim or even take him in a swimming pool as yet because as a baby he had severe reflux and a dairy allergy. Just leaving the house some days was too much. As you will see from his pictures Teddy wears glasses. He has a strabismus in one eye and is long sighted. Because of this if Teddy's glasses come off for any reason he doesn't always see the edge of steps etc. It's my great worry that he won't be wearing his glasses one day and will fall over the edge of a river bank or a swimming pool etc.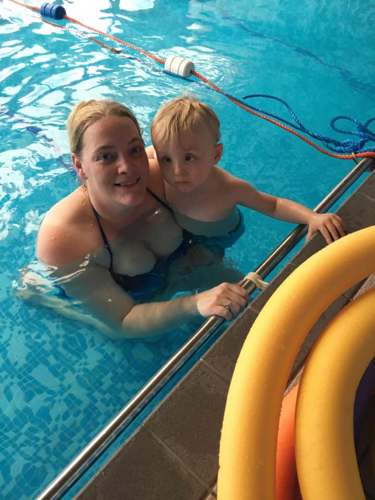 We have heard a lot of good comments about Puddle Ducks and when we were pregnant with Teddy, planned to get him signed up as soon as we could, his illness prevented us doing that. We think it's fantastic that you teach the children to swim without armbands, as if they were to fall in water they wouldn't generally have them on anyway! The whole ethos Puddle ducks has seems to fit so well with us. When the opportunity came up to apply to be a sponsored child we grabbed it and crossed our fingers.
What is Teddy most looking forward to in his swimming lessons?
I think Teddy is going to love Puddle Ducks. It looks so much fun. I have shown him a few videos and pictures from the website and she points and shouts 'swim...me!' He then demonstrates his swimming techniques. It's great to watch. I think Teddy will enjoy it all. What isn't to like? I think the one to one time will be amazing. I would like to see Teddy gain more confidence in the water and start to gain some independence. To know he is learning the basics he needs. I think he will love the social aspect of the classes and the freedom he will feel. I have just told him he is going swimming on Thursday and he is so excited. Running around shouting yippee and wow!
I'm sure he will be the happiest little Kicker in the pool! The classes sound absolutely amazing. I'm very excited to be joining in with them too! We are really very grateful for this opportunity you have given my little man. It means so much to us I can't really put it into words."
#PuddleDucksDorsetSponsoredChild #TeddyatPuddleDucks#PuddleDucksDorset