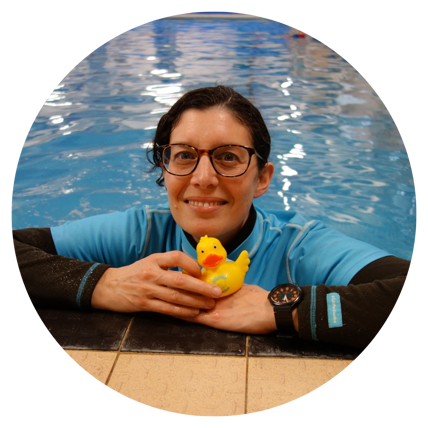 HOORAY! Our Star Teacher Award goes to... Jane!
It means so much to hear from you all, and we have loved reading through your nominations. The teachers have all been blown away by your thoughtful words and stories, it really makes me so proud to have such an amazing team of teachers at Puddle Ducks Dorset. 


We asked our independent Judge, Deborah from
FAB Dorset
to read through our nominations and choose her favourite to be our winner this term!
"I have read through all of the feedback and WOW there are some awesome teachers at Puddle Ducks! I have chosen the quote that stands out the most for me. This teacher clearly understands that the only way the child will develop is if the parent is confident and has shown that the lesson isn't just about the child, but that their adult is equally important..."
"We joined a month ago and I was quite anxious with Grace in the water, but Jane spent the time to find out why and help me build my confidence to the point where I look forward to taking Grace in the pool."
Charlotte C-M and her Daughter, Grace.
---------------------------------------
About Families & Babies Dorset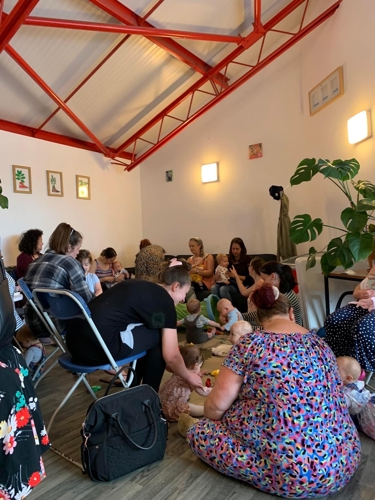 Families and Babies (F.A.B) are a breastfeeding support charity who offer face to face and virtual support across Dorset. We currently have 10 groups across the county, which will be expanding in the new year. Our thriving online support group has over 2000 members, it is an integral and invaluable part of our service. It gives members the opportunity to ask any questions, anytime- (so when you are doing those tiresome night-time feeds, it's guaranteed that you're not alone!) which will be responded to by other members, as well as our trained peer supporters. Every weekday at 10am we host Facebook rooms, which is a video chat and means that even If mums/ families are unable to get to a face-to-face group they can still access that much needed emotional or practical support virtually. 
At F.A.B, we support and celebrate all aspects of your breastfeeding journey whether you are pregnant and want to make yourself familiar with our groups and peers or find out more about breastfeeding from other mums and their personal experiences, whether you are feeding a two-week-old or a two-year-old, if you are exclusively breastfeeding, pumping or combination feeding. All are welcome. We welcome partners, or another support person and older siblings too! Our groups are always well equipped with tea, biscuits, our smiley peers, or a shoulder to cry on (because sometimes that can be all you need). You don't have to need support to come to group, our groups are just as much about being able to socialise and meet other mums and families. 
Another of our goals is to celebrate and normalise breastfeeding in society. To this aim, we support the breastfeeding welcome scheme alongside the NHS in Dorset, where we provide breastfeeding welcome window stickers and information on how to be breastfeeding friendly to cafes and other family venues. There is a list of breastfeeding friendly places that we have contacted for families to access on our website.
Here are some of our favourite nominations for the rest of our team...
Not only is Lisa lovely, and a fantastic and patient teacher...my goodness she cares and loves our babies too!! On a recent lesson Grandad took my daughter in for her lesson. Lisa was great guiding them both through the lesson whilst I watched and took a few snaps....one of which happened to have Lisa in the background beaming with pride watching how special it was for one of her little splashers to be swimming with her Grandad. Thank you, Lisa, for being you!!

Wendy H

She is just brilliant very energetic and very detailed in explaining what we are going to do next with the children & brilliant with the children, welcoming and bubbly also keeps it super fun. She's been great in fulfilling the role while Anna has been off who is also a wonderful teacher. Can't fault any of the Puddle Ducks' team.

Louise E

I'm not a confident swimmer myself but we felt it important that this isn't the case for Darcey. Jane gave me the confidence in the water I needed to help encourage Darcey to enjoy and make the most of her swimming lessons. When Darcey went through a period of being very nervous of the water, Jane was patient, kind and reassuring and worked with us to come out the other side. Darcey now looks forward to her lessons and smiles and giggles the whole way through. We're really proud of how well she's doing and would like to thank Jane for giving our little girl the best start in the water.

Laura

Liz has such a warm and caring nature. My boys love her classes! After some time off from swimming over the summer my eldest Joshua has had to work hard to rebuild his confidence back in the water. Liz has been amazing at encouraging him and helping him relax in the water. Joshua has also built up a lovely relationship with Mandy since being a floaty and loves to wave at her on the pool side.


We have also been lucky enough to have been taught by Jane and Ashly too which my boys and I all think are equally as wonderful. A fantastic team of individuals who share their super positive energies building confidence in my boys and making the lessons really fun. We wish we could vote for them all!

Emily D

Carey has been incredible with Luella in getting her confidence up after a BIG wobble in Level 2 and is always supportive of her when she is nervous. Since joining L3 her confidence has soared and she loves her lessons after school with Carey and re-enacts them during bath time!

Sophie J

Lydia is extremely good at getting down to the children's level and engaging them and making the class fun.

Karl B

Since I have joined Puddle Ducks with Henry when he was 3months old I have thoroughly enjoyed seeing Henry develop and grow in confidence within the water. Lisa is so welcoming and has so much knowledge creating a very calm relaxing atmosphere. She is always so encouraging with Henry giving examples of how I can push and his development and acknowledges when he is exceeding in certain skills. She is always so supportive to all the members of the class and is excellent with the babies and children that they appear very relaxed and at ease as well. You can tell Lisa has had a wealth of experience and I would recommend her to any friends considering starting swimming lessons in the future.

Natalie S

We've only had our taster session so far but having met Ashly we were 100% sold. She made us feel better about Thomas' initial cries and put us all at ease. Excited to start after half term!

Annabel H

Jane is amazing! She's kind, caring and respectful of the children's wishes. If they don't want to go under the water, she respects that and gives gentle encouragement. Her classes are always fun and exciting. Freddie often talks about Jane at home. We look forward to coming to our lesson every week.

Daisy W

Liz is always friendly & welcoming during the sessions, creating a positive atmosphere during the class. Liz remembers each baby's name & always knows & remembers their different levels/abilities adapting the session accordingly. Liz takes the time to give individual attention & support to each baby whilst also demonstrating to the parent the techniques & how to best support the baby in the water. Thank you, Liz!

Kelsey P

Lydia was the one teacher who convinced Thea to get back in the water following a period where Thea had a knock in confidence. She didn't say anything in particular. She is just so kind, warm, nurturing, and happy. Her dynamic and animated teaching style really suited Thea. And she was always smiling!

Stephanie B

As a first-time mum and a new to taking my daughter swimming. I was nervous, I was put at ease straight away. Lisa came and introduced herself as talked me through what was going to happen. I honestly have never enjoyed a lesson as much as I enjoy going to these. Angharad S

Lilah-Daisy absolutely loves having Ashly as her teacher. She's been amazing in building her confidence and noticing her progression. Swimming is Lilah-daisy's favourite time of the week!
Laura C

Liz's interaction with the Kickers is amazing. She makes the lessons fun for everyone, with song and good instructions. To be rewarded with lovely smiles just shows what fun the little kickers are having. Keep doing what you do best Liz! Thank you.

Sally