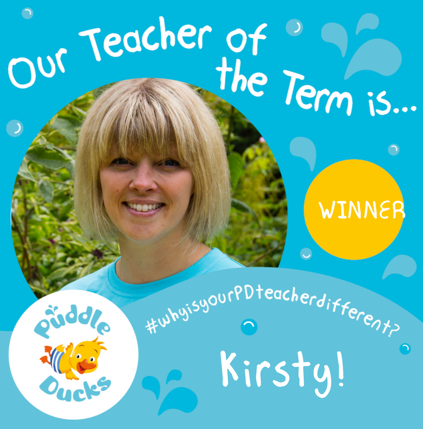 Our Winner of Teacher of the Term Autumn 2017 is…. Kirsty!!
HUGE Congratulations to Kirsty, her hard work and dedication to her job and each and every child she teaches shone through in each of her wonderful nominations. You are very loved Kirsty! This nomination proves even further how nurturing she is with her students and parents, and works together with them to encourage the true potential of each child.
The winning nomination was send in by Emma, Oliver's Mum from our Little Dippers class who swims at DW Fitness. 
"Kirsty has turned my little boy who was petrified of water into a little swimmer who absolutely LOVES swimming. His confidence and love of swimming has grown so much in the last 2 years, at times it's been difficult, but Kirsty has been there supporting us both and keeping is going. Without her enjoyable lessons and encouragement, he would not be where he is today. Proud is not the word for it!"
Our Independent Judge Samantha from Samantha Prewett Photography said;
" I was really honored to be asked to select this terms winner of the Teacher of the Term, although choosing was not easy! I was overwhelmed by the amount of nominations, it's clear that everyone adores their Puddle Ducks swimming lessons and the support offered by the teachers seems to go above and beyond swimming alone, some even mentioned their teachers supporting them with parenting advice which it absolutely wonderful. All were fantastic but one really stood out to me. I chose Emma's nomination because I thought it was so lovely to hear how Kirsty helped her son to not be afraid of water. When my son was 2 he went through water 'wobbles' and we stopped taking him to lessons, as he wouldn't go in at all. If we had a better Teacher who was more encouraging and did our lessons with Puddle Ducks I'm sure this wouldn't have happened."
We must say thank you to each and every one of you who took the time to nominate their teachers, we have been very touched by each of them and it really makes us feel proud of what we do. Also thank you to Samantha who was our independent judge this term - find out more about Samantha Prewett Photography below.
---
About Samantha Prewett Photography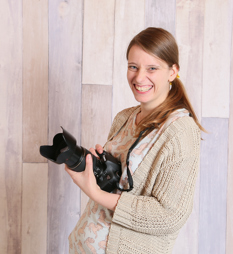 I provide natural maternity, newborn and family photography across Dorset. 
Newborn sessions are a relaxing, calm experience with me here at my home in Poole. Your session is totally baby led and I work with your baby to produce some stunning natural images that you will treasure forever.

​Family sessions are a fun experience and take place  either at your home or at a beautiful outdoor location. Not coming to a studio means your family are more relaxed and this helps to produce some beautiful, natural images that you will enjoy forever.
Samantha Prewett Photography was 'born' in 2013, when my youngest was 18 months old and I needed to start thinking about working again. I studied photography and always knew I wanted to be a photographer, but until I had children I never knew what I wanted to specialise in and I never dreamed about having my very own business. It's not always easy, but it fits in so well with my family and I LOVE every tiny aspect of my work. Over the last 5 years Samantha Prewett has continued to grow and I love that my job is my passion!



Here are some of our favourite nominations sent in by you for our teachers, that we just had to share!
Anna always has my vote when it comes to teacher of the term. She has an incredible connection with all the kids she teaches. My daughter absolutely loves swimming with Anna. It's our favourite activity to do together. I will continue to book with Anna on every class Lilah-Daisy does.

Laura, Lilah-Daisy's Mum

Kirsty has always been patient with Lucy. When she has refused to go under water we have tried alternative methods until Lucy has decided she would like to go under. Lucy is confident in the water and enjoys swimming. Kirsty even puts up with her requests for yellow woggles! There are times when I almost gave up because Lucy didn't seem to be enjoying swimming but Kirsty helped me to see that it was just a phase, and we worked through it by listening and following what Lucy was happy doing. I am so pleased we carried on, swimming is a highlight of our week.

Samantha, Lucy's Mum

Lisa is like one of the family now, Barnaby has swum with Lisa every Friday term time for 3 years and we always have fun. She always manages to put Barnaby at ease no matter what mood he's in and adapt an activity if necessary for him as he's sometimes reluctant to try things. She is always happy, enthusiastic and supportive. We are so pleased that Alfie has now also begun his swim journey with Lisa too. Lucky Boys!

Sarah, Barnaby and Alfie's Mum

Kelly has helped Emily to develop so much more confidence in the water this term and has helped her to progress into the next level! Emily loves coming to the lessons and Kelly has such a lovely calm manner with the children. Thank you!

Paula, Emily's Mum

Anna has been Charlie's main swimming teacher ever since he started Puddle Ducks at six months old. She has always been so supportive of his journey, encouraging and kind yet not taking any of his occasional nonsense! Most importantly for us Charlie has never once not wanted to go to his lessons, is happy and confident in the water, and he so wants to make Anna proud of him, she is a very important person in his life! Thank you Anna.

Sarah, Charlie's Mum

We love swimming with Kirsty as she treats each child as individuals, giving them each time in lessons. Seb adores his swimming with grandpa every week as Kirsty has given them both the confidence to enjoy the water together.

Hannah, Seb's Mum

Lisa makes every lesson special and fun for both the children and the adults. Making every week an enjoyable experience creates precious memories. Lisa is very caring and thoughtful and brilliant at what she does, she creates confidence and develops skills in the water for everyone. She is a real asset to the Puddle Ducks team.

Kirsty, Rex's Mum

Kelly is very patient and kind towards her students in her lessons. Kelly spends the time needed to help her students perform their lesson with the proper technique. Charlotte loves her lessons with Kelly!

Amanda, Charlotte's Mum

Anna is amazing! George loves her! He's happy to go to her and I love her way with all the babies and children. She's young and enthusiastic and remembers every child individually. Anna you are brilliant and get our vote! X

Kim, George's mum