Our Winner of Teacher of the Term Spring 2018 is…. Lisa!!
HUGE Congratulations to Lisa, her infectious smile, love for teaching and nurturing personality shines through in her nominations this term. The winning nomination was send in by Lyndsey, Emilia's Mum from our Splashers class at Hoburne Bashley​.
"Emilia is very worried and sensitive about unfamiliar adults. Lisa is working so hard to build up trust with her. She takes the time at the end of the lessons to have a chat with Emilia and myself, and she knows both of our limits. She supports us to take next steps and try new things and empowers us to feel confident about it.
It's hard work and isolating at times having a baby that is so anxious about new things. Before Puddle Ducks and Lisa, swimming lessons reduced us to tears. Now we are excited to swim. Lisa's friendly and reassuring demeanor makes me feel so comfortable, I can actually talk to other parents rather than panicking about a crying child. And 150 words cannot describe how priceless that is to a first time Mum. I'm so proud of what we've achieved and I thank Lisa for that."
Emma from Sunflower Baby Massage​ was our Independent Judge this term, and here is what she had to say;
"WOW! I love Puddle Ducks even more now!!! The benefits of your classes extend way beyond teaching Children how to swim and this is why I have chosen this nomination. I feel very privileged to have had the opportunity of reading these most lovely nominations, which all demonstrate how your wonderful swimming classes extend way beyond teaching Children how to swim, and this is why I have chosen this nomination in particular to be Teacher of the Term. This nomination highlights how this special teacher has focused on helping mum and baby to feel comfortable and welcomed by establishing rapport, building trust, offering empowerment and increasing confidence for them both... I think this nomination says it all for how much this lovely teacher and her nurturing approach has meant to them both ~ benefits that extend way beyond swimming...."
We want to say thank you to each and every one of you who took the time to nominate your teachers, we have been very touched by each of them and it really makes us feel proud of what we do!
---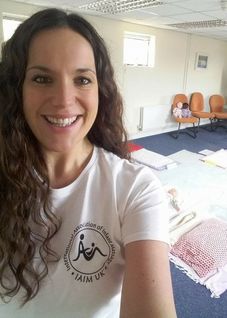 Also thank you to Emma who was our independent judge this term - find out more about the wonderful Sunflower Baby Massage below.
🌻Emma is a Certified Infant Massage Instructor with the International Association of Infant Massage (IAIM) and facilitates five-week IAIM Baby Massage courses suitable from birth to pre crawling.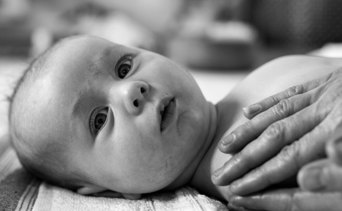 Over five-weekly 90 minute classes you will learn a beautiful massage routine with your baby, which draws from Indian and Swedish massage traditions and incorporates principles of yoga and reflexology to promote interaction, stimulation, relaxation and relief.
Emma also offers Puddle Ducks customers an exclusive Rainbow Rewards offer - 10% discount on all group and one-to-one courses. Courses cover East Dorset, Fordingbridge and Ringwood areas.
Sunflower Baby Massage
Emma Lindell
Certified Infant Massage Instructor
INTERNATIONAL ASSOCIATION OF INFANT MASSAGE

www.sunflowerbabymassage.co.uk
emma@sunflowerbabymassage.co.uk
07737 503092


Here are all of the other nominations for our Teachers this term...
Anna is an incredible teacher and I will always continue to have her teach Lilah-daisy and any future child. Lilah-Daisy's love for water is all thanks to Anna and the fun and joy she brings to each lesson. She's soooo fab xx

Laura, Lilah-Daisy's Mum

I think Lisa should win because she is very good with the children explains to the parents very clearly what she wants us to do with our children. She is always happy to see everyone.
Riley is very happy to go to Lisa in the pool. We take Riley swimming if it's half term or lesson has been cancelled and it's nice to see that Lisa notices this as she often says how well he is doing. Lisa gives information that is about the swimming and why we do things.

Gemma, Riley's Mum

Every time we go swimming now, my heart bursts with joy. My little boy has come on so much that it's like a miracle. Kirsty has encouraged and nurtured him, she's had confidence in him and that shows now every time he enters that pool. He started a lot later than the other children due to some health issues but that hasn't stopped him, he also had a fear of water, but thankfully that has now completely disappeared. He's now confident in the water and enjoys it so much. I can't express how much I am so appreciative of Kirsty and her dedication to all the children she teaches, she has made such a difference to us all.

Emma, Oliver's Mum

This term Jo has gone above and beyond to make sure we are all happy. We have had to change swimming pools due to our normal one having a make over.so we have been relocated to a different pool. She has made sure that we are all informed and answered all our questions. As well as being a brilliant teacher. Thanks Jo.

Paula, Finley's Mum

Swimming lessons are the highlight of Alice's week and because of Pasquale's professionalism not only is Alice coming on in leaps and bounds every week but I am also gaining in confidence with Alice in the pool. She is very intuitive, sensing when baby or parent is unsure and gives reassurance.

Jenna, Alice's Mum

Anna is always very bubbly and smiley. Archie has always loved swimming, until recently when he suddenly seemed to hate swimming. Anna made an extra special effort to make him feel at ease in the water, checking in with me often and talking with me at the start and end of each lesson, and he is now back to his confident happy self.

Emma, Archie's mum

Lisa has taught Isabella since she was 5 months old (she is now 29 months) we all love her because she is always happy, fun, encouraging, enthusiastic and caring. She reads Isabella's mood swings well and know when she can push her to get the best from her and equally when to hold back. Thank you so much for everything Lisa x

Louise, Isabella's Mum

Kirsty is amazing she always has a smile for everyone, and her explanation of the different exercises are clear and precise.

Martin, Dexter's Dad

Oliver and I have been swimming with Puddle Ducks since he was 10 weeks old and we loved the lessons and friends we made. But then at 9 months Oliver started to hate going under the water and going to the instructor! Jo started taking the lesson after this point and has been great. She is so supportive and fun in the water and has not forced Oliver to do anything he wasn't keen to and slowly over nearly a year she has won him over. He loves it now and is great at kicking splashing and monkey walking and in the last month going under water (at long last). I want to say thank you to Jo for given me the support to keep coming and managing to enjoy the bits we could do and for letting me know it was a faze and that we would get through it. We love our swimming class and look forward to it each week.
Jo is a great instructor and really interacts with the children and likes to see them progress.

Amy, Oliver's Mum

Pasquale welcomed us into the Floaties class and made us feel instantly at ease. The class generally consists of Dads in the pool and mum's watching which she handles so well. We are never pressured to do anything we are uncomfortable with and we just love our class.

Lauren, Freddie's Mum

Anna always makes the classes fun & enjoyable & she is very organised & structured which I love. My baby screamed a lot to begin with & Anna never made it an issue & assured me she eventually would stop, which she did & now loves classes. I give all of this thanks to Anna.

Kayley, Jessica's Mum

Beth had a bad experience with another swimming system and it was a relief to see how well Beth responded to Kirsty and her teaching method. Kirsty has been patient and fun, Beth loves coming to puddle ducks and tells everyone about it. She is still unsure of going underwater but that hasn't been forced and Beth loves a good roar instead which makes her laugh. I couldn't ask for more.

Natalie, Beth's Mum

Jo has reignited Arthur's love of swimming. She has gained his trust in a very short space of time, not an easy task with my boy, and got him to try new things in the pool that he's previously refused to do. In the past he's been terrified of woggles, now he actively asks to use them. Similarly, he used to refuse to even touch the big floats, now he can't wait to get on them.


Jo is patient and fun, yet firm when necessary. It is credit to her teaching and general manner that Arthur will launch himself towards her, to swim with her, rather than cling to Mummy.
Thank you, Jo, for making swimming such a special and enjoyable time for me and my boy.

Elizabeth, Arthur's Mum

I was totally new to the area, had never taken Freddie swimming before and as a new mama I was already riddled with anxiety but Pasquale was amazing. She made me feel welcome and relaxed and over the next few classes my confidence was boosted and Freddie was jumping in off the float!

Aimee, Freddie's Mum