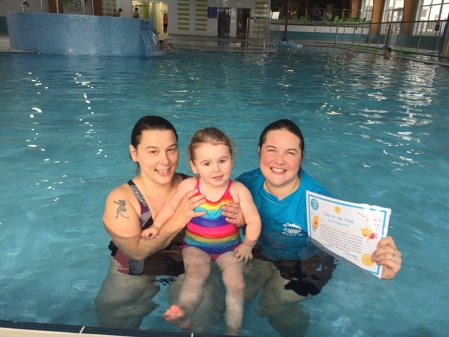 Star of the Term!
Each term at Puddle Ducks Dorset we ask our teachers to nominate a child they would like to win Star of the term. This isn't an easy task with just under 500 fantastic children swimming with us each week!
Our Star of the Term this term goes to Evie, one of our fab Little Dippers at Hoburne Bashley in New Milton.
Our teacher Lisa nominated Evie and said, 

"Evie has shown a real improvement in confidence after a nervous start to the term. Despite always loving her swimming lessons, Evie experienced the classic nerves when moving up to Little Dippers, but she has continued to learn through this term and has now returned to being a wonderfully confident swimmer.
We are all so proud of you Evie, we hope you love your certificate and your very own little Puddle the Duck and had fun showing it off to Daddy, Nanny and Grandad too!
We want to say a HUGE well done to ALL our little Puddle Ducks this term! You have all done so well, you make our jobs worthwhile and to see you all achieve your milestones, both big and small make our jobs the best in the world!