HOORAY! Our

#StarTeacherAward

goes to....
👏 L I S A 👏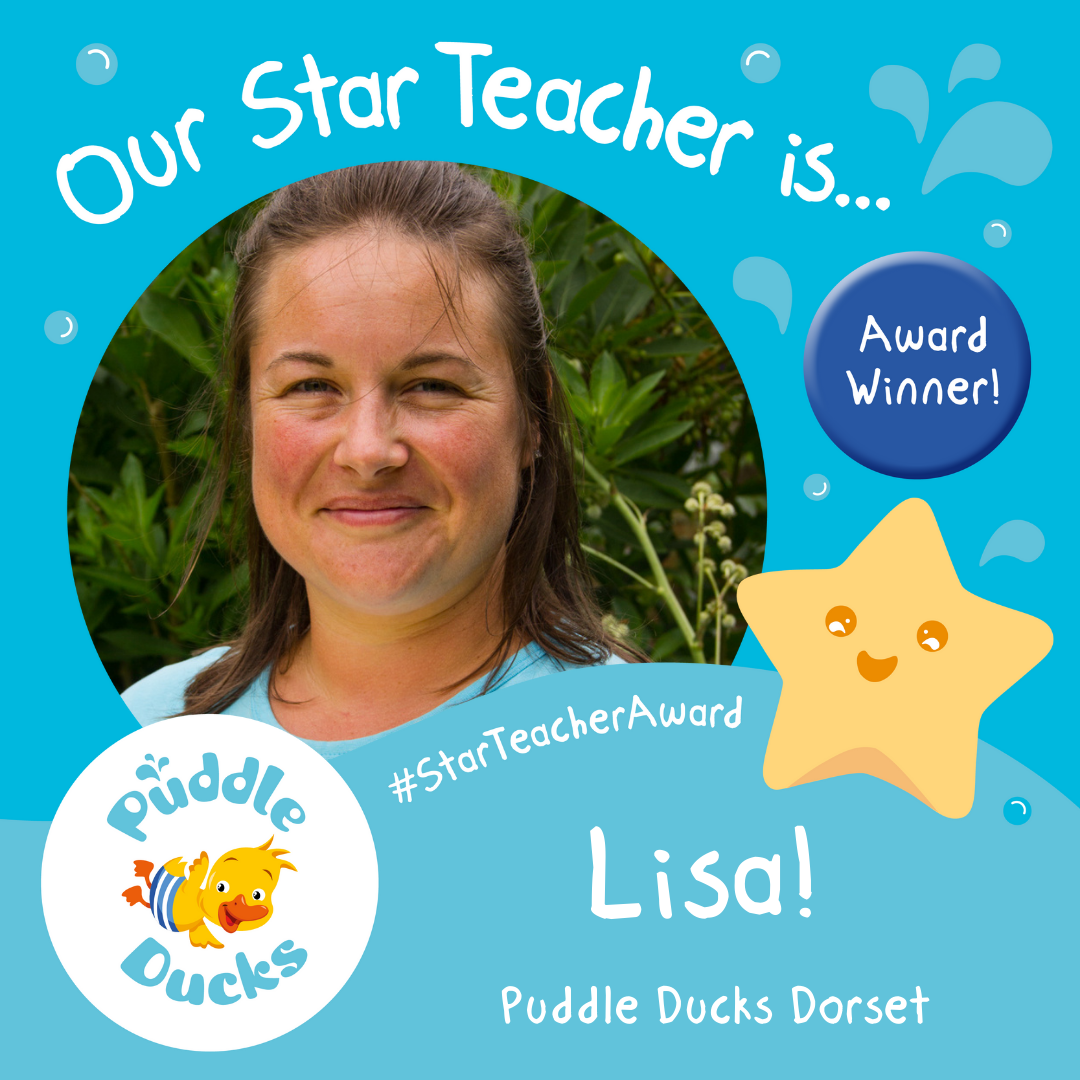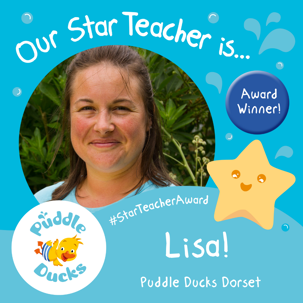 It means so much to hear from you, and we have loved reading through your nominations. The teachers have all been blown away by your thoughtful words and stories, it really makes me so proud to have such an amazing team!

I'm really proud to have such an amazing teacher on our team, I see how hard she works behind the scenes and how much she cares about every swimmer, this is so very deserved - well done Lisa!
We asked our independent judges Emily & Jane from Poole Bumps & Babies to choose their favourite of all the nominations that came in for our teachers this term... here's what they had to say!
"We were impressed that this teacher has not only enabled this child to regain his confidence, but also the way the parent was made to feel relaxed and at ease must've been a great relief. This teacher clearly builds a great relationship with her swimmers!"
Lisa has been amazing with Louis. After moving up to kickers and a long time away through the pandemic my little boy was very nervous. Not once did Lisa make me feel awful for the screams throughout the lessons! In fact, quite the opposite, she spoke to me to say it's completely normal and for me to do my own thing with Louis in the pool whilst others carried on. This made me super confident and helped Louis settle back in and now he absolutely loves his lessons! After the summer break Louis even asked to go to Lisa to do his jump off the float which shows the trust he built even when she was on pool side.
Thank you, thank you, thank you! XX
Dominique, Louis D's Mum
--------------------------------------------------------
A B O U T Poole Bumps & Babies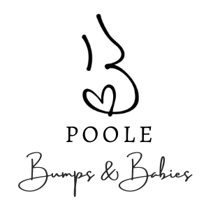 What is Poole Bumps and Babies?
Friendly Midwife-led classes to give you antenatal education, birth preparation and postnatal information in a relaxed and sociable real group setting.​
Jane & Emily have several years experience between them, working at a busy local maternity unit. Their passion for giving everyone a positive birth experience is evident in everything they do. Now they want to share that passion with you.​
Their knowledge is current and adapts to the ever-changing climate of birth.
This is a great opportunity to gain knowledge and feel empowered to meet your beautiful new arrival ​
Based in the Poole area.
When working together as Midwives, Jane & Emily found they had a mutual passion for bringing an authentic element to antenatal education, birth preparation and helping people feel ready to care for their new baby. Before long, Poole Bumps & Babies was born!
Jane has been a Midwife from many years at a busy local maternity unit. Prior to Midwifery, Jane was a teacher, but found a real passion for working with women during their journey into motherhood when she became a trained pregnancy massage specialist. After the birth of her second daughter, she knew she had to become a Midwife.​
Emily found a passion for supporting and empowering women whilst working in Nepal with a Non-Profit Organisation. This led her on to completing her Midwifery degree and then working at a local maternity unit where she met Jane!
With passion, humour, and a down to earth take on life, both Jane and Emily will leave you feeling fully equipped and empowered to take on your journey as a new parent.
Here are some of our favourite nominations for the rest of our team...
We couldn't imagine swimming without Anna! We have been so lucky to have Anna teach both of our children and we all love her! Anna has eased both of our water babies into the pool after losing confidence with time away during the pandemic. She is incredibly supportive and nurturing and gives us all the confidence to take on new challenges. Thank you, Anna!

Tanya B, Holly & Jasper C's Mum

Ashley is:
A rticulate and animated and amazing
S miley. Very, very smiley
H elpful inclusive and kind and knows her stuff
L oud enough so she can be heard clearly in the pool, and likeable
E njoyable & educational classes) for both the Puddle ducks and their grownups).
Y es we vote for A S H L E Y

Lizzy W, Ocean W's Mum

Lisa is amazing! Finlay has been swimming with her since he was 1, he's now nearly 4 and despite lockdown and losing a bit of confidence in the water he's bounced back and is actually swimming independently now! All down to Lisa's hard work, consistency, enthusiasm and fantastic teaching! Ethan is 10 months and has been swimming with Lisa since he was 8 weeks old. He's already so confident in the water and loves his lessons!

We all absolutely love swimming with Lisa! She's not just our teacher, she's now our friend as well! 😊

Rachel, Finley and Ethan A's Mum

Jane & Ashly have inspired Eva to really want to learn and become a good swimmer - She loves every moment of her lessons. Her water confidence has grown and the whole group are engaged with both teachers. Jane and Anna are alert to each child as an individual in the class - which gives me confidence to Eva's safety and progression. Its vital children learn to swim, and I cannot thank Eva's teachers enough for the skills and confidence they pass on to the children.

Carole, Eva W's Mum

Lydia has always made me feel at ease, Harry really did not enjoy swimming at first, but she helped us through the tough times. She constantly makes an effort with all students in her class and caters for everyone. Her smile is infectious and is always really welcoming and happy. We really enjoy her classes and look forward to Sundays. She really is a huge credit to your team. After having a different instructor at a different location, Lydia really is fantastic. She also takes time with her classes and doesn't rush.

Katie, Harry C's Mum

Our boys love Michaela. She always makes a point of giving each child individual feedback and praise throughout their lesson. The kids are so motivated by this, and you can see them putting in the extra effort to improve and make her proud. After a long hiatus thanks to COVID the kids were naturally a little nervous returning to the pool, especially with the new procedures that were necessary. It is a credit it to her how well they have readjusted and progressed. On the drive home the boys tell me all about their lesson, it's wonderful to see how enthusiastic they are about their swimming. Thank you, Michaela!

Sarah, Charlie, Tom & Ollie Q's Mum

She is a dedicated, professional and fun teacher. Hudson's confidence in water is back since we join Michaela & Carey's class, and I can't praise them enough!

Jolanta, Hudson P's Mum

From our very first lesson with Anna, she has shown her passion for her work. She is always so happy and enthusiastic, and her lessons flow smoothly.
Eden has really grown in confidence in the water over the past few months and is (usually) confident to swim with Anna in the pool. She speaks to both children and parents in a friendly and calm way and is very understanding if Eden doesn't want to do something that day.
From our first lesson with Anna when she called Eden 'Poppet', I knew we were in the right place!

Louise, Eden M's Mum

Ashly has the best relationship with the students and adults. I have never once not had an amazing lesson. I feel it is always a great song when the lessons feel crazy short because you're so busy and get so much done and learnt. I also know that all parents in our class feel the same!

Charlie K, Matilda K's Mum

Lisa is an amazing teacher. I have just started swimming with Matthew, my youngest son, who is now 7 months old. She has given us such support from the start, particularly as Matthew wasn't enjoying being water. For the first time during our class this week Matthew was happy independently splashing in the water, swimming with Lisa and taking part in other water activities. She gave me confidence & encouraging especially as I felt that perhaps Matthew wouldn't enjoy swimming. I'm looking forward to watching him learn & grow in the water. Thank you, Lisa!

Sarah S, Matthew's Mum

Ava was never a confident swimmer, and she would panic at times. Since being with Jane Ava has come on SO much it's incredible! People in the class said: 'what has happened with Ava?' She is a completely different swimmer and that's to Jane so thank you! Even if you don't win, I think you are ace. Rachel and Ava x

Rachel F, Ava A's Mum

Since day one of swimming for us which was during lockdown Lydia has made us feel incredibly welcomed. She has shown so much support and guidance without being able to have hands on. She made us feel so comfortable and confident in the water. Henry adores her and really looks forward to swimming each week and this is all thanks to Lydia. We couldn't ask for a better teacher. Lydia is always so happy and enthusiastic you can tell she loves her job. For all of these reasons we feel she should be awarded.

Annie, Henry M's Mum

Even though the children in are group are at slightly different levels with swimming, Michaela keeps the class running smoothly. Michaela takes the time to learn about each child and incorporates that into the lesson. All children seem to feel at ease with Michaela, even if they are slightly nervous. My daughter has come on amazingly well with Michaela as a teacher. Even in a half an hour lesson, every child gets the attention they need

Amie, Bronwen McA's Mum

From our very first lesson with Anna, she has shown her passion for her work. She is always so happy and enthusiastic, and her lessons flow smoothly.
Eden has really grown in confidence in the water over the past few months and is (usually) confident to swim with Anna in the pool. She speaks to both children and parents in a friendly and calm way and is very understanding if Eden doesn't want to do something that day. From our first lesson with Anna when she called Eden 'Poppet', I knew we were in the right place!

Louise, Eden M's Mum

She has the best relationship with the students and adults. I have never once not had an amazing lesson. I feel it is always a great song when the lessons feel crazy short because you're so busy and get so much done and learnt. I also know that all parents in our class feel the same!

Charlie K, Matilda K's Mum

Fraser had fallen out of love with his swimming lessons and appeared to hit a wall. Lisa took over our classes and was so engaging and seemed to enjoy teaching them. She makes each child feel special and Fraser loves his lessons now. This has particularly shown in the last two lessons where he has come on leaps and bounds- jumping in and happy when submerged! Thank you!

Sasha G, Fraser's Mum

Well, we think Jane is just THE best. She's so kind, knowledgeable and patient. She's given Lyra so much confidence in the water and is just a joy to have teach Lyra to swim and myself to handle Lyra safely. Thank you so much Jane!

Nicky and Lyra Bevan 

Lydia is just so lovely both our girls have her, she is patient, understanding, and lots of fun,
And will really miss her in the afternoon after half term.

Elisha M, Poppy & Sienna's Mum

Millie loves going to her Swim Academy classes with Michaela. Millie lost a lot of her confidence during the lockdowns but has progressed exceptionally well with Michaela. Millie loves the fact that Michaela is always happy and smiling which makes Millie smile and more confident in the pool.

Leanne R, Millie R's Mum