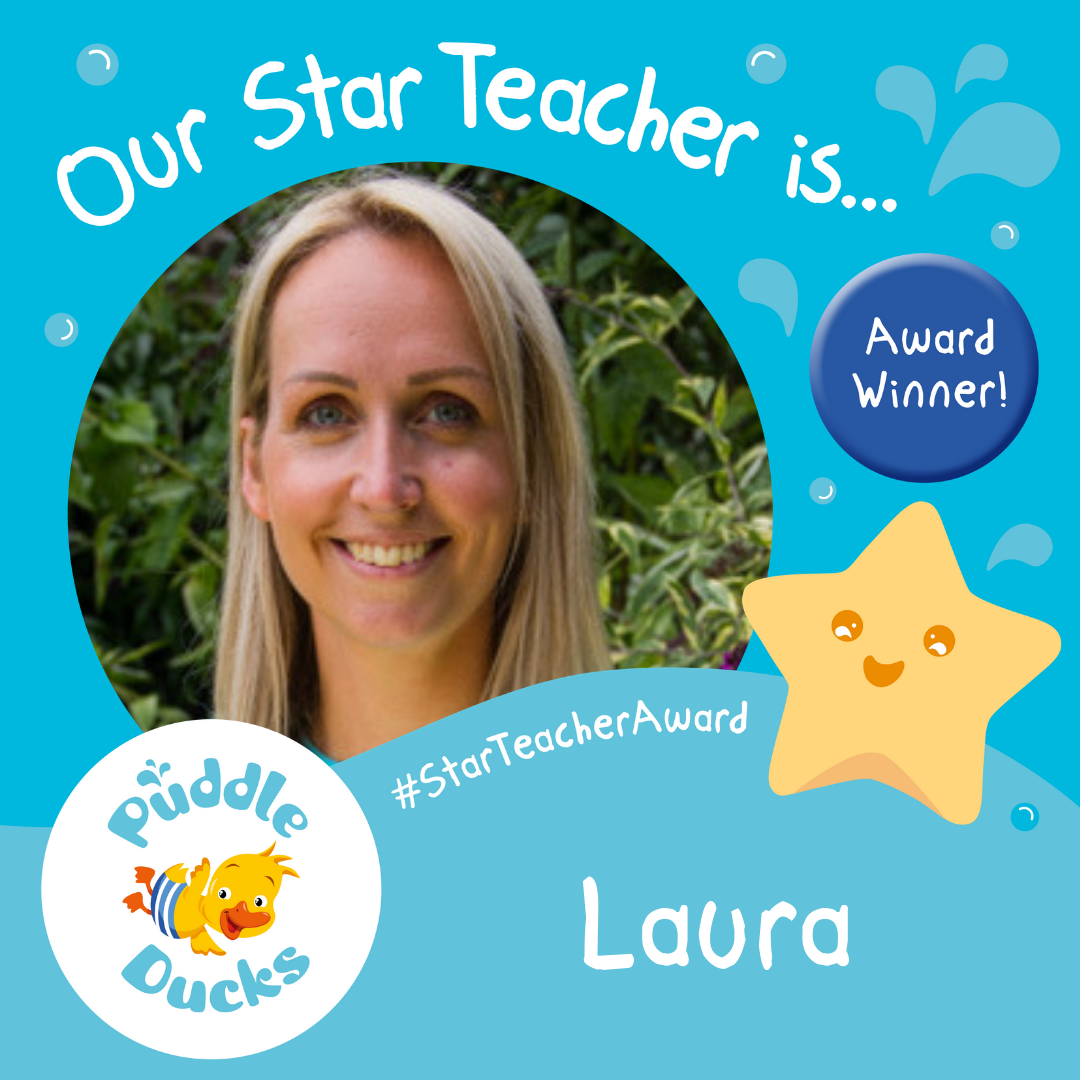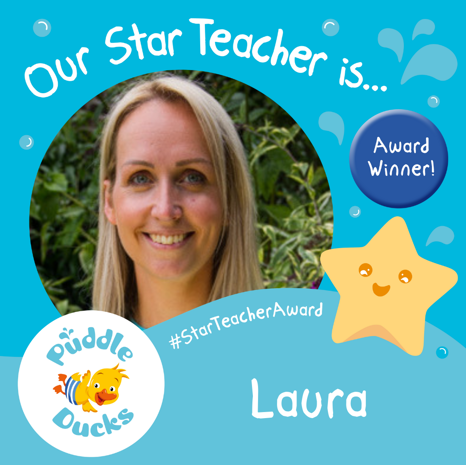 Laura was named our Star Teacher Spring 2019! Her passion for the job shines through in each and every lesson, making her a firm favourite in our Puddle Ducks' eyes. She has recently trained to become a Baby & Pre School Teacher and is currently completing her coteaching hours ready to start her classes after Easter. She is our Aquanatal Teacher, teaching lots of Mums-to-be at DW Fitness, and all this only being on the team for under 2 years! She is so hard-working and we are so happy to have her as part of our team, of course! 
Keren, Families Dorset Magazine's Editor was our independent judge this term, and she had the hard task of choosing which nomination was her favourite from all of your wonderful words for our Dorset Teaching team. 
 "It was a really hard decision between these but I've chosen Nikki, Cameron's Mum's Nominations for Laura! Thanks for letting me take part – it's been really great and all the nominations demonstrated how good your swim tutoring is at Puddle Ducks."
"Laura is an amazing teacher and has a relaxed warm approach putting any child she teaches at ease. Our son had never even been in a pool and would run off from even a small pool shaking and upset. Laura has made him feel so secure and with her patience and reassurance, without him realising Laura was getting him used to the pool water. Every week he looks forward to Laura's lessons and it is lovely to watch him grow in confidence and eager to learn. I know that any challenges he faces in his learning, that Laura will get him through it. Laura recognises each child is different and works with them at their pace but the class is still progressing together, and the lesson is well thought out. I really hope Laura is recognised for her ability to teach."
 Keren said; "The nomination from Cameron's mum demonstrates how the aquatic environment can trigger strong 'flight or fight' emotions in children – something many parents can resonate with - and how effectively and effortlessly the instructor has helped him quickly overcome his fears. The instructor's relaxed and positive demeanour clearly helped put Cameron at ease. It's a great example of how a nervous child has been nurtured into a happy and water-confident one, thanks to the instructor's patience, reassurance and understanding of their individual needs. It's really pleasing to see Cameron's transformation into a child who now loves swimming and is confident in facing new challenges, which no doubt will serve him well throughout his life beyond the confines of the pool environment. Cameron's swim teacher is a deserving winner of Star Teacher Spring 2019 and is a great asset to Puddle Ducks. Congratulations!"
Thank you again to everyone for your wonderful nominations for our Teachers, it means so much to us all.
About Families Dorset Magazine
Dorset has so much to offer young families, making it a great place to live. So, every two months, Families Dorset FREE parenting magazine brings together the best of things to do and places to go, giving you endless ideas and inspiration for the whole family. We also bring you great offers, events, information and advice to make your family life easier and more fulfilling.
Families Dorset provides the best, most up-to-date local and regional information – so no more trawling online! Plus, our well-researched and curated content offers parents reassurance with relevant, thought-provoking topics and new ideas & inspiration for planning family life.
In fact, in Families Magazine's recent Readership Survey, 8/10 respondents said they use Families® to research local activities, 74% use our magazines to plan family life and 71% agree that it improves the quality of their family lives, which are testament to Families' reputation and influence as a trusted specialist publication.
Families Dorset is available from over 200 outlets throughout the county, including selected nurseries and schools, children's centres, soft play venues, leisure centres, libraries & information centres, local family-friendly attractions and much more. So, pick up your copy locally or read it online at here, and like Families Dorset Magazine on Facebook for even more great ideas, events, offers and competitions.
And if you run a local business and you'd like to connect with 42,000 local parents of 0-12s through any of our fantastic bi-monthly issues, email Keren, Managing Editor on editor@familiesdorset.co.uk to find out more.
Here are some more of our favourite nominations that came in for our Teachers this term...
I would like to nominate Jo, as always, her vivacious and animated manner fills both Daisy and me with confidence. Our very first Kickers lesson went swimmingly today and we are very much looking forward to the new term ahead! Many thanks to everyone at Puddle Ducks for making us feel so welcome! Charlie x

Charlie Farrow, Daisy's Mum

Savannah is full of enthusiasm and energy. Always positive and gives every child personal attention. My son loves coming to his lessons and always says he can't wait to swim with Savannah.

David Blake, Frederick's Dad

Pasquale has been instrumental in Rosie growing in confidence and ability in the water. She takes great care in explaining the activities in class and remarks on each individual, picking up where they can build and improve. She also has a very friendly approach which Rosie really likes!

Karina Thomas, Rosie's Mum

Theo had Anna from his very first lesson and although every teacher is fantastic, the smiles for Anna are always the biggest! She's so patient and it's lovely to see how much she genuinely cares. She'll be very missed whilst she's on maternity leave! Thank you, Anna and huge congratulations, on your beautiful little girl x

Lucy Shepherd, Theo's Mum

We've been swimming with Lisa since Barnaby was 3 months old.

It has not always been a smooth ride, at times Barnaby has loved it and at others, he has really struggled. On occasions, he has refused to be handled by anyone other than me, and at times I've been on the brink of giving up.

Lisa has been amazing through all of it, adapting things so that we can participate even when he has only wanted to cling to me. She is always smiling and has so much enthusiasm. She has also supported me through my own wobbles about continuing lessons.

It is so lovely to swim with a teacher who is not only very child led but also very engaging of the children she teaches.

I now have a child who will literally jump at the chance to go swimming, who looks forward to seeing Lisa every week and who has gained in confidence hugely- both in and out of the water.

Natalie Goth, Barnaby's Mum

My daughter Sophia looks forward to seeing Laura every week. Laura encourages and makes Sophia feel special, and you can see a lovely bond there. It wouldn't be the same without this very special teacher, she's always smiling and she's a breath of fresh air.

Kelly Strang, Sophia's Mum

Lydia is great every week. She always has a smile for the babies and makes them feel calm and safe in the water. Alexander loves his swim lessons and Lydia is a big part of why he loves the water so much!

Adam Wright, Alexander's Dad

Jasper has really taken to Michaela since she's taken over as his teacher.  He absolutely loves her lessons and is always excited on a Monday evening.  She is so enthusiastic and makes everything really fun.  After taking him swimming in half term I was thrilled to see how beautiful his front crawl was. Thank you, Michaela x

Jane, Jasper's Mum

Jo has helped my child who was prettified of water, no water play, no baths let alone even to get into the water to start he would cling to me I literally thought he was going to pull my swimsuit off me! now you would never have known his confidence is amazing all I hear is dive mummy. He just wants to go underwater constantly and loves to jump in off the float! He is able to jump in and kick his way back to the surface also my eldest who we stopped his lessons. as he has behavioural issues. Jo was amazing with him to make sure he had purple woggles and me not having to ask. She knows all the names of the children in the group and when you're not doing something quite right in the class, she helps you without you feeling bad

Amy Grant

Jacob has been having lessons with Pasquale since he was 3 months old. With her teaching and encouragement, he has learnt so much. He absolutely loves the water. Pasquale is always so happy and bubbly. She's encouraging towards the parents as well.

Melanie Nobles, Jacob's Mum

Emilia had a rocky start to her swimming journey. We originally went with a different company for swimming lessons, and she hated it. It was a weekly stress, we dreaded it every week. We saw the light (via my sister) and started swimming with Lisa. It was a rocky start, but now Emilia bounces into the changing room and now she cries every time I try to get her to leave the water. So much of this is down to Lisa, she is so kind and nurturing and patient, Emilia has grown a lovely trust with her. She is always so excited to see Lisa and has developed so much in her swimming. Lisa has always helped me to set the pace based on Emilia's needs and abilities, her confidence has grown so much because of this. No, she's practising her swimming even when she's not in the water! I'm so proud and happy that she's learning this important skill and smiling constantly while she's doing it. Thank you, Lisa.

Lindsey Evans, Emilia's Mum

Laura is lovely! She's so friendly and approachable, and always has a smile on her face. She pushes Scarlett to the best of her ability and always keeps me updated with her progress.

Kelly Strang, Scarlett's Mum

Lydia is just amazing with the children. She knows all those personalities and how to get the best out of them in such a short time.

Rebecca Martin, Florence's Mum