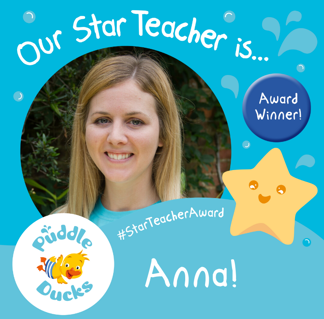 We asked our independent judge Emily from Talking Babies to choose her favourite of all the nominations that came in for our teachers this term... here's what she had to say!
"There were 3 that stood out for me and that is because I could relate to the parent. I have a daughter with terrible anxiety and when you have an anxious child (or one with quirks) it is important to have an adaptable teacher. Those teachers in my eyes are amazing.  However my top was:"  
"Not only is Anna's limitless enthusiasm and passion contagious, but also her compassion for each individual child's abilities and needs is unwavering. She's taken a boy who suffers greatly with anxiety in situations he's not comfortable in, built his confidence, and more importantly his trust, and turned him into a boy who can enter the water without mummy. Her understanding of how to move children on through gentle encouragement and praise is second to none, and the results of which are phenomenal. I'll never be able to thank her enough for enabling my nervous little boy to go it alone with me. She really does help children develop a true love of swimming."  Elizabeth, Arthur B's mum
:" 
Take a look through some of our favourite nominations below, including the others that were in Emily's top 3.
A B O U T

Talking Babies Midwife Led Antenatal and Hypnobirthing classes. Designed with every pregnancy in mind. Regardless of how many babies you have had the thought of birth can be a daunting prospect for many. These Midwife Led courses have been created to help empower all mums and dads-to-be during birth. 
For further information please find us on Facebook or Instagram @talkingbabiesUK or at www.talkingbabies.co.uk
.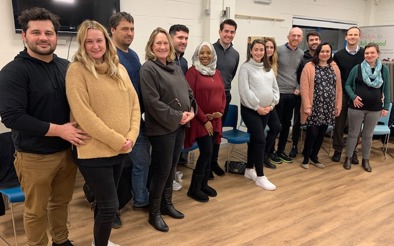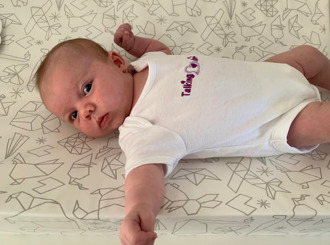 Thank you for all of your wonderful nominations for our Teachers, here are some of our favourites...
Jo shows such kindness and patience with every child in her class. Its such a pleasure to be taught by her. Max looks forward to his lesson every week and always talks about Jo.

Joanna, Maxwell H's mum

(Laura) Keeps kids engaged, interested, motivated and smiling through the whole lesson. Her teaching is tailored individually to each child in the group and she is very patient and takes into account if a child has fears and helps them to get over these

Klara, Olivie T's mum

We love Lisa. Her teaching style is fantastic and it's clear to see she has genuine passion and energy for her classes (still after 9 years) she's certainly well loved in our household.  Lisa has just helped us through a particularly difficult period with our daughters swimming progress and we're very grateful to her and to Puddleducks for recognising and facilitating what we needed in order to make that breakthrough.  Lisa is a gifted natural teacher, we love her!!!

Gavin, Pearl W's dad

Lydia (B) is absolutely awesome - she's solely responsible for Lily regaining her confidence in the water after a bit of a wobble. We love her!

Holly, Lily H's mum

Before coming to Puddle Ducks, Flynn was having lessons elsewhere and was making little to no progress. It is amazing to see how he has advanced with Michaela, not only in technique but also in confidence. Her enthusiasm and cheeriness brighten every lesson. She is fantastic!

Kerri, Flynn B's mum

We LOVE Pasquale and when I say we I mean me and my two boys (kit has only had a taster session but was so happy being in the water) and my eldest Freddie has been coming to classes since he was 6 months old with Pasquale and absolutely loves her classes so so much. You can often see him bouncing on the side of the pool desperate to get in and joining in with the puddle ducks song with the class before! Pasquale is so calm and clear with her instructions and for an anxious mama like me in the water she gives me confidence and puts me at ease. We are so lucky to have her as our teacher especially when Freddie has now taken to requesting songs! Thank you so much Pasquale! See you Friday! Love Aimee, Freddie and Kit xxx

**ABSOLUTELY FANTASTIC**
The second Emilie hears Anna's voice she's beaming with delight! We LOVE our swimming lessons Anna she is just amazing!

Faye, Emilie N's mum

(Lydia P is..) Fun caring and attention to detail

Julia, Georgia's mum

Anna had been amazing, Olivia was very upset in several of her first lessons and Anna gave me the motivation and confidence to continue with swimming. She was so accommodating and allowed me to feed Olivia in the pool and also use a dummy in the pool. Olivia was so happy in her lesson this week and she has absolutely transformed from being extremely upset in the water to really calm and loving her lessons. I am very grateful for Anna's help, she is super!

Sarah, Olivia B's mum

Lisa has always been so fantastic with Thomas ever since he started at 10 weeks old. He's had his difficulties at different stages but with Lisa's support, coupled with her relaxed but enthusiastic and patient approach, Thomas has really flourished, so much so that he swam 5 metres for the first time unaided before his 3rd birthday. We can't thank her enough for the incredible start at swimming she's given Thomas and we can't wait for our new arrival to learn to swim with her too. Thank you Lisa!

Will, Thomas G's dad

Jo is great, always happy smiling and full of enthusiasm. Always totally focused on every child in the pool and super observant. She really makes me feel like she cares about ivy and her development. We love swimming with Jo.

Charlotte, Ivy T's mum

Laura has been our teacher since Henry was 6 weeks old and we absolutely love her classes! She is calm, confident and always has a big smile on her face! She has definitely brought out the best in Henry.
thank you Laura!

Jade, Henry E's mum

Lisa should win the star teacher award simply for being THE BEST puddle ducks teacher ever! Harvey absolutely loves her and cant wait to go to her for demonstrations, she has taught him so much water confidence and always has loads of enthusiasm! The morning of his lesson I say to him - shall we go swimming, he shouts 'Lisa, Lisa, Lisa' at the top of his voice until we get to the car! Lisa is 100% our winner!

Kelly, Harvey M's mum