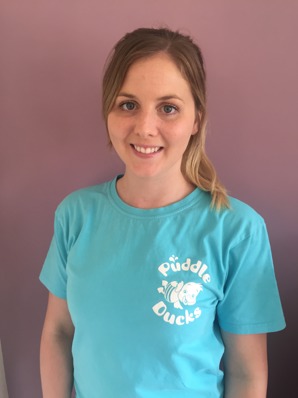 We are delighted to announce that Anna is our Teacher of the Term for Autumn 2016! She will now be entered into the National Competition, so wish her luck!
Our independent judge, Tessa from Club Hub UK chose Anna as the winner from this nomination that was submitted by Emma Lane, mum of Jess (Little Dippers)
"Because Anna is amazing! Don't think she truly gets the credit she deserves. She has taught Jess for 3 years from 9 weeks old, and thanks to Anna Jess is a confident and happy little swimmer! Jess looks forward to her lessons and time with Anna, the lessons are fun, up beat, and always matched perfectly to their ability in the water. Anna is always very positive and you know she genuinely is invested in the children and wants them to succeed. I'm not a strong swimmer and a highly appreciate what Puddle Ducks and Anna have given Jess, an opportunity to be a strong swimmer and enjoy her time in the water and not ever fear it.
Anna is a fantastic instructor and we are so disappointed this is Jess' last year with Puddle Ducks as she's off to school in September."
Tessa said of her decision -
"It was such a hard decision to choose a "winner" as all the comments from all of the parents were so positive. Puddle Ducks really are so lucky to have so many amazing teachers who obviously have a huge amount of energy and make their lessons so enjoyable for all the children. After reading all the reviews thoroughly, I have decided Anna is the winner. I chose this teacher particularly for the parent's emphasis on the effect the teacher has had on Jess's confidence. It is such an important quality to have in a child and has a huge affect on all aspects of their learning. It is lovely to see the parent is reassured that Jess enjoys time in the water; something that she herself probably didn't benefit as a child. The fact that Jess has attended Puddle Ducks for over three years and is sad to leave, is surely one of the best recommendations anyone could have."
Thank you to Emma and to everyone else who submitted nominations for all of our lovely teachers, we were blown away with the amount that came in this term, we really do love to read them. Thank you again to Tessa from Club Hub and a huge well done to Anna :)
Here is a little more info about Club Hub UK, a great app and website to find activities, groups and events for you child in your local area!
Founder of Club Hub UK 
Tessa Robinson is a 23-year-old former musical theatre student who created Club Hub UK after starting her own children's drama group, only to find there were no free options to advertise locally.  With help from start-up aggregator Ideas Britain she was able to develop her idea, before being entered into their #InSport competition, where she took second place.
The award drew the attention of Marcus Isman-Egal (Managing Partner of Red Everywhere) Menno Marien (Founder of CROSSMO) and Kathleen Saxton (Founder and CEO of the Lighthouse Company), who helped her convert her idea into an app that parents and clubs can use.
Club Hub UK 
It is one of the phrases every parent dreads hearing in summer: 'I'm bored.' Finding fun activities for the holiday can be frustrating and time-consuming. Or what seems to be the perfect activity, turns out to be a dud.
Why not fight the boredom battle using technology? With an app like Club Hub UK, parents can quickly find, compare and book activities for children aged anywhere between new-borns and 18 years. You can search by your children's interests, results are listed geographically, and it's free.