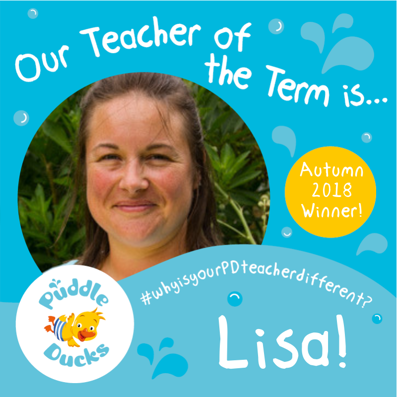 Lisa was named our Teacher of the Term for Autumn 2018! Her passion and love from what she does at Puddle Ducks shines through in each and every lesson, making her a firm favourite in our Puddle Ducks' eyes. She has been on the team for 8 years, and we are so happy to have her as part of our team.
Zoe & Claire at Dorset Bump to Baby Show were our independent judges this term, and they had the hard task of choosing which was their favourite nomination our of all of your wonderful words for our Dorset Teaching team. 

"We have a winner! Wow, that was tough!  We were super impressed by ALL of the nominations and especially touched by the time and consideration parents had obviously put in each and every nomination.  It's really apparent that Puddle Ducks' Teachers play a huge role in the lives of parents and their little ones.  We know that baby swimming is one of the first activities that new parents look to do with their babies and it's fantastic to hear how Puddle Ducks Teachers not only provide expert tuition but instil confidence in both parent and child, nurturing positive relationships and giving parents opportunities to meet other families and socialise with their children.
I'm not sure if there are enough words to explain what an amazing teacher Lisa is! She is so patient, kind and caring. Barnaby often lacks confidence in what he is doing or gets a bit anxious trying new things but not at swimming lessons and that is all down to the fantastic rapport he and Lisa have built up. Like lots of children Barnaby has difficulty listening to instruction but Lisa manages to engage him fully so that he can complete most tasks. If he doesn't manage to complete the task successfully Lisa is always quick with encouragement so that he is raring to try again. It is difficult to say exactly why Lisa is such a fab teacher as Lisa is just Lisa and Barnaby says he never wants to swim with anyone else...a brilliant advert for Puddle Ducks!!! - Sarah, Barnaby's Mum
This nomination from Barnaby's mum really stood out for us as it really helped us to understand the 'Puddle Ducks difference'.  It was lovely to hear how Barnaby's teacher helped him to overcome his anxiety by providing a kind, patient and nurturing environment.  What particularly resonated with us is how this Teacher has clearly made a difference to Barnaby AND his mum.  It can be really difficult to put your trust in another adult when you have an anxious or worried child as you need to feel 100% confident that your little one feels safe.  This nomination shows what a huge difference a little encouragement and support can make.  We agree that Barnaby's Teacher is FAB and a brilliant advert for Puddle Ducks!  Congratulations on being our Teacher of the Term Autumn 2018!"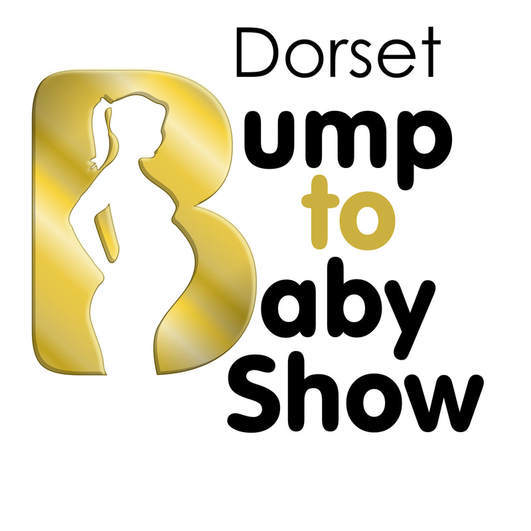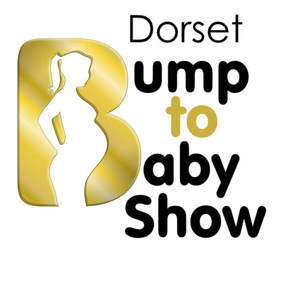 About Dorset Bump to Baby Show.
Dorset Bump to Baby Show is the county's ONLY one day pregnancy, birth and baby event brought to you by two Dorset based mums in business, Claire (owner of Light Touch Massage Therapy) and Zoe (owner of Rock the Bump pregnant belly casting and Bournemouth BraLady).  As parents ourselves we understand what it takes to raise a child and how important it is to have the right people around you when life gets tough AND to enjoy the good times with.  At the very heart of Dorset Bump to Baby Show is our passion for helping new and expectant parents to find their village.  We pride ourselves on only working with businesses and service providers who we trust and believe in.  In fact, many of our exhibitors form part of our own 'mum village'!
Dorset Bump to Baby Show will be back at Bournemouth Pavilion Theatre on Saturday 30 March 2019 with over 60 exhibitors showcasing some of the best pregnancy, birth and baby related products, clothing, toys, gifts and services available locally, refreshments and a relaxed seating area, buggy park, baby and toddler soft play area, activities for your littles ones and sling hire you won't want to miss out! 
"It takes a village to raise a child..." Find yours at Dorset Bump to Baby Show 2019 | Saturday 30 March 2019 | Bournemouth Pavilion Theatre | 11am-3pm
Here are all the nominations that came in for this Term's Teacher of the Term...
For always making each session fun and interesting! Swimming is now Georgia's favourite thing and she has such enthusiasm for it! From a parent point of view Anna teaches in a way that is clear, confident and easy to follow. 

Kirsty, Georgia's Mum

Jo has been gently building Leah's confidence every week and Leah always talks about 'going to swimming lessons with jo' and wanting a 'lie down story about swimming lessons with jo' every night - she loves it

Sue Hanscombe, Leah's Mum

Kirsty has been Ella's teacher since she was a floatie. Ella is in Dippers now, Kirsty has given Ella the most confidence in the water and she is nearly ready now to get her 5 metres. We will miss you Kirsty. Thank you so very much.

Amelia Morgan, Ella's Mum

We love Savannah. You have a lovely cheery smile and always take the time at the end of the lesson to have a chat about how Jasmine is doing which is so important for us parents to hear especially when we are behind screens unless we are spotting. Thank you for going the extra mile xxx

Emma Hawkes, Jasmine's Mum

Pasquale has been a great teacher, very welcoming and supportive with teaching my daughter swimming. I also think she has done a great job becoming a swimming teacher in the last year.

Abby Bartlett, Bethany's Mum

We've done a few different swimming classes in the Bournemouth area before we found Puddle Ducks this term, Lisa has literally splashed all the other teachers out of the water! She's so friendly, welcoming, energetic, knowledgeable and always gets the most out of Finlay's lessons! At other classes, I would be waiting for the inevitable meltdown at some point during the class, with Lisa I don't worry anymore...he clearly loves every single second and doesn't want to get out!

Rachel Atkins, Finley's Mum

Jo is amazing with all the children in the pool. She was brilliant when Lewis went through an upset stage in the pool and now he wants to give her a hug, which is so cute.

Laura Tarplee, Lewis' Mum

Best teacher in the world! Dominic is so happy and he is getting every time much confident.
Lydia is giving him extra attention when needed!

Andreea Negulescu, Dominic's Mum

Anna has always been a great supportive and understanding teacher since my son started swimming at 6 weeks, he's now 2.6 years. Alex has recently changed swimming pools, had the summer from swimming and a new baby sister, Anna has been very supportive and understanding with the changes he has had to deal with and he has just started to get back into swimming like usual.

Abby Bartlett, Alexander's Mum

Lisa has helped sienna to become so much more confident in the water. Sienna absolutely loves coming to swimming and in the last month her confidence has doubled in the pool thanks to Lisa's teaching

Gary mills, Sienna's Dad

Even though Kirsty is no longer teaching the boys, we will always be grateful for how she has helped them. They are both doing so well, and with her encouragement & help Stanley has got over the rough patch he had and is now loving swimming and getting better every lesson, he's no longer scared to do things and will try anything & everything, and Arthur is just doing so well and loving it. She has also helped us as parents with her encouragement. We will all miss Kirsty, especially Stanley.

Natasha Holmes, Stanley & Arthurs Mum

Pasquale has been very welcoming since Taliah has been coming to puddle ducks. Pasquale always has a smile on her face and has made Taliah feel comfortable swimming. Taliah responds very well to Pasquale and is always excited to come swimming, I feel this is because Taliah has lots of fun in her lesson. We are so proud of how well Taliah is doing in her lessons and that she has been moved to little Dippers on her 2nd birthday. We cannot thank Pasquale enough for her great teaching and love of her job.

Jenny Sims, Taliah's Mum

Just awesome with the little ones!! And Owen just loves Jo! Jo really spends the time to get to know each child she teachers.

Lisa Newman, Owen's Mum

It is amazing how she handles all the different personality in the class and knows how to encourage and get the best out of them.

Rebecca Martin, Florence's Mum

Anna has taught both my children, she is kind and patient and above all she always makes my children feel happy and safe. Anna always has a big warm smile to welcome you, if she had a bad day you wouldn't know it. She always makes every effort to make sure we have a great lesson. Jacob has not always liked his swimming lessons but he's starting to really enjoy them now, he was even happy to give Anna a hi five last week which was great to see.

Kimberly Barrows, Jacob's Mum

Because Kirsty has a lovely way with the babies, she differentiates the way in which the babies are progressing and the babies love her!! We miss her greatly at DW!!
The lessons were always so fun and flowed so naturally - really getting the best of each and individual baby.

Katie Grant, Alfie's Mum

All of the teachers are fantastic and for starters how you remember all the kid's names is impressive! But Jo is the one for us, Fearn has come a long way these last couple of months, absolutely loves her swimming and we can't thank Jo enough!

Chis, Fearn's Dad

Anna has the ability to catch the attention of all the babies in the group and it's lovely to see how they intently watch her do the lessons. Each week is fun, relevant and creative. If the babies are not ready for a certain skill or lack interest Anna is quick to provide an alternative for them to keep the flow of the lesson going. She is not only highly skilled at teaching but also presents herself in a caring nature.

Charlene Ferre, Rosie's Mum

Lisa is amazing. Always smiling and radiates warmth and kindness to all.
I feel guilty every week as Ben isn't the easiest child in the pool. He kind of has his own agenda. Lisa always remains calm and professional. I know Ben enjoys his swimming lessons and he gets so much out of them and this is down to Lisa and her positive attitude and calming aura. Thanks Lisa you are a star.

Andrea Smith, Ben's Mum

We have recently switched to have Jo as our teacher. Jo has been extremely patient with Harry and also encouraging him to do more in the swimming pool. He is slowly gaining confidence and is now even kicking his legs. Considering Harry used to cry, it's a miracle. Thank you Jo.

Amelia Morgan, Harry's Mum

Anna helps children to feel the water, confidence and enjoy!
Puddle ducks and all teachers are the best

Vera Mott, Petya's Mum

We started when Thomas was about 4 months old and he never liked going under the water and Lisa has been so understanding and patient. He is now 20 months old and loves swimming under water. If it hadn't had been for Lisa, I think we would have given up months ago!

Rosie Gage, Thomas' Mum

Because Jo is so welcoming and she is an amazing teacher. Jo always has a smile and it is obvious she loves her job and the children she teaches. Everything about Jo is so consistent. I am so glad that Jo is Sofia's teacher.

Natasha Marmont, Sofia's Mum

We have so much fun at our swimming class. Lisa is so kind and helpful with all the babies in the group :)

Adam Brown, Ivy's Dad

Harvey absolutely loves swimming with Jo, she makes her lessons so much fun as well as being clear to follow. She's always smiling and she's very patient and calm. She sometimes uses the children to demonstrate and every single child just beams at her. She definitely brings out the best in all the children and babies. Jo is definitely our winner!!

Kelly Mead, Harvey's Mum