Our Teacher of the Summer Term is.... ANNA! Congratulations to our Lead Teacher Anna who has been teaching for Puddle Ducks Dorset for over 8 years and is adored by all her Puddle Ducks students and parents alike! Her attention to detail and love for what she does shines through in her lessons, Well Done Anna!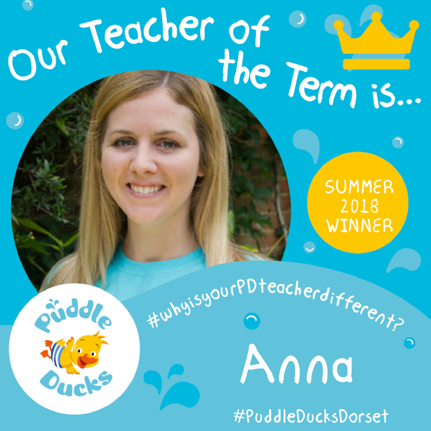 Lucy and the Team at Parent Survival.co.uk - An Online Supportive Parenting Hub said;
"It was a tough call and really heart warming to read through 
SO many positive experiences but the one that really stood out for us was from Victoria and Teddy.
"Teddy and I would like to nominate Anna, she is so kind and patient with Teddy, coming up with new ideas to help him overcome any difficulties and join in. Teddy really looks forward to his time in the pool on Thursdays and Anna always goes the extra mile to ensure he is happy and confident!"
At Team Parent Survival we know how hard it can be for parents to choose the right service provider for their child and how important it is for each child to feel safe, happy and confident in the water. Victoria's nomination demonstrates how Anna has spend the time and effort required to come up with new ideas to help the children in the class reach their full potential, this for us is priceless!"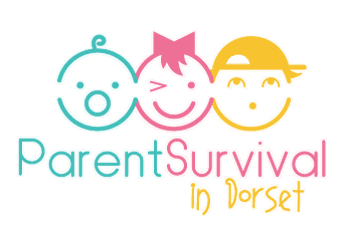 Parent Survival launched in 2018 is the fastest growing online support hub for parents in Dorset. Run by a team of mums who want to help parents uncover their 'superpowers' and thrive on their parenting Journey.
Parent Survival published The New Parent Survival Guide which includes and extensive Service Provider directory in February 2018 and will soon be launching an Exclusive Parenting Club. On the website you can find funny, interesting and informative blogs from an experienced team of parent bloggers plus parents can also read service provide reviews from previous clients.
Here are all the nominations that came in for our fabulous Dorset teaching team!
Lisa has not only taught Jack to swim but she has helped improve my confidence. Jack gets so excited when he sees her knowing it is time for swimming. She explains everything so well and is amazing with her the kids.

Hannah & Jack

Lilly-Anne loves her teacher, she has only had a few lessons and already is making great progress. She really enjoys the confidence they give her and she feels they believe in her, which makes her want to try even harder!

Victoria and Lilly-Anne

Anna is a fantastic teacher. My daughter LOVES her lessons. Anna's lessons are really well structured, organised & fun. She remembers all the babies names & is really clear with directions on what she's teaching.
My daughter screamed for 8-10 lessons when we first started but 7months later she loves it & swimming with Anna at Puddle Ducks is her favourite thing.

Hayley & Jessica

Kirsty is the best swimming teacher she is so good at making it fun and encouraging the children and parents to progress. She is always so welcoming and we love coming swimming :)

Abigail & Felicity 

Lisa is an amazing teacher! She gives the children so much confidence, and the adults confidence to teach their little ones the right way to learn to swim! Will loves swimming and it's all because of Lisa's caring attitude and brilliant teaching! Thank you!

Sian and Will

There is only one word I can use to describe Lisa and that is AMAZING! She has been a huge part of our boys swimming journey and they are making the progress they are today because of her. My eldest is a very nervous swimmer and Lisa always reads him so well - knowing when to encourage him to do more or to tickle him to put him at ease.
We couldn't have asked for a more committed and caring teacher and we feel very lucky to have her as our boys' teacher.

Jenny, Callum & Finn

George was not an instant lover of swimming when he started at 3 months old - he cried every lesson for weeks and I almost gave up. It was Lisa's wonderful positivity, smile and patience that now means at 10 months old George loves going to Puddle Ducks. He has so much confidence in the water and genuinely smiles, splashes and laughs during his lessons. The transformation George has gone through is amazing and I believe that Lisa pushing him (and me!) to achieve the most out of every lesson is the whole reason for this. She encouraged us both in a way that I will always be thankful for, and with Portfield School closing and Lisa no longer teaching George, it only makes me realise what an incredibly talented, lovely lady she is. Thank you so much Lisa!

Kayleigh & George

We have just stared back with our swimming lessons and have gone up to splashers. Jo was very welcoming back and always gives us lots of confidence and makes the lessons really fun for all!

Charlie & Daisy

Lovely teacher, always happy to help throughout our pool time!! Sebastian and I love our swimming lessons!

Emily & Sebastian

Kirsty makes sure she knows the name of every child, fully understands the best approach for each child so they aren't scared of the lesson, ensures all Puddle Ducks rules are followed and is always helpful and understanding. Mike Parkin

Michael & Sebastian

She is just brilliant, she always has a smile on her face and positive attitude to her clients!! She shows real enthusiasm in her teaching and runs very structured lessons where my son has made such progress in the last 1.5 years!
I would recommend her classes without a doubt!

Jennie & Archie

Kirsty has been fantastic for Seb. He's a nervous little boy in the water until Kirsty's around. He's bonded well & trusts her.

Paul & Seb

Kirsty always has a smile to greet everyone has always good advice and glowing compliments for all the little swimmers.

Martin & Dexter

Both my children have been taught by Anna for the majority of their swimming journey and I am so impressed with their skills and ability thanks to her hard work. Anna is so committed to the job, she knows all her swimmers independently and her experience means she knows what works with each child. She gives Ronnie extra attention and praise when he needs a confidence boost and she pushes Evie just the right amount to get excellent results without knocking her confidence and love of swimming. She has seen both my children grow through many up and down phases and both my kids adore her, thank you Anna!

Lisa, Evie and Ronnie

Kirsty teaches all 3 of my children, in swim academy, dippers and kickers. When there was no space for Ella to move to dippers, Kirsty ensured that Ella still progressed within the class. Kirsty is so patient with my little boy Harry who does not seem to like the water much. Nothing is too much trouble and she tries so her hard to get him to like swimming. Thank you, Kirsty.

Amelia and Phoebe, Ella and Harry

Lisa is always very positive, really attentive and always looks for queues from the children to ensure that they are happy with all the activities. Overall Lisa is an excellent teacher and makes the whole experience so positive and we look forward to our swimming lesson every week! Thank you, Lisa!

Xanthippe & Axel 

Kirsty is an amazing teacher! Elliot and I really look forward to swimming every week as Kirsty makes each lesson very enjoyable. Elliot's swimming is coming on in leaps and bounds (or should I say jumps and splashes) and that's down to Kirsty as a teacher. Recently a milestone for Elliot is to belly-flop jump into the water and kick his way up to the surface which Kirsty picked up on and I'm so proud of him. Kirsty listens to each swimmer and encourages them in every way. Swimming would not be the same if we didn't have Kirsty.

Louisa & Elliot

We came from another swimming school in Dorset and a term and a bit with Lisa has seen Lily's confidence
In class and her overall ability progress faster than it did in 18 months with the previous organisation.
Lisa is the main reason I recommend Puddle ducks to everyone!

Holly & Lily

My boys are both being taught by Kirsty and have been taught be her since they were both 8 weeks old. She is fantastic with them, very patient with them and she never expects or makes them do anything they aren't comfortable with. Both of them are coming on so well and their confidence is growing.

Natasha, Stanley & Arthur

Jo deserves to win teacher of the term competition because she is always so kind, helpful, smiley and patient! Harvey loves swimming and she always manages to get a cheeky grin out of him even if he is a bit grizzly! She puts me as a parent at ease with Harvey in the water too! Thanks Jo, we love you!! Xx

Kelly & Harvey

Jo has improved Ellie's confidence with swimming so much. She really is a lovely lady who cares about all the children doing well. We wouldn't want to have another teacher anymore. Thanks jo x

Kelly & Ellie

Laura has been an absolute star looking after Eli, he has had many ups and downs and his confidence for some reason comes and goes but Laura has continued to be so caring and deals with the children in such a lovely manner, she boosts their confidence with the little things she says to them and tells them constantly that they can do it.... Thank you, Laura,

Amanda & Eli

Perseverance and encouragement. You think you might just give up, then you see Anna's effort with your little one... And you think it's worth it.

Rebecca & Esme

Lily has made such good progress this term with Anna as her teacher. Her classes are fun and Lily always has such a good time. Anna is friendly and approachable too.

Steph & Lilly