Teddy has made it into the press! We are so proud to be sponsoring 2 year old little Teddy, who is just loving his sessions with us in Blandford at Dairy House Farm with Anna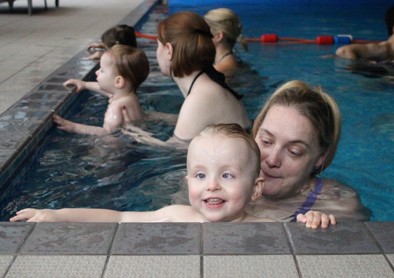 We received an email from Vici, Teddy's mum recently, and we are so proud that he is really flourishing in his classes...
"Hi everyone at Puddle Ducks!
I just wanted to update you on Teddy's swim journey...

He is doing so well and really gaining lots of confidence in the pool.  Anna said this week she thinks he is coming in with leaps and bounds. You wouldn't think he had only been in this class a couple of weeks. We do have a couple of things to work on but Anna is such a lovely teacher and so supportive so I'm sure we will master those very quickly.

The first class was a learning curve for me too. Realising that he can do things I hadn't realised by himself. That I could actually let go of him and he would be able to do it. He amazes me every time we get in the pool. Obviously with summer on the horizon we are looking forward to the hot weather and lots more water fun I'm happy that teddy will be able to enjoy it this year.
Were so glad we found Puddle Ducks! 
Teddy is so proud to be a Puddle Duck. He loves it when he gets his swim bag out he knows its swimming. Only Teddy can carry it and he shows anyone who will look his lovely Puddle Duck Bag Tag"
Read all about Teddy's Journey with us here: