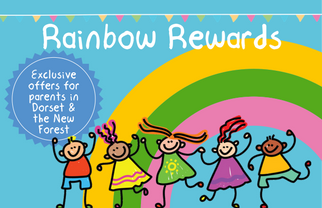 We at Puddle Ducks want to encourage our customers to have fun outside of your classes together too.. whether it's a coffee after one of your sessions or a play date somewhere new!

To say a huge thank you we have gathered a fab group of local family based businesses together to offer you Rainbow Rewards! On presenting the voucher (download using the link below) or mentioning Rainbow Rewards, you will benefit from these amazing discounts from some brilliant local businesses offering quality products and services.

We are working together with Daisy First Aid Christchurch & Poole, Paisley Pilates, Rock the Bump - pregnant belly casting, Babyballet Bournemouth & Poole, Precious Memories - Keepsakes, Puddle Ducks Dorset, Disco Ducks, Table Top Treasure and Amba Yoga. Each offering an amazing discount for you... WOW!
Find out more HERE

*Offers cannot be used in conjunction with any other offers at participating businesses see T&C's for info.