We asked our newly trained Baby and Preschool teacher Lydia to answer a few questions about her journey to becoming a Puddle Ducks Swim Instructor.

Tell us a little bit about yourself
Hi! My name's Lydia and I live in Poole with my partner and my 13 month old son, Rupert.
Why did you choose Puddle Ducks to train as a swim instructor?
I chose to train to become a Puddle Ducks Baby and Pre-School teacher because I love to swim and I love children and I absolutely didn't want to return to the boring 9-5 (cliché but true!).
What did your teacher training consist of?
The training to become a Puddle Ducks teacher is very intense, it's definitely not something you can get through without throwing yourself in to it and giving it everything you've got! Before attending the Puddle Ducks training you have to complete a Safety Award for Teachers lifesaving course and a 3/4 day Baby and Preschool course (I had to travel to Exeter for this course) and a few online modules.

 Once you have passed these courses and you have obtained the relevant safeguarding qualification and DBS check you can then attend the 5 day Puddle Ducks Baby and Pre-school training course, this was held in Tunbridge Wells in August.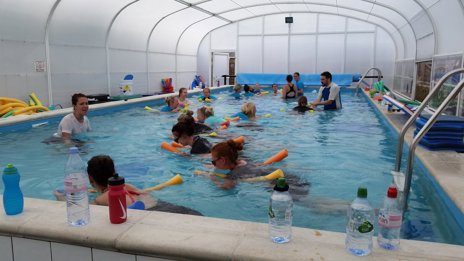 Who were your trainers?
The course was taught by Tina the Deputy Technical Director of Puddle Ducks and Head of Teaching for Bristol and Bath.  In the mornings, we would go over some theory work and in the afternoons, we'd be in the pool practising various activities with our Evangeline dolls!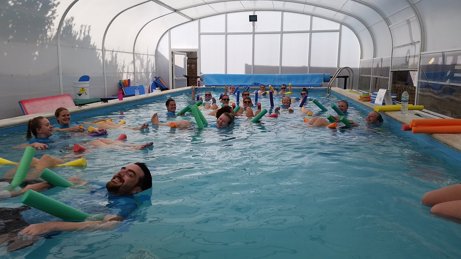 What happens after the course?
After attending the Puddle Ducks course all trainee teachers then have to do a lot of co-teaching with their franchisee or senior teacher. I've been co teaching with Anna and she's been a huge help mentoring me through the process! After several hours co-teaching and putting my training into practice I will be assessed before I can go out and teach my own classes solo...exciting stuff!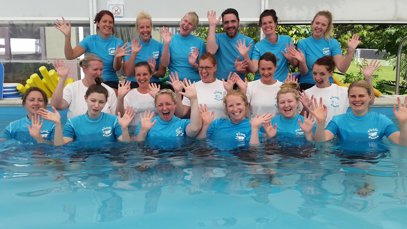 What are you most excited about when you start teaching with Puddle Ducks?
I'm really looking forward to meeting all my little swimmers (and mummies and daddies too!) and I can't wait to see them progress through the different programmes and into strong confident swimmers.
Great News! Lydia has passed her assessment and she is now teaching her own classes in Wimborne, West Moors and Christchurch! We are so pleased to have her as part of our growing team!