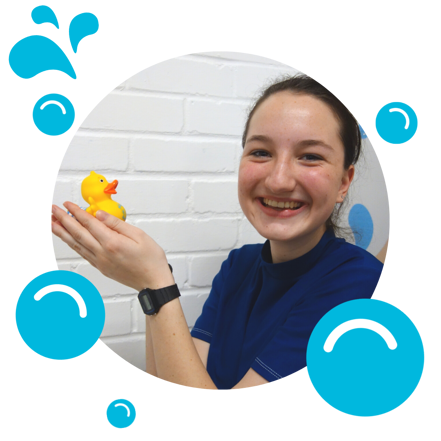 It's time to formally welcome Carey to our Swim Academy Dorset Team! She's been with us a little while now, and lots of our swimmers know and love her teaching them! So... let's find out a little more about Carey!
Why do you love swimming?
Ever since I started to learn how to swim I just fell in love with being in the water, it has always been a place of comfort so I decided to try competing in water sports, such as swimming and waterpolo. This only fueled my love for the water and swimming. 
What made you want to become a swimming teacher?
I became a swimming teacher because I love and feel comfortable within the water and I really wanted to spread and encourage that same feeling to others whilst allowing them to learn and essential life skill. 
Tell us your Favourite Film?
I love Seven Brides for Seven Brothers, Disney classics such as Beauty and the Beast and Star Wars. 
Come on... what's your all time favourite Dessert?
This one is quite hard, there are so many to choose from!! Maybe just a soft served ice cream cone with a flake or a chocolate brownie with ice cream! 
What are your hobbies outside of swimming?
When I'm not swimming, you'll find me reading, playing hockey, walking, shopping and studying! 
You'll find Carey teaching alongside Michaela at Portfield School on Monday and Friday evenings, and at St Michael's Middle School on Sunday mornings!