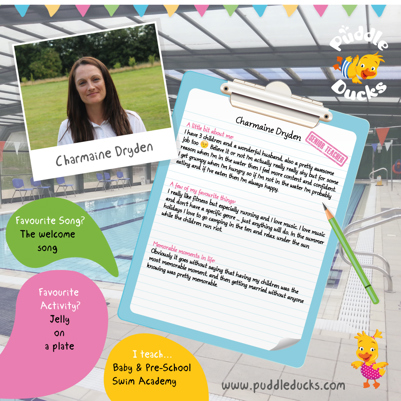 Congratulations to Charmaine Dryden for winning Teacher of the Term; which makes it 3 terms in a row, amazing!
Here's the winning nomination from Alfie's Mummy, Nicola ...
"Dear Puddle Ducks,
I am emailing to nominate Charmaine Dryden for teacher of the term. Charmaine is warm and attentive with the children, always remembering names and noting character traits and developmental changes. I can see that she enjoys getting to know the kids and seeing their journey in the water, in my son Alfie's case from slightly reluctant Floatie to confident Splasher. He is very comfortable with her and loves the swim class. She balances professionalism with fun and affection. It's our favourite half-hour of the week!"
Our friends at Keel Toys had this to say as to why they favoured this nomination ...
"We believe that this nomination is deserving of Teacher of the Term, highlighted by the fact the Teacher is attentive to all of the children in the class, providing a tailor-made experience for each one. On top of this, their lessons are clearly well received, enjoyed and educational! Well done!"
Thank you to everyone that nominated their Teacher, there have been some lovely messages.