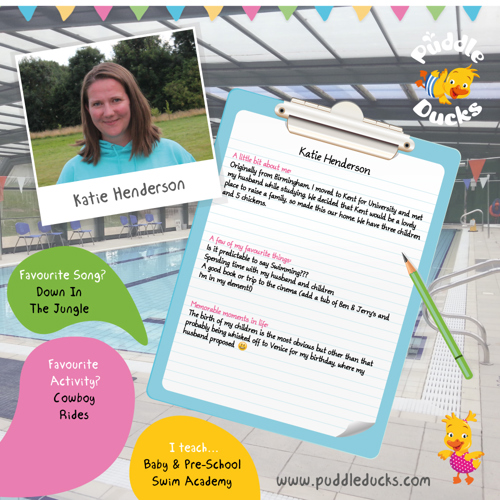 A huge well done to Katie Henderson who has won Teacher of the Term! …
Thank you to everyone that took the time to submit a nomination for Teacher of the Term, they were all very gratefully received. Katie received a few nominations, but the winning nomination was from Claire Madden, William's Mum; here's what she had to say:
"William had missed a few terms when he came into Katie's class and had forgotten everything he'd learned before. He was also quite tearful in the water. Katie has been amazingly patient with him, letting him go at his own pace and building his confidence and now he can't wait for lessons. She's just brilliant."
Thank you for this nomination Claire. Thank you to our friends at Keel Toys who chose this nomination as this term's winner; here's why:
"This comment was our winner for Teacher of the Term because it goes to show how important Puddle Ducks classes are – not only teaching personal survival skills, but instilling water confidence in children. Well done to the winner!"
Katie is now through to the Nationals, where she will be up against all of the winners from all areas across the country. Well done and good luck Katie!
From all of us at Puddle Ducks East Kent x