Hello and a very warm welcome from Puddle Ducks East Surrey
Find out about baby swimming, toddler swimming and child swimming classes in and around East Surrey including Cheam, Epsom, Cranleigh, Copthorne and Horsham areas.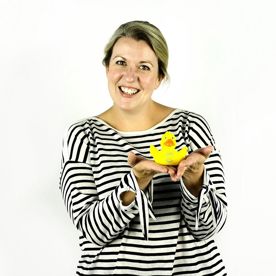 My name is Natalie and I have always loved swimming and the freedom of being in the water. So much so, that some of my fondest memories as a child were on family holidays splashing around in the swimming pool. So when my daughter Matilda came along I couldn't wait to get her signed up to her first swimming lesson and in to the water. Having had swimming lessons myself from a very early age, I too wanted her to feel strong, at ease, confident and enjoy being in the water. And so, at just 10 weeks old our journey together began, as did my passion for teaching babies and children to swim. Just 7 months later Matilda was holding on to the side of the pool by herself and I was the proud owner of Puddle Ducks East Surrey! Three years later I added a new member to our Puddle Ducks family, my son Sebastian who is now 2 years old, who too loves the water and is thoroughly enjoying his lessons with mummy as his teacher.
It is a real joy to be teaching such a fun filled and progressive programme, tailored to the individual needs of babies, toddlers and children of all ages and abilities. For babies, our classes encourage freedom of movement, relaxation and that crucial bonding time with mum or dad in the water. For toddlers and children, our classes instil confidence and develop vital water safety and life saving skills to enable them to swim independently both on the surface and under the water. All of our classes are designed to promote swimming in a relaxed, safe and fun filled environment with lots of games and songs along the way! I look forward to sharing the Puddle Ducks experience with you and your little ones and hope you enjoy the journey as much as Matilda, Sebastian and I have.
Please get in touch if you would like to find out more. Our office is open term time Monday to Friday 9.30am to 2.30pm.
Natalie Archer
Local News
Our Partners