Set in the woodlands of the west coast of Scotland, in the town of Gourock, the pool at Cloch Leisure & Spa is lovely and warm and has gorgeous views from the big windows.
Our Baby & Pre-school lessons (from birth to the age of 4) at this beautiful location run on Tuesdays, Thursdays and Saturdays (with Sundays coming in the new year). You can read more about our lessons here.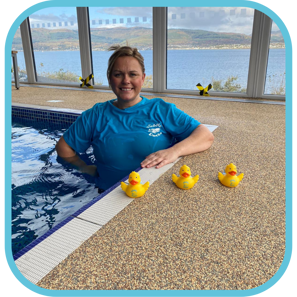 If you're interested in coming along, or have any questions, fill out the form below, call us on 01389 656123, or email glasgow@puddleducks.com.