All you need to know – Cheltenham Chase Hotel, Gloucester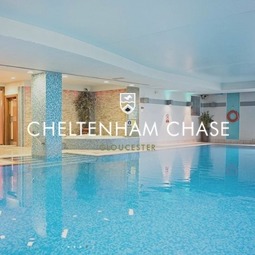 Shurdington Road, Gloucester, GL3 4PB
Click on the 'timetable' tab, for timings and to secure your child's place or complete an enquiry form for more information. 
Parking There are plenty of parking spaces at the hotel.
Essential information
Puddle Ducks shares the pool space with Cheltenham Chase Members and Guests. We have the use of a wide lane 2.5m x 12m.
Pool temperature here is 29 – 30 degrees.
The pool is a constant depth of 1.2m
No food to be eaten in the changing rooms 
Attire
All Swim Academy children must wear swim hats in the pool. You will be given one on your first lesson with us. You can find our range of goggles and other Swim Accessories in our online shop.
Our online shop stocks a fantastic kids swimwear collection plus super useful bags, towels, changing mats and much, much more!
Spectators
There are no spectators allowed at this pool. This is a club rule and unfortunately does include siblings. Parents waiting for Swim Academy children can enter the changing rooms before and after their lesson to help them change and then must wait in the reception area whilst lessons are running.  Please note you must remain in the building. Please ensure that your child uses the toilet prior to the lesson. 
We will run a parent spotter rota here, which would give you the opportunity to watch your child occasionally, whilst taking responsibility for alerting other parents during class if their child requires the toilets. This will be ONE parent per week, with no exceptions. Unfortunately siblings will not be able to be accommodated. A rota will be available for you to volunteer for certain weeks. Please note if we do not have a parent volunteer, we will not be able to allow your child a toilet visit. 
Arrival time
Please do not arrive any earlier than 10 minutes before your lesson starts. 
Entering the building
The Health Club entrance is to the side of the main hotel entrance.
Entering the pool area
Please send your child poolside just before the start of their lesson, ensuring our teachers have spotted them entering the pool hall. 
You can find lots of additional useful information about attending our swim classes on our FAQs page.
We look forward to seeing you in the pool soon!