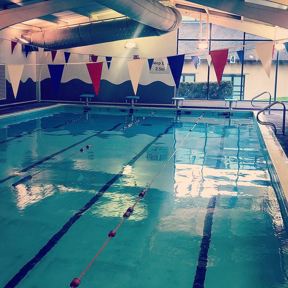 All you need to know – Wycliffe Prep School
Ryeford Hall, Ebley Road, Stonehouse, Stroud, GL10 2LD
We can't wait to welcome you to Puddle Ducks at Wycliffe Prep School– If you would also like to read about what, as your chosen swim school, Puddle Ducks is doing to keep you, your child and our team members safe, we have summarised all the steps we are taking including our risk assessment procedure, cleaning and hygiene regimes and temporary changes to the way our lessons will be run here

Location: Wycliffe Prep School
Parking and directions to the pool: Please park at Gate 19 (opposite the dental practice). There is a large car park at the school which all Puddle Ducks swimmers are able to use. Please adhere to social distancing in the car park where possible.
Walk past the coloured preschool fence and enter the grounds through the metal gate. A Puddle Ducks A-Frame will be displayed in order that you know you are in the right place! Please do not enter the school more than 10 minutes before your class time, to ensure social distancing can be maintained. 
Continue straight, past the grass and sinks. The swimming pool building is immediately after on the left. There are 7 steps down to the pool building, but also a path to the far end of the building which guides around the front of the building.
Arriving swim ready: You and your child should arrive swim-ready at the venue i.e. with your swimming costume/trunks/swim nappy on underneath your clothes. Changing rooms will only be available after your lesson to dry off before leaving the building.
We appreciate that those children still in nappies might need a nappy change just before their lessons. Ideally this can be done in the car before entering the building but if not, please take a change mat to the poolside with you and make sure you have nappy bags and another bag in which to put the nappy bag to ensure there is no waste left visible at poolside.
A face covering is required whilst moving around the building and changing, but can be removed in the pool.
Spectators: We are not able to allow any additional people at your class, other than your child and the one adult who'll join them in the pool.
By not allowing spectators, we are able to practice social distancing more effectively.
Entering the building: Hand gel will be provided at the door to the lobby. Please WAIT here for the Poolside Assistant to invite you poolside to remove outer layers prior to your class (don't worry we will be on hand to show you where to go) so please bring only the essentials (keeping valuables to a minimum) and one bag to put everything in (including your shoes) as this will be left poolside during the class.
Please wait poolside, keeping socially distant from other customers and pool users wherever possible, until the teacher indicates it is time for you to enter the pool. The class before will exit to the changing rooms BEFORE you are called forwards.
We advise that you all bring a change mat that can be rolled up and placed in your bag, especially those of you who have little ones who would normally use a change table or a bench.
We would ask that all adults carry a face mask to the pool, to wear if social distancing cannot be maintained. You will not require one in the pool.
Toilets: The toilets in the changing rooms will be available, however we are trying to minimise numbers in the changing rooms at any one time, therefore would ask you try (where possible) to limit your use of them to after the lesson when you're drying off.
Exiting the pool area after your lesson: the teacher will explain the safe exit procedure for your class, and you will then collect your bag and enter the changing rooms.
Changing rooms: Changing rooms will be available at the end of the lesson, for a quick dry off before you exit the building. Please note the use of showers is not permitted and we therefore ask all customers to shower at home before and after they swim. This will speed up the exit process and lead to less congestion.
We advise that you bring easy, comfortable clothing for both you and your child – items like onesies might be easiest for children to get changed quickly and keep them warm.
Leaving the building: Men will exit the changing rooms, into the main lobby area and out via the usual exit. Ladies will be asked to leave via the fire exit to the left of the changing room, to avoid traffic congestion poolside. There is a path which runs to the right, around the front of the pool building. Please be careful and keep young children under supervision, as the surface is uneven in places and there is some school equipment to the side which may look 'interesting' to them!
Essential Information:
Please take all nappies home with you.
A well-fitting neoprene swim nappy must be worn with a disposable swim nappy or one of our environmentally friendly NappyWraps & Liners underneath if your child is in Floaties, Splashers or Kickers and in other programmes if they are not yet fully potty/toilet trained. Why not buy one of our great value Starter Packs which contain everything you need for your swim lesson?
Please be aware we are unable to lend neoprene nappies or wetsuits due to COVID restrictions. If you forget yours you will be unable to swim.
All Swim Academy Children should wear swim hats in the pool. For information, you can view our range of goggles and other Swim Accessories here.
You can find lots more useful information about attending our swim classes on our FAQs page.
Technical Information:
Pool temperature: 29 – 30°C
Depth: 1m - 2.5m (sessions to be roped off at 1.4m)
Maximum class ratios:
8 children/adult pairs: 1 teacher (Kickers, Little Dippers & Dippers, Swim Academy Levels 1 & 2).
We are not running double lessons during the pandemic, to ensure social distancing can be met, but normal procedure would be to have PreSchool and Swim Academy running consecutively. 
We look forward to seeing you at the pool!