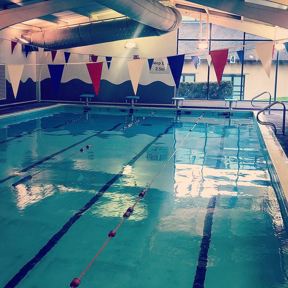 All you need to know – Wycliffe Prep School
Ryeford Hall, Ebley Road, Stonehouse, Stroud, GL10 2LD
You will find everything you need to know about Wycliffe Prep School below – please read it very carefully.
If you would also like to read about what, as your chosen swim school, Puddle Ducks are doing to continue to keep you, your child and our team members safe, we have summarised all the steps here.
Parking Please park at Gate 19 (opposite the dental practice). There is a large car park at the school with plenty of spaces.
Essential information
Puddle Ducks has exclusive use of the pool during lessons
Pool temperature here is 29 - 30 degrees.
The pool is 1m deep sloping to 1.8m and then dropping to 2.5m. The pool will be roped off around 1.3m
There are no nappy bins at this venue so please take your nappies home with you
There is a poolside assistant at this venue
Attire
Baby and Pre-School: a well-fitting neoprene swim nappy must be worn with a disposable swim nappy or an environmentally friendly Nappy Wrap & Liner underneath, if your child is not yet fully potty/toilet trained. We recommend one of our great value Baby Swimming Kits, which contain the swim lesson essentials at a fantastic price.
All Swim Academy children must wear swim hats in the pool. We will supply one at your first lesson. You can find our range of goggles and other Swim Accessories in our online shop.
Our online shop stocks a fantastic kids swimwear collection plus super useful bags, towels, changing mats and much, much more!
Spectators
There are no spectators allowed at any of our pools. Unfortunately this does include siblings. Parents waiting for Swim Academy children can enter the changing rooms before and after their lesson to help them change if needed and then can wait on the benches next to the pool during lessons.
Arrival time
Please do not arrive any earlier than 10 minutes before your lesson starts (we would ask you wait in the car until this time). This should give you enough time to get poolside and prevents lots of people from waiting around unnecessarily.
Entering the building
Walk past the coloured preschool fence and enter the grounds through the metal gate. A Puddle Ducks A-Frame will be displayed so you know you are in the right place.  Continue straight, past the grass and sinks. The swimming pool building is immediately after on the left. There are 7 steps down to the pool building, but also a path to the far end of the building which guides around the front.
Face coverings are currently optional, however we are asking customers to ensure they have a face covering with them should they be required.  The poolside assistant will mark you off on the register when you enter the building
Arriving swim-ready
Your child (and yourself if in a preschool class) should arrive swim-ready at the venue i.e. with your swimming costume/trunks/swim nappy on underneath your clothes. 
Entering the pool area
You can use the changing rooms before and after class, but please do come swim ready with a bag that will fit all your belongings, in order to keep the changing rooms as clear as possible. 
Children are to change with their parent in the parents gender appropriate changing room, until aged 8 when they should change in their own gender appropriate changing room. 
Please wait poolside until the teacher indicates it is time for you to enter the pool.  Please keep children under supervision as the surface is uneven in places and there is some school equipment around the pool which must not be played with.
Leaving the building
Men will exit the changing rooms into the main lobby area and out via the usual exit. Ladies will be asked to leave via the fire exit to the left of the changing room.  There is a path which runs to the right, around the front of the pool building.
You can find lots of additional useful information about attending our swim classes on our FAQs page.
We look forward to seeing you at the pool!