Our swimmers and their parents are all SUPERSTARS, coming to class each week and working hard to improve their swimming skills. Every term, we ask our teachers to nominate those swimmers from their classes who they feel have really stood out in terms of their progress, determination or attitude - their 'Star of the Term'!
We have asked Sarah from the Village Nursery and Pre-school, Gee Cross to help us with the hard job of choosing from the anonymous nominations and picking our winners for our Summer Term 2018.
We are super excited to announce that Sarah picked Ella as our Star of the Term for Baby and Pre-School and Eve as our Star of the Term 2018 for Swim Academy.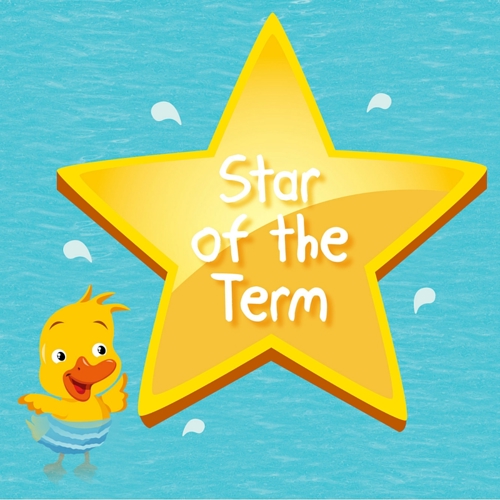 Here are the WINNING NOMINATIONS:
Ella, Floaties - nominated by Claire H 💦
Ella started in Floaties a few weeks ago and towards the end of her first lesson she became upset and unable to distract or console. Sadly this continued for the next two weeks to follow, regardless of the amount of comforting mum gave her or distractions that were offered. We know this is not related to the water due to her age and not having had a previous negative experience in the water, she also loves bath times and having a shower on the poolside. It appears that she now associates the pool environment with whatever triggered it during her first lesson. To break this and reinforce a positive experience mum has been extremely patient and followed advice staying on the poolside with Ella which she tried for the first time last week. Mum spent the whole half hour gradually moving from the chairs towards the poolside whilst continually playing with Ella and her toys. This seemed to work as Ella was happy for the majority of the time and after getting upset once mum moved back a few steps. By the end of the half hour Ella was smiling and splashing about in the shower. Both Ella and mum deserve this award for their determination and continuing with the classes when it would have been so easy to quit. It's early days yet but it appears that Ella is on the road to associate the pool environment as a positive experience and with mum's continual support and willingness to follow advice, not to mention her endless amounts of patience I'm sure Ella will be enjoying her classes back in the pool in no time at all.
Eve, Swim Academy Level 1 - nominated by Claire H 💦
Eve is an amazing little girl with bundles of energy and enthusiasm and has a wonderful personality. She gets so excited when it's time for her lesson and can't wait to get stuck in. A lot of tasks and activities that most children find easy to follow are a huge challenge for Eve but she never gives up or stops smiling. She has so much fun during the lesson and interacts so well with me as her teacher as well as the other children in the class that she has formed bonds with. She brightens my day every time I see her and never fails to make me smile. She's a very special little girl and is certainly my 'Star of the Term'.
Here are all our SUPERSTAR nominations:
Ayda, Swim Academy Level 1 - nominated by Kirsty 💦
I would like to nominate Ayda for my star of the term because I just can't get over the change in her. I've taught her for a while in Little Dippers and she was very shy and nervous and didn't want to be let go at any point by either me or grandad and swimming with her head down was way out of the question. Then one day everything just clicked for her and changed, she had one go at putting her face in the water, realised that it was nothing to be frightened of and has never looked back. She has recently joined Swim Academy and is now always smiling and is very chatty whilst in the pool. Then last lesson whilst I was doing her swim she told me to 'let go' of her and I couldn't believe it. The nervous little girl has gone and has been replaced with this happy confident swimmer! Well done Ayda I'm so proud of you and can't wait to see what else you can do!
George, Little Dippers - nominated by Kirsty 💦
George has been with me right from the start of my teaching journey, he has always been quite anxious in the water and was terrified of putting his face near it. However, with Mum and Dad's perseverance and encouragement we have taken everything slowly and have gradually built up his confidence. George now gives every activity a really good go, even when he thinks that he won't be able to do it. And I love seeing the look on his face when realises that he can do it! He blows me away every time he puts his face in to do a swim as it makes me realise how far he's come on this journey and that is why he's my star of the term!
Darcy, Splashers - nominated by Abby 💦
I'd like to nominate Darcy for star of the term for her enthusiasm for her swimming lessons. I have never met a Splasher so happy and excited to come swimming. I can't help but smile all lesson and she never fails to make me laugh. She has always impressed me with the biggest splashing hands and I love how she smiles under the water. She brings so much joy and fun to the lessons and I just adore teaching her. Not only does she partake in all activities with enthusiasm she gets very excited when I am showing the class what we will be doing. There's never a dull moment when Darcy is around! 
Ellis, Swim Academy Level 1 - nominated by Abby 💦
Ellis deserves star of the term for his dedication to learning to swim. He has overcome lots of challenges and built his confidence up in the water. He has always been desperate to swim his 5m but always had doubt in his mind that he could do it even though myself and Kirsty knew he could. He is a star because of how hard he has worked to achieve this huge goal. We were so proud of him for gaining his 5m recently and this meant even more knowing how hard he has worked to get there and the fact that he never gave up. Well done Ellis you're a superstar to me and Kirsty and you keep making us proud!! 
Lucia, Little Dippers - nominated by Jo 💦
Lucia started her swimming journey with us in Little Dippers and started off as a nervous little swimmer. Lucia did not like to put her face in the water so it prevented her from blowing bubbles for a while. Over the past few months, Lucia's confidence has grown and grown and she will now happily swim with her face in the water and is even happy doing demos of surface dives, I couldn't believe it! I was also super proud when she started swimming independently on her back, that is such a massive achievement and all of this has lead to her moving up to Dippers which is so well deserved! She has worked very hard and dad has been very patient but they have both always had lots of fun and I can't wait to see her take on her new challenge in Dippers.
Miranda, Little Dippers - nominated by Sarah V 💦
When Miranda joined Puddle Ducks several months ago she was very nervous and didn't like putting her face in the water. Over the last few months I have gained her trust and her confidence has grown massively. Miranda now comes to her lessons with a big smile on her face and eager to learn. Miranda is a great help when it comes to demonstrations and always puts her hand up. Miranda now blows bubbles and recently did some standing jumps something only a short time ago she wouldn't have done. I'm really proud how far she has come and look forward to helping Miranda further on her Puddle Ducks journey.
Maria, Splashers - nominated by Sarah V 💦
Marla is such a happy little girl throughout all her lessons. She is always comfortable to come to me for a demo whatever it is. Recently she has started to laugh/giggle when she hears the submersion signal, which shows how relaxed she is in the water. It also makes both Dad and I laugh. It's lovely as a teacher to see Marla enjoy her lessons so much and she really is a pleasure to teach.
Isaac, Splashers - nominated by Rachel E 💦
Isaac has been swimming with me since he has been a Floatie and for me he really encapsulates what being a swimming teacher is all about. Isaac hated going underwater in the beginning and would often be quite upset during the lesson. Since moving up to Splashers he has completely come out of his shell. He loves splashing about... has the best kicking legs I have ever seen... and does some amazing swims underwater! He makes me so proud every single week & I love seeing how much he & Mum enjoy their swim time together. I can't wait to see how much he's going to flourish as a swimmer over the next few years. Keep it up Isaac you are brilliant.
Henry, Little Dippers - nominated by Rachel E 💦
Henry really deserves to be star of the term as he has made so much progress since he started swimming with us. He was quite nervous and shy during his first few lessons but now he has really come out of his shell and is doing some amazing swimming! What I love about Henry is that he really tries every single lesson and whatever teaching points I give him he takes it on broad and really works to try and achieve it. I am so proud of how far he has come and he is a pleasure to teach.
Charlotte Rose, Swim Academy Level 2 - nominated by Lindsey E 💦
Charlotte Rose has recently moved up to Level 2 and shows great determination, always listening intently to instructions and puts her all into every activity. She continually progresses and I can see her improving on a weekly basis. I wish you luck in your continuing swimming journey Charlotte Rose, keep up the hard work and keep focused. Your teacher Lindsey is so proud of all you have achieved so far, well done!
Arthur, Kickers - nominated by Lindsey E 💦
Arthur fully participates in every single activity, laughing and smiling from start to finish. He is a joy to teach and has progressed as fast as the speed of light, kicking his legs reaching his arms and blowing fantastic bubbles. He is extremely capable and I wouldn't be surprised, if he continues progressing like he is, that he'll be swimming competitively in the future. The beginnings of a real talent! Super work by Arthur and Dad....keep it up Arthur!