Our swimmers and their parents are all superstars, working hard every week to improve their swimming skills. Each term, our teachers nominate those swimmers from their classes who they feel have really stood out in terms of their progress, determination or attitude - their 'Star of the Term'!
This term we have asked Stephanie from Hartbeeps Saddleworth and Tameside and Nicola from Moo Music Tameside East and Glossop to take on the difficult job of reading through all the anonymous nominations and to choose our winners for our Spring Term 2018.
We are excited to announce that Stephanie picked Betty as our Star of the Term for Baby and Pre-School and Nicola picked Harry as our Star of the Term Spring 2018 for Swim Academy.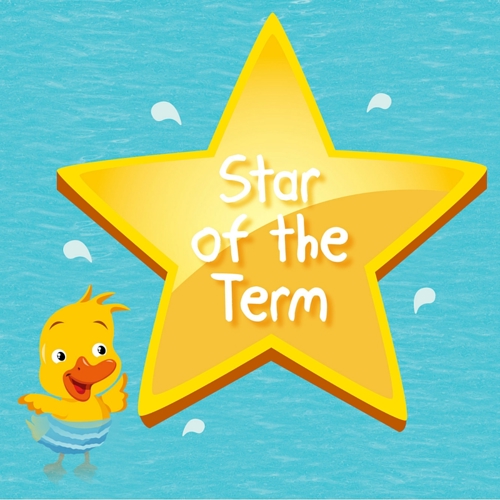 Here are the WINNING NOMINATIONS:
Betty, Little Dippers – nominated by Sarah V 💦
I would like to nominate Betty who joined Puddle Ducks in January.  At her first lesson Betty was extremely anxious, upset and didn't want to get into the water.  When she did get into the water she held onto mum and a long woggle for dear life.  By her third lesson Betty had overcome her initial fears and would enter the water independently and joined in with the activities in the lesson along with everyone else.  As the weeks have gone by Betty has been blowing some beautiful bubbles, demonstrated kicking legs and lovely lion arms.  When we undertake an activity she has not done before she can be unsure at first however after some gentle persuasion from Mum and I she listens well and gives it a really good try.  Betty now comes to her lesson with a big smile on her face.  I am really proud of how far she has come in a short space of time and really look forward to helping her grow in confidence.
Harry, Swim Academy Level 1 – nominated by Lindsey E 💦
Harry started his journey in Swim Academy as a very nervous swimmer, with a dread of jumping in. Now there is no holding him back... he has achieved his 5 m award and has done so well since moving to Level 2. His head down swims are a pleasure to see bearing in mind when he first started he was reluctant to get his face wet.
I am so pleased with his progress and very proud to call him one of my swimmers. His parents should be very proud indeed. 
Here are all our SUPERSTAR nominations:
Chloe, Swim academy level 1 – nominated by Abby N 💦
I have taught Chloe for such a long time and have had the pleasure of seeing her progress throughout the BPS programmes! This term Chloe has taken the next transition into Swim Academy and she is just amazing! She takes all new challenges like a duck to water and is always happy and smiling! Not only has she worked super hard this term in Dippers but now it's like she's always been in Swim Academy she's taken to it so well. She is so confident in the water without mum and dad and I'm super proud of how far she has come on her Puddle Ducks journey and cannot what to see her progress through the Swim Academy programs!
Robyn, Kickers – nominated by Abby N 💦
Robyn has just moved into Little Dippers and I can't wait to see her take on all new activities and challenges. She is an absolute pleasure to teach and makes myself and others in the class constantly laugh. She loves to show off what she can do and she has progressed so well and is very independent already! I love watching her trying to escape from mum every week because she thinks she can swim on her own and mum having to remind her that she can't do it by herself just yet! I'm sure in little dippers she will love swimming independently and showing off in her new class. Very excited for what's to come for Robyn on the next stage off her swimming journey! Well done you're a superstar!
Parkey, Splashers – nominated by Lindsey E 💦
Parkey began his Puddle Ducks journey in Floaties, his parents would be the first to admit he took a while to feel settled! Submersions were a big thing for Parkey and we took them very gradually. He has now blossomed into a very confident little Splasher who smiles from the minute he gets in the pool. It gives me great pleasure in seeing him progress and become increasingly confident and happy with all activities, including numerous submersions. I am one proud teacher. Well done to Parkey and his parents for persevering and bringing him, no matter how difficult it was sometimes.
Darcey, Little Dippers - nominated by Rachel E 

💦
Darcey first came to my classes as a very shy little girl who refused to do anything asked of her in the lessons. She wouldn't interact with me or the other children & refused to take part in activities. Over the last 6 weeks Darcey has really blossomed and is doing some lovely swims on her woggles, kicking her legs and blowing her bubbles. She has come so far and myself and Mum are really pleased with how much progress she has made. 
Henry, Little Dippers - nominated by Rachel E

💦
Henry is a wonderful Little Dipper. Every lesson he's excited to get into the water but he also listens to every instruction you give him and tries his best in every activity. This has meant that his confidence has really grown & he is now doing some great head down swims with lion arms and kicking legs as well as surface dives holding his breath correctly. I am so thrilled at how much he has developed in the short time he has been with me. Well done Henry. 
Taylor, Swim Academy Level 4 – nominated by Claire H 💦
I would like to nominate Taylor for 'Star of the Term'.  He joined my level 4 class a few months ago and blew me away with his swimming abilities.  Everything I explained (whether new to him or not) he just understood and mastered straight away.  Any corrections only have to be given to Taylor once before being implemented.  Due to these amazing abilities and his strength and stamina, it was only a short time after being in level 4 that he was tested for the 25m award (over water arms and side breathing) and he completely SMASHED it.  As if this isn't enough for him to well and truly deserve to win, two weeks after his 25m award he also achieved the 50m distance award, maintaining a perfect stroke throughout…..AMAZING!  I can't tell you what a pleasure Taylor is teach and how amazing it is to see immediate results from feedback.  He is a lovely young man, who's so eager to learn, thrives off feedback and is determined to perfect everything he does.  I'm soooo proud of him and all he's achieved and feel honoured to teach him……I just hope he remembers me when swimming in the Olympics.  He is a true Champion and will go far!
Annabelle, Floaties – nominated by Claire H 💦
Annabelle is a 4 month old Floatie who I would love to nominate for 'Star of the term'.  Both Annabelle and her mum are so relaxed during lessons and are happy for me to use Annabelle for a lot of the demonstrations.  She is an absolute dream and all activities are completed without any issues or upsets, I have never seen her unsettled or uncomfortable in the water and she happily lies on her back for all activities.  Mum has a smile on her face every week for the whole half hour and the strong bond between her and Annabelle is so gorgeous to see.  She is true a little SuperStar!!
Emily, Kickers – nominated by Jo C 💦
I want to nominate Emily as she has had the biggest journey during my time teaching her. I first met Emily when I began my Puddle Ducks training during my co teaching. Emily was very nervous, she was clinging to mum and she didn't like it if you got too close. I took over the class and Emily has now been with me for 10 months and I would say for most of that, she has been reluctant to leave mum. We took everything super slowly with her to build up her trust in me and she did start to come to me for swims on the surface of the water. Again, we worked slowly to the point where Emily would allow me to give her a little dip to the nose, which was such a huge achievement from where she had started.  We had a little set back, when Emily attended a catch up class and the teacher didn't know her swimming past and took her under the water, which had knocked her confidence the next time I saw her. So, we took it slowly again to build up Emily's confidence and after a few weeks we were back to our little dips. The past couple of weeks she has come on leaps and bounds, letting her face go in the water. Then during PJ week, Emily let mum swim her underwater for swim to the float and as she swam past me, told me she went underwater, she was so proud, and so was I. She even let me swim her through the hoop putting her face down and kicking her legs back to mum. Emily is a pleasure to teach and she has had the ultimate Puddle Ducks journey and as her teacher, I couldn't be more proud and seeing little ones come so far and overcome so much, makes this the best job in the world!
Rosie, Dippers – nominated by Jo C 💦
I would like to nominate Rosie for Star of the Term because she is simply a pleasure to teach. Before Christmas we had tried for her 5m award and for a couple of weeks after, Rosie seemed to have a little drop in confidence. I was worried because I didn't want this to set her back but this term Rosie had been back to her super self. She is very quiet in class but she always happily takes part in every activity and has the most beautiful alignment when she swims and went on to achieve her 5m award a few weeks ago. Rosie will be turning 4 in a few weeks time and is more than ready for a move to Swim Academy, but she will certainly be missed in our Dippers class!!
Ethan, Dippers – nominated by Sarah V 💦
I would like to nominate Ethan who has recently moved into the Dippers class. I had taught Ethan for a number of months in Little Dippers before he moved into Dippers.  I have been really impressed with how Ethan has transitioned from Little Dippers, in particular his listening skills.  In the short time he has been in Dippers I have seen a huge improvement in his head down swims and his alignment in the water.  Sometimes the move can unsettle children as so much more is expected from them however with Ethan he has really grown in confidence and still comes to his lesson with a big smile on his face.
Hannah, Little Dippers – nominated by Kirsty S 💦
Hannah started as this shy quiet girl who wouldn't even put her face near the water, over the last few months she has developed into this confident, chatty girl who does lovely independent swims under the water. She has a positive can-do attitude and is willing to give everything a go, even when she's nervous. It has been lovely to watch her grow! 
Alva, Splashers – nominated by Kirsty S 💦
Alva has been swimming with us since she was only a few weeks old. Alva lights up every class that she's in from the way she always has a smile on her face and splashes from start to finish. She is one of the friendliest children you will ever meet and she really brightens up my day when I see her. She is an absolute pleasure to teach!
Erin, Swim Academy Level 3 – nominated by Claire C 💦
Erin has gone from strength to strength in level 3. She has gained in confidence and ability, and gives 110% in every lesson; and always with a smile on her face. She really is a pleasure to teach.
Teddy, Swim Academy Level 1 – nominated by Claire C 💦
I'm so proud of Teddy as he's really building his confidence not it in himself but also in me to enable him to swim without support, he knows he can do it as when he jumps in he swims head down for a considerable length. Despite a few wobbles sometimes at the beginning of the class he continues the class with a smile on his face and tells me all about scary panther arms (instead of big lion arms). He's an absolute pleasure to teach and I'm pleased he's built up his trust in myself and Abby.