Our little swimmers have raised over £1300 for Ollie's Army during our Pyjama Week whilst learning key water safety and survival skills.
Our Pyjama Party Week was the opportunity for all of our little swimmers here at Puddle Ducks Greater Manchester to put on their pyjamas and bravely get into the water to raise money for our chosen local charity Ollie's Army. This week we were able to invite Ollie and Amelia, from Ollie's Army and their Mummy and Daddy to our Aqua Nurture venue to have a special afternoon tea with our fluffy friend Puddle the Duck and we also invited Oliver and Lucas, two of our little swimmers who between them managed to raise over £300 in sponsorship money.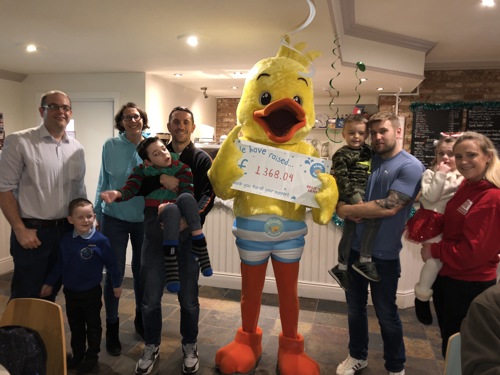 We'd like to take this opportunity to say an absolutely HUGE thank you to everyone for taking part and a super well done to all our little swimmers, together we have raised over £1300 for the charity. 
Every term, we organise a new Pyjama Party so we can teach our Puddle Ducks what it really feels like to be in water fully-clothed. This allows them to put their water safety and lifesaving skills into practice as they will feel much heavier in the water. This year we chose the charity Ollie's Army, raising funds for a local family battling against the very rare Batten's disease.
Ollie and Amelia deserve a chance of living life to the full and so every penny raised will help them to fulfil their dreams, create happy memories with their parents and siblings as well as buying much needed equipment which will help the whole family to look after them at home.
"We're so proud of all of our swimmers for taking part and for helping us to raise funds and awareness for Ollie's Army. As well as learning some key safety skills, it was a really wonderful way for us to support this charity, in particular as it has a real personal link to our team. Super well done to all our little swimmers and our Puddle Ducks team." Suzanne Horton, owner Puddle Ducks Greater Manchester.
"I'm absolutely thrilled we have chosen Ollie's Army as our charity this year. I worked with Lucy, Ollie and Amelia's mum and she has been an important part of our family's life since she looked after my nephew at nursery before Ollie's diagnosis. What they are going through has really touched me and my family. Having seen how the disease has completely changed their lives and how much Lucy and her family have been doing to try and prolong Ollie's and Amelia's life with new found trial treatments and to raise awareness for Batten's disease and for other families in the same situation, I wanted us here at Puddle Ducks to be able to help in some way." Abby Neville, Senior Teacher Puddle Ducks Greater Manchester.