This October, our little swimmers can raise money for a local cause by learning water safety and survival skills, dressed in their favourite pyjamas. This year we are choosing  as our charity, raising funds for a local family battling against the very rare Batten's disease.
Every year for one week, Puddle Ducks Greater Manchester organises the PJ week and invites all of its little swimmers and parents to swap their swimming costumes for their pyjamas. The children are encouraged to collect sponsors and raise money for the chosen charity, as well learning water safety and survival skills, swimming in their clothes.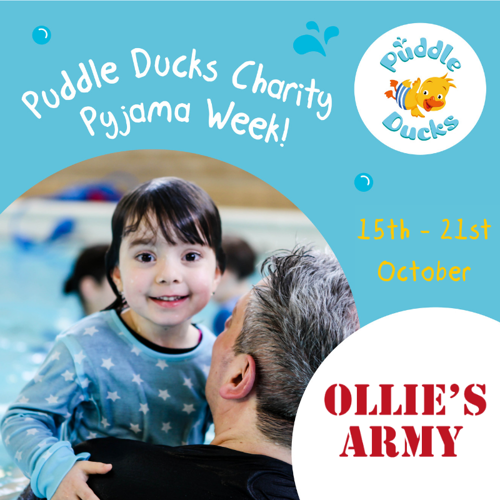 Ollie's Army is a local charity created to raise funds for Ollie and Amelia, two young children battling against the very rare Batten's disease, and to help them to live the best life possible.
Ollie and Amelia deserve a chance of living life to the full. Every penny raised will help them to fulfil their dreams, create happy memories with their parents and siblings as well as buying much needed equipment which will help the whole family to look after them at home.
"We're so proud of all of our swimmers who are taking part in this year's charity pyjama event and helping us to raise funds and awareness for Ollie's Army. The children enjoy the experience of swimming in their clothes and learn some key safety skills and it's a wonderful way for us to support a charity that has a real personal link to our team. Good luck to all our little swimmers and our Puddle Ducks team." Suzanne Horton, owner Puddle Ducks Greater Manchester.
"I'm absolutely thrilled we have chosen Ollie's Army as our charity this year. I worked with Lucy, Ollie and Amelia's mum and she has been an important part of our family's life since she looked after my nephew at nursery before Ollie's diagnosis. What they are going through has really touched me and my family. Having seen how the disease has completely changed their lives and how much Lucy and her family have been doing to try and prolong Ollie's and Amelia's life with new found trial treatments and to raise awareness for Batten's disease and for other families in the same situation, I wanted us here at Puddle Ducks to be able to help in some way." Abby Neville, Senior Teacher Puddle Ducks Greater Manchester.
So bring your favourite pyjama and be ready to make a big splash for Ollie and Amelia!
Download your sponsor sheet here: