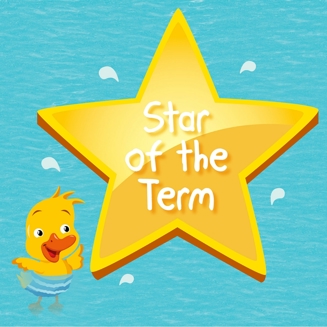 Another fantastic term is drawing to a close and we're delighted to announce our Star of The Term for Autumn 2016! Danny who attends our Kickers class on Mondays at DW Trafford has won the award this term and this was his winning nomination from his teacher Claire.
"I would like to nominate Danny from my Monday morning Kickers class at DW Trafford. He has only been with us for about a term and when he first started he refused to get in the water and continually cried throughout the lesson for his first few weeks. It was very upsetting and frustrating for mum seeing Danny so unhappy and distressed but they still continued to attend every week. Danny is a prime example now of the benefits of persevering and not giving up as he now thoroughly enjoys his lessons. He is excited on the poolside before his class starts and eagerly enters the water independently off the wall with a big smile on his face and lots of enthusiasm. Danny engages with all activities and although he's not overly happy with submersions he still resurfaces and says "again" for most activities. He is such a pleasure to teach and his enthusiasm and continual smiling warms my heart and confirms the reasons I love my job so much. The turnaround Danny has made in such a short time and the progress he continues to make every week is amazing"
We would like to say a HUGE thank you to Jai from Yoga with Jai who was our judge this term - she had a very difficult decision on her hands!
So many of our Puddle Ducks received lovely nominations so we've listed all of them below for you to have a little read of:
Maisie Cain: Maisie Cain is an 'Intermediate' swimmer that I feel really deserves to win the 'Star of the Term'. Maisie started her Puddle Ducks journey in Baby and Pre-school when she was very young and has been continually happy to engage with all activities and has made consistent progress during her time with us. Maisie has always and continues to try her hardest during every swimming lesson. She is now an amazing swimmer that is racing through all her awards and certificates in Intermediates after moving up from Dabblers where she soon achieved the move to Intermediates. I am so proud of Maisie for her incredible journey. She's a very warm and loving child and loves pleasing the teachers and her parents with her achievements. I think Maisie should win this award as recognition for all her hard work over the past few years and her consistency with working hard, achieving and always smiling. She has never complained or been upset and always rises to a challenge. She is my 'Super Star'.
Mollie Mason
Mollie joined this term as an extremely nervous kicker. It can be quite common to see those children who start directly into the kickers programme to be very clingy and unsure of the water and Mollie was certainly clinging onto Mum for most of the first few classes! She was so wary of the activities and always looked so scared. We've been really gentle over the course of this term and allowed Mollie to join in with all the activities in her own time. As she has become more familiar with the activities and the structure of the classes she has relaxed so much more. I'm so delighted that over the last few weeks of term we've seen so many smiles, splashes, bubbles and lovely little swims. She no longer clings to Mum and is finding her independence and confidence in the water. I'm so proud of her and of Mum for sticking with it.
Eliza Mohammed
Eliza joined us as a teeny tiny little floatie. It was naturally a nervous time for Mum and Eliza was initially quite unsettled in the classes. The water is a very natural place for a baby to be but the sounds, faces and environment can take some getting used to for some floaties. Eliza seemed very insecure with some of the activities and initially wasn't keen on submersions. Eliza is now just over 6 months old and is one of the happiest little Floaties who genuinely seems to love her classes. She is relaxed, floats happily on her back but is also enjoying making progress towards our splashers classes. She has learnt our signal for submersion and is happy doing her submersions and has even completed her first little surface swim. Mum and Eliza seem to have such a lovely time together and it's so great to see them relax and enjoy their special time together.
Ellie Mae Lavelle 
Ellie is a pleasure to teach, she always comes to her lessons enthusiastic and is always smiling and is not afraid to try anything I ask her to.
Jacob Blair 
Jacob has come so far in such a short space of time! Mum and dad came for a few weeks and then had a few weeks break as he was upset for the whole lesson and just cried and they were hesitant to bring him back! However he has come back and has started joining in throughout the lesson and come to me for swims rather than just cling to his dad like he did at first. We have even managed to start doing submersion with him and he comes up smiling now. Even his mum and dad can't believe how far he has come and I know he's just going to get better and better as he grows.
Jessica Mahadevan
Jessica is a pleasure to teach she always turns up to lessons with a smile on her face and tries so hard with all the activities. She has made fantastic progress and doesn't give up. Jessica has been really eager to gain her 5m badge and tried a couple of times but didn't quite manage it. This term she swam 5 metres and was very proud to show me her badge! A fantastic effort, well done!!
Gracie McKenna
When Gracie first joined us in September she was very nervous about being in the water and wouldn't let go of her Mum. With gentle persuasion Gracie began to move away from her Mum and her confidence has grown and grown. She happily enters the water and takes part in all the activities even though she still finds some things scary she is willing to give it a go. This week she jumped in to the pool independently! Well done Gracie!
Violet Povey
Violet was new to puddle ducks and came straight into LD at the start of term. She started off abit unsure and quiet and would hold on to mum a lot but each week she has come out of her shell more and tried so hard every week to challenge herself! She now swims with her face in and this week I let her go for the first time to swim to mum. I was super proud. I think she gives her all every lesson and is really enthusiastic.Watching how much she has come on since she started is just amazing!!! Go violet!
Lilly Heap
Lilly came to SA brand new and was so nervous. Every week no matter what we ask her to do she is always willing to try even if she's really scared. Lilly just has this ora about her which just makes you smile and she has this infectious laugh when she's nervous that just Carrys through the group.I think she's super brave and every week she does something i don't think she ever thought she could do on her own. Every week Lilly reminds me how lucky I am to do the job I love.
Isabella Monaghan
Isabella's first term of swim academy and she's developed so much confidence, and giggles her way through everything she does. Shes a star.

Leo Bradley
This is Leo's first term of swim academy, he's always smiling no matter what and hes really building in confidence especially with his jumping in.