All our Puddle Ducks and their parents work hard to improve their swimming & water-safety skills. Every term, we ask our teachers to nominate students who they feel have really stood out in terms of their progress, determination or attitude - their 'Star of the Term'!
As usual it was a really tough choice for our teachers and this term we asked Elli from Adventure Babies Stockport  & Cheshire to read through all the anonymous nominations and to choose our winner for Autumn 2017.
We are delighted to announce that Elli picked Maisie as our Star of the Autumn Term.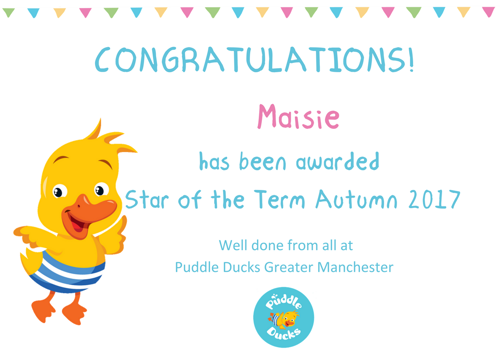 Congratulations Maisie and well done, your teacher Claire H is over the moon and very proud of you.

Here is your WINNING NOMINATION:
 💦 I would like to nominate Maisie for Star of the term.  Maisy has been amazing from when she very first started her puddle ducks journey when she was just a Splasher. She has worked her way through the programmes and then through the levels in swim academy. Maisie has been consistent throughout and during her 5 years swimming with us, she always turns up for classes with a huge smile on her face.  Maisie listens intently to all instructions given and you can see her really thinking about the feedback she has been given during her swims.  She tries extremely hard and due to this she has managed to be our first swimmer within the Franchise to achieve the STA 25m award (side breathing and over water arms).  I'm so proud of her and truly feel that she deserves to be Star of the Term. 💦
THE NOMINEES:
Alfie – Swim Academy L2 – Nominated by Steph I
💦 Alfie over the past few weeks has gained so much more confidence. He's always smiley, cheeky and ready to get swimming. He's up for any tasks given.  Alfie never misses his lessons and try's his hardest every time! Keep up your hard work!!! 💦
Oliver – Swim Academy L3 – Nominated by Steph I
💦 Oliver has come on leaps and bounds over the past few weeks. He tries so hard in his lessons and always asks how he can improve his swimming to get better. All your hard work is coming out now Oliver! You're an excellent swimmer! Keep it up! 💦
Harry – Swim Academy L1 – Nominated by Lindsey E
💦 Initially Harry was a nervous swimmer, but has now blossomed into a much more confident one. Happy to put his face in the water and blow his bubbles. He will also jump in now which he was very reluctant to do at first. Well done Harry, keep up the good work, I am very proud of you! 💦
Fynn – Kickers – Nominated by Lindsey E
💦 Fynn attended ALL his classes this term and WOW, you can see the improvement he's made...he is blowing bubbles, reaching his arms and kicking...all at the same time. Won't be long before he's a Little Dipper! Well done Flynn, your teacher is very proud of you! 💦
Esme– Little Dippers – Nominated by Sarah V
💦 Esme is always really positive and tries really hard in every lesson. She listens well throughout the lesson and is a pleasure to teach. 💦
Maggie – Dippers – Nominated by Sarah V
💦 Maggie moved into Dippers in mid-October and is the youngest in the class. Since moving into Dippers I have been really impressed with how she has joined in every week with all the activities and hasn't been phased by the step up. She is progressing well and is a pleasure to teach. 💦
Isabelle – Little Dippers – Nominated by Abby N
💦 Isabelle has had a water wobble the last few months but mum and dad have been amazing with her. They've still been coming and they listen to my advice even if Isabelle comes and doesn't want to join in with the majority of the lesson plan and just plays. The last couple of weeks she has turned a corner and she is like a completely different child. She loves swimming on the woggles which she hated and she wants to show me everything she can do. She hasn't objected to any activities and has had a big smile on her face. It is so nice to see her back to enjoying the water and her lessons again. Well done Isabelle ( also mum and dad)for not giving up and being super stars. 💦
Alice – Swim Academy L1 – Nominated by Abby N
💦 Alice joined Swim Academy a couple of months ago with myself and Claire. She was very quiet when she first started and seemed nervous. As weeks have gone by we have seen her cheeky, bubbly personality come through. We've seen her confidence grow and grow and she is very close to swimming her 5m which is amazing! She listens so well and try's her best in every activity we ask her to do. She never stops smiling and she's an absolute pleasure to teach. It's so rewarding for us as teachers to see how each week she is progressing more and more and that's down to how hard she works in her lessons. She's an absolute ray of sunshine every Sunday! 💦
Max – Swim Academy L1 – Nominated by Claire C
💦 I'm really proud of how far Max has come since starting S.A. only a few weeks ago. His confidence is building each week and this week he even asked we could repeat some of the lesson as he's enjoyed it that much. He even did a star fish unaided at the end. 💦
Alice – Swim Academy Level 1 – Nominated by Claire C
💦 Super proud of how hard Alice has worked since she started with us. She participates in every single aspect of each lesson and puts her all into everything.  She even achieved her 5m this week which was well deserved. 💦 
Nathan – Little Dippers – Nominated by Rachel E
💦 I'd like to nominate Nathan for Star of the Term. He started off as a very shy boy and would cling to his mum but from his third lesson he has flourished and is actually a fantastic little swimmer. His confidence grows each week and it's a joy to see. 💦
Isabella – Splashers – Nominated by Rachel E
💦 Isabella absolutely loves coming swimming each week. Her little smile is infectious and I love seeing how much she enjoys her time in the water. She is so confident and is going to be a great swimmer! 💦
Esme – Kickers – Nominated by Claire H
💦 Esme is currently in Kickers and has been with us since she was a baby.  Esme has always loved being in the water and smiled and giggled throughout her lessons.  Recently she experienced separation anxiety which meant that the little girl that was always willing to come to me for demonstrations, started refusing and became upset in the water and even stopped enjoying her classes.  After speaking to mum and her following my advice instead of giving up, Esme very quickly turned a corner and is now back to being the happy little swimmer she used to be. 💦
Emmeline– Little Dippers – Nominated by Kirsty S
💦 Emmie has been swimming with us for a while now and I have watched her go from kickers to little dippers. She has always enjoyed her lessons and loved going under the water, and always knows how to make me smile on a Monday morning. However, a few months ago she decided that she didn't like going under anymore and lost a bit of her confidence. With help and encouragement from both mum and dad, Emmie is now back doing under water swims and is even more confident than before, she's like a little mermaid now! Well done Emmie! 💦
Harry – Kickers – Nominated by Kirsty S
💦 Harry is a lovely little boy who can be quite on the shy side. When I first started teaching him he wouldn't let me take him for swims and would just want to stay with dad throughout the lesson. Throughout the last term he has really started to come out of his shell, and although he still isn't the biggest fan of going under the water you can see that he is really enjoying his lessons and his confidence is growing each week! I even get a high five now after each swim we do haha! Mum is always so proud on the poolside and so am I! 💦 
Charlotte - Little Dippers – Nominated by Jo C
💦 Since I started teaching Charlotte in May, she has been super shy and always clung tight to dad. She wouldn't blow bubbles, swim on woggles or put her face in the water for swims or submersions. However, a few months ago, dad discovered the power of purple and we now always make sure Charlotte has purple woggles. Even still, it was only a couple of weeks later that Charlotte wanted to kick her legs - a huge break through! Then about 3 weeks ago when doing swims to parent, Charlotte turned to me and told me she'd like to go under the water! Both me and dad were thrilled as this has never happened before. Since then, she has continued to blow bubbles, happily swim on (purple!) woggles and even been jumping in from standing. I am super proud of Charlotte and it is so lovely to see her journey since I started teaching her 7 months ago. 💦
Harry – Kickers – Nominated by Jo C
💦 I would like to nominate Harry for my star of the term. Harry has had a fear of the float for a few months now, so has been arching his back and refusing to jump and not wanting to do any songs on the float, even Jelly on a Plate, everyone's favourite! We have slowly been trying to get back on the float by letting him help me wobble the float during songs. A few weeks ago, to mine and his mum's surprise, Harry happily climbed up onto the float for jumping in. He now can't wait for the float to come out and quickly climbs on whenever he sees it. So I want to nominate Harry for overcoming his fear of the float. 💦
 Sebastian– Little Dippers – Nominated by Rebecca T
💦 In just a few short weeks, Sebastian has grown in confidence. At first he was shy and reluctant to take part in any activities and was mostly stuck to his dad 😁 Over the last few weeks he is enjoying all activities and taking part fully and I'm even getting lots and lots of smiles. His bubbles are fabulous and he is now independent on two woggles trying to splash me with his kicking legs! I'm so proud of him! 💦
Isaac – Floaties – Nominated by Rebecca T
💦 Isaac is thoroughly enjoying being a floatie, he enjoys all activities and loves being on his back and having a good relax. He has become familiar with our signal and loves to be submerged. He now closes his eyes on the signal which is lovely to see. Mum has grown in confidence too and it's so nice to see them having some bonding time in the water. So pleased for both of them. 💦