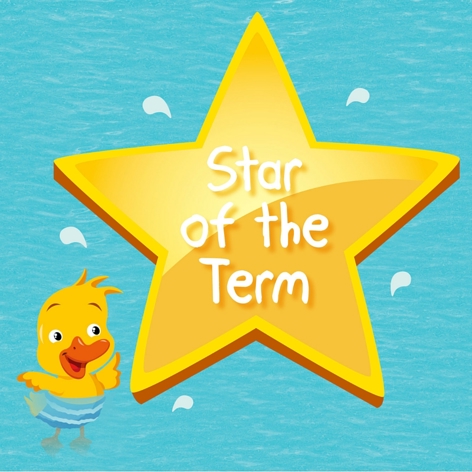 All our Puddle Ducks and their mums and dads work hard every week to improve their swimming and water-safety skills but every term we ask our teachers to nominate 2 students each who they feel have really stood out in terms of their progress, determination or attitude - their 'Star of the Term'
Its a really tough choice for the teachers and this term was no different. We asked Helen from Queen Bee PA​ to read through the anonymous nominations and choose the winner for Summer 2017.
We are delighted to announce that Helen picked Leon as Star of the Term. Congratulations Leon and well done, your teacher Claire is really chuffed and proud of him. You can read her winning nomination and all the nominations made by teachers this term below.
WINNER - Leon, nominated by Claire H
💦 I would like to nominate Leon for 'Star of the term'. Leon started with me in Little Dippers when he was two years old, he was very confident in the water and absolutely loved his lessons. He soon moved to Dippers and was the youngest in the Franchise at that time to have met the criteria and achieve the move up. He then moved to Swim Academy and continued to be amazing in the water, over the years he has continued to progress and move up through the programmes. A few months ago whilst in 'Deep water intermediates' Leon started to struggle and get upset during his lessons which was so out of character for him. At the time we had no idea why Leon wasn't enjoying his lessons. It became apparent that Leon is so determined and focussed on doing the best he can that when he occasionally struggled with activities this began to affect him and his abilities and love for swimming. We were about to launch Elite swim academy and Leon was definitely one of the amazing swimmers we had in mind for the class but due to his knock in confidence which was affecting his abilities during the lesson it wouldn't have been possible to move him up at that time After a lot of discussions with mum, dad and Leon and them working hard with Leon to build his confidence he very quickly turned it around and within 3 weeks were able to move him in to the Elite Development class. Leon has continued to work really hard and I'm so happy to say that he now loves his lessons again. When I watch Leon in the water it's evident that he has listened to every instruction I give and I can see him breaking down the stroke to ensure he's doing every part of it correctly. He has worked so hard for his place in the Development class and I'm 'Super Proud' of him. Recently Leon had a serious injury to his finger whilst playing football and was advised that he must not bend his finger or get the finger splint wet. I was really shocked when Leon turned up to his swimming lesson the week after and advised that he couldn't swim but wanted to stand with me on the poolside so he could still be part of the lesson. He was a fantastic little helper but this obviously wasn't enough for Leon as this week he turned up again with a huge blue arm (looking like a blue lobster) he was so desperate to get in the water for his lesson that mum completely water proofed his hand and arm (mum must have spent ages sourcing the appropriate materials and applying them) ensuring the splint didn't get wet. Leon, like the trooper he is managed to swim for the whole 30 minutes without being able to use one of his arms properly and as always completely gave it his all. What more can I say……Leon really is a true 'Super Star' and I can't think of anyone that is more deserving of the award. Well done Leon I really am proud of you. 💦
NOMINEES:
Isabella - nominated by Claire H
💦 Isabella has only been with me for a couple of months and I have to say that she brightens up my Monday mornings. She has only just turned 1 year old and adores being in the water. She continually smiles from the minute she's getting in the water until the end of lesson when she gets out. Her arms and legs are constantly moving with excitement and I can always rely on Isabella to eagerly assist with demonstrations. It is such a joy to see a child of her age so happy and excited in the water and watching her make huge progress each week as she is enjoying learning. I haven't yet found an activity that Isabella isn't keen to do and her willingness to do everything anybody makes my job very easy and even more enjoyable. Isabella is a little ray of sunshine as well as a star. 💦
Logan - nominated by Abby
💦 Logan first started with us he was very nervous and timid ( it took us a couple of weeks to get him in the pool) and I have to say he was a tough cookie to crack but over time he's gradually got a little bit more confident and we started noticing him getting his face abit closer to the water, after introducing goggles he's started to put his face in for a couple of seconds then recently wanted us to let go off his woggles on his warm up which was a massive step! Logan also had a big fear of jumping and I could tell it was a massive step for him to get over. Myself and steph worked with him week in week out on his confidence and this week he swam his 5m and did his first jump independently! Mums face on poolside is a great reminder why I do the job I do and the rewards that it gives! Logan has to be my biggest break through in my swim acadmey teaching! He is amazing and there's no stopping him now!!! He's a superstar so well done Logan me and steph are very proud of you! 💦
Violet - nominated by Abby
💦 I have taught violet for quite a while in Little Dippers now which is the class she started her puddle duck journey in.On her first lesson she was quite shy and I could tell she needed more confidence in the water as she liked to be fully supported during activities, she was also nervous during jumping. As the weeks have gone by I've seen her grow into the most loveliest bubbly little
Girl who is very independent and confident ( which she reminds me and mum she can do it all by herself now haha!) She is now independently jumping and swimming on her own amongst many other activities she's mastered.She has no fear atall! She is an absolute pleasure to teach and she makes me smile all lesson. I cannot wait too see her continue to grow and help her continue her journey into swim academy in Sep! well done violet!! 😁💦
Jamie - nominated by Fiona
💦 From being absolutely terrified of the water , Jamie has made amazing progress recently and has started to move across the water on his own and jump in . We are really proud of him 💦
Eva - nominated by Fiona
💦Eva listens to everything you say , does what you ask her do and works incredibly hard . She is becoming a fabulous swimmer and is a pleasure to teach 💦
Jasper - nominated by Kirsty
💦 Jasper is a kicker who is a pleasure to teach. He is quite a quiet and shy little boy but he has really started to come out of his shell during lessons and the smile on his face really makes my morning when I see how much he is enjoying himself 💦
Alexa - nominated by Kirsty
💦 Alexa makes me really enjoy my job and make it all worthwhile. She is always smiling and happy to participate and get involved with everything. Even on the days when mum says she might be a bit off because she's been ill etc, as soon as she gets in the pool a huge smile takes over her face, its lovely to see and it just brightens up my day. She has been with us since she was 3 weeks old and is now about to go into kickers, and I can't wait to see how her journey with puddle ducks continues 💦
Jack - nominated by Ellie
💦 Jack has been swimming with Puddleducks since he was 6 months old. He used to love going under water however recently he has been nervous about going under water and putting his face in the water. As a result Jack has found some of the activities challenging. Despite this he has continued to attend regularly, he has tried his best and not given up! I am happy to say over the last few weeks his confidence has soared and he is now placing his face in the water to blow bubbles, swimming on woggles, doing independent swims and best of all independent jumps!! Well done Jack, you have worked very hard this term! 💦
Aleksandrs - nominated by Ellie
💦 Aleksandrs has recently moved to Kickers from Splashers. He has made the transition with ease, Aleksandrs shows such enthusiasm in his lessons. He absolutely loves the water and his favourite activity is definitely splashing!! He is always smiling throughout his lessons and eager to get his face in the water! Aleksandrs happily comes to me for demonstrations and joins in with all activities, he is a great role model, well done Aleksandrs! 💦
Benjamin - nominated by Joanne
💦 From when I started teaching Benjamin 8 weeks ago, he's always been a little nervous in the water, holding onto dad and not wanting to kick his legs. Last week he had a complete turn around, kicking away on his woggles and getting involved in the activities, which was a lovely surprise to both his dad and me so for this reason I would like to nominate him as my star of the term.💦
Angus - nominated by Joanne
💦 I am nominating Angus for being the happiest little splasher week in, week out. He is never without a huge smile on his face, he is a joy to have in class and did his first independent jump this week! 💦
Blake - nominated by Lindsey
💦 Blake has shown great determination and always puts in 100% effort. Being non weight bearing and in a wheel chair he has great upper body strength and uses that to assist him when learning new activities. Blake never lets his disability get in the way of him trying new things and is a pleasure to teach. His focus and determination is admirable and he is a credit to his family 💦
Kit - nominated by Lindsey
💦 Kit was initially a very nervous Kicker however over the course of the term his confidence has steadily increased and is now a smiling confident Kicker who clearly enjoys his lessons throughout💦
Cherokee - nominated by Steph
💦 Cherokee never fails to attend a lesson without bringing joy to it. She has improved so much over the past few weeks. She really is a star swimmer! So proud! 💦
Alex - nominated by Steph
💦 Alex Thomson - Never fails to miss a lesson and this shows in his swimming! He has achieved so much over the past couple of months I'm super proud! I couldn't ask for a better pupil to have, he brings smiles to our faces every lesson! Well done Alex! 👍💦
Eva - nominated by Claire C
💦 Eva puts 100% into every aspect of the lesson plans each week and no matter how tired she gets she still shows willing and determination always with a big smile on her face. She listens intently to instructions and pays great attention to demonstrations. Shes a pleasure to teach 💦
Isabella - nominated by Claire C
💦 Isabella hasnt been with us very long but seeing her grow in confidence and build up her trust in myself and Abby over the past few weeks has been amazing. She works so hard during each class and hasnt been afraid of trying any aspect of the lessons. She listens intently to all instructions and watches each demonstration so she knows what she is doing. Shes a star. Well done. 💦